Case study
We helped Lane Health manage its risk on its orders in Greece
UK Export Finance helped a UK exporter to maintain its sales in Greece through challenging times.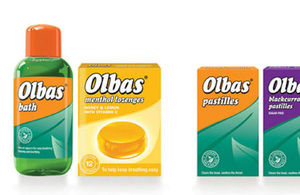 When Gloucester-based GR Lane lost their private sector non-payment insurance for its buyer in Greece, they had to reduce the amount of business they did. We stepped in to provide export insurance cover, which reduced the risk of the company losing business in an important market.
Through providing support like this, we are increasing the UK's exports and making the UK more competitive.
Cover withdrawn
GR Lane had been selling its Greek buyer around £700,000 worth of herbal remedies and vitamins each year for around 20 years when its private insurance provider decided that the Greek economy had become too risky and declined further cover.
GR Lane started to make herbal remedies and dietary supplements in 1930. The company now supplies pharmacies, supermarkets and independent retailers in the UK and Europe, with 25% of its business being overseas, mainly in Greece and Poland. Its best-known products are the cold-relief mixture Olbas Oil and the herbal sleep aid Kalms.
Paul Whatley, Finance Director at GR Lane, said:
Greece is an important and steady market for us. We had a £1 million policy for this contract, but this was reduced to £750,000 in 2011 and withdrawn in 2012. We secured a few orders in 2012, but on a cash up-front basis and only a quarter of the usual size. This affected trade and our relationship with the buyer. We approached UK Export Finance, who helped us to apply for an export insurance policy.
Cover restored
GR Lane applied to us for an Export Insurance Policy, which insures an exporter against the risks of non-payment by the customer. It can cover up to 95% of these costs. In October 2012 UK Export Finance offered GR Lane cover of up to £570,000 against the Greek buyer being unable to pay.
The cover started in December 2012 and GR Lane pays the premiums every time it sends an order to Greece. This arrangement will continue until private sector insurers consider Greece to be a good risk once more. Having secured its European trade, the company is expanding into South America.
More information on the Export Insurance Policy
The Export Insurance Policy insures an exporter against the risk of not being paid under an export contract or of not being able to recover the costs of performing that contract because of certain events which prevent its performance or lead to its termination.
Criteria for eligibility are:
the exporter must be carrying on business in the UK
the buyer must carry on business overseas
if the duration of the contract is less than 2 years, we are unable to offer cover if the buyer is in a country belonging to the European Union, or in certain other high income countries (Australia, Canada, Iceland, Japan, New Zealand, Norway, Switzerland and the United States of America) - this restriction does not currently apply to Greece
the exporter must demonstrate an inability to obtain credit insurance from the commercial market
Read the full guide to the Export Insurance Policy, including how to apply.
Contact an Export Finance Adviser in your region or alternatively call:
New business enquiries
Our helpline is open from 9am to 5pm.
Published 27 January 2014