Case study
Powering up in the renewable energy sector with UKEF support
UK Export Finance (UKEF) helps renewable energy supplier BiFab access finance to fulfil a major contract.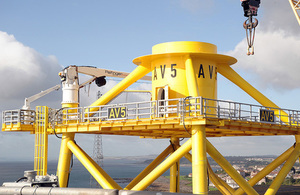 BurntIsland Fabrications Ltd (BiFab), is a Scottish manufacturer of high-quality steel fabrications for the oil and gas and renewable energy sectors. The company is 16 years old and employs over 1,000 people across two sites in Fife and a third facility at Lewis.
BiFab's main strength is in the oil and gas sector, but the growth of the renewable energy industry has led the company to diversify. It is now a leading supplier with a strong track record in offshore wind, wave and tidal power as well.
As evidence of this success, BiFab recently won a major contract with Dutch EPC contractor SHL to supply fabrication work for the Beatrice Offshore Wind Farm. The contract, worth in excess of £100 million, was a significant one for BiFab and helped secure jobs at its sites.
However, as part of the terms of the contract, the buyer required performance and warranty bonds from BiFab's bank, RBS. Due to the size of the contract, the bond requirements were significant, and the bank required additional security in order to issue the bonds.
Jon Boyce, Senior Export Finance Manager for the Devolved Regions, worked with BiFab to provide a solution. RBS was able to issue the bonds to the overseas buyer while UKEF provided the bank with a UK government-backed guarantee, meaning that BiFab was able to hold back cash to use to fulfil the contract.
Senior Export Finance Manager for the Devolved Regions, Jon Boyce, said:
BiFab is a strategically important company in the east of Scotland and is a major employer within the local community. UK Export Finance is delighted to have helped it succeed with this large contract and provide the bank with the additional security required to issue the performance bonds.
More information
New business enquiries
Our helpline is open from 9am to 5pm.
Published 20 February 2017