Case study
Northern Irish exporter fulfils export contracts with UKEF support
Terminator Breaker Company Ltd accessed finance to support two significant export contracts with help from UK Export Finance (UKEF).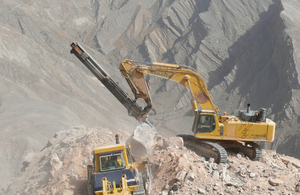 Terminator Breaker, based in Northern Ireland, manufactures mechanical rock extractors for use in mines, quarries and civil engineering. These heavy-duty machines provide a safer, more precise and environmentally-friendly alternative to the explosives often used in the quarrying and mining industries.
The company has found a niche in markets where the use of explosives poses challenges – whether for security, environmental or social reasons. It won its first international contract in 2006 with a buyer in Saudi Arabia, and has since developed a thriving sales book in the Middle East, Africa and India.
Overcoming cash flow challenges
Each contract is significant, at a minimum of €200,000 per machine. The manufacturing process is lengthy and expensive. With payment often only due on delivery this can create a significant gap between procuring supplies and receipt of payment. With this comes cashflow challenges, leaving Terminator Breaker looking for financing to support its working capital.
When the company won two contracts in Algeria and India, Terminator Breaker's bank, Danske Bank, and Elizabeth McCrory, Export Finance Manager for Northern Ireland, worked together to provide a solution. UKEF guaranteed a working capital loan from Danske, giving the company the cashflow it needed to fulfil both contracts.
Ian Dawson, Managing Director at Terminator Breaker Company Ltd, said:
Working with Elizabeth McCrory at UK Export Finance has given us a simple and successful way of financing our export activities. UKEF's support has also influenced our decision to explore investing more in operations in the UK.
Elizabeth McCrory, Export Finance Manager for Northern Ireland, said:
UKEF is here to support UK companies' international ambitions. Terminator Breaker is a highly innovative company that has found a gap in international markets, and we are delighted to have provided the finance they needed to succeed.
Terminator Breaker is now exploring the possibility of moving more of its operations and manufacturing to Northern Ireland from its other base in Belgium, a decision motivated in part by a desire to work more closely with UKEF.
More information
New business enquiries
Our helpline is open from 9am to 5pm.
Published 12 December 2016