Case study
Letter of credit scheme helps Yorkshire firm in Philippines export
How UK Export Finance supported an exporter through the letter of credit guarantee scheme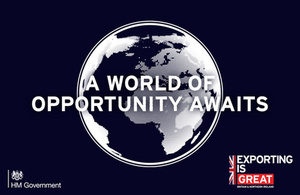 West Yorkshire-based Spooner Industries had help from UKEF to deliver a strategically important €5 million export order for the supply of drying equipment for the paper industry to the Philippines.
UKEF guaranteed €1 million of the €2 million trade facility provided to Spooner by Lloyds bank, using a letter of credit.
Export payment
This was Lloyds' first transaction under UKEF's letter of credit guarantee scheme (LCGS). The scheme provided cover on a shipment by shipment basis. This individual solution delivered significant cost reduction while retaining workable levels of mitigation against export payment risk.
Spooner Industries managing director Mike Brook says:
The bank's participation in UK Export Finance's letter of credit guarantee scheme provided a risk share arrangement that proved invaluable in meeting our needs.
Capacity
Says UKEF chief executive Patrick Crawford:
We're very pleased to have been able to help Spooner Industries with this order. We introduced LCGS as a way of increasing capacity in the market, and I'm happy to see the scheme is doing its job. We wish Spooner Industries well with this order and with its other business.
Published 25 April 2013