Press release
Human Rights and Democracy Report for 2013 published
The Foreign Secretary today launched the 2013 Human Rights report setting out the steps taken to promote and protect human rights in 2013.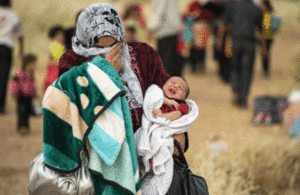 The report was launched with a speech by the Foreign Secretary, William Hague, at the Foreign and Commonwealth Office.
This was followed by a presentation by Erin Gallagher from Physicians for Human Rights and a member of the PSVI steering board, and Mo Ibrahim from the Mo Ibrahim Foundation.
The Foreign Secretary William Hague said:
Good Morning. Lords, Ladies and Gentlemen, I am delighted to welcome you today to the Foreign Office for the launch of our annual report on human rights and democracy.

This report is the result of twelve months of tireless efforts by our staff and our Ministers to promote and protect human rights across the world. It may look long and substantial but it is a distilled account of the vast amount of work that we have undertaken.

For a year, as usual, our diplomats have travelled to prisons, observed court cases, visited refugee camps, supported civil society and lobbied on issues from the abolition of the death penalty to women's rights to freedom of religion and belief. I am grateful for the passion and commitment that the men and women of the Foreign Office bring to this work.

As Ministers we have raised human rights in virtually all of our hundreds of bilateral meetings, in every international body and in our conversations with young people and civil society all over the world.

As an organisation, our diplomatic network spanning 154 countries and 12 territories gives us an almost unique ability to observe and to help improve the situation of human rights worldwide, and this work inspires and motivates our staff wherever they serve.

And I pay tribute in particular to those staff working on the ground in fragile environments like in Yemen and Somalia, in repressive states including North Korea who are able to observe events few others can, to present arguments and concerns that might otherwise not be heard, and to forge relationships that allow us to change attitudes and encourage progress even where it seems most difficult.

Human rights are part of the lifeblood of the Foreign Office because they are part of our national DNA in the United Kingdom – our character as a people – and because they are vital to our national interest.

I have just returned this week from Rwanda where the genocide twenty years ago demonstrated the devastating consequences of human rights abuses and why preventing atrocities and the violation of human rights is among our fundamental responsibilities.

Not only do we have a moral obligation to prevent grave human rights abuses wherever they occur; they threaten international peace and security by undermining stability, often triggering huge movements of people, and fuelling division and violence that can quickly affect other societies thousands of miles away.

And that is why the United Kingdom has played a crucial role in developing a strong system of international law and institutions to protect political and economic freedoms, and it is why in the year 2013 we were once again in the vanguard of the struggle for human rights worldwide, in some cases helping to transform the international approach to issues that were previously ignored or avoided.

One of these is warzone sexual violence, a horrendous abuse of human rights that has for too long been treated as an inevitable consequence of conflict. In fact it is a deliberate tactic, used in wars on every continent to terrorise, intimidate and torture civilian populations and encouraged by a global culture of impunity.

It is within our power to stop this dreadful abuse but it requires a sea change in global attitudes and determined action by governments and civil society.

And that is what our Preventing Sexual Violence in Conflict Initiative aims to bring about and in 2013 we made significant advances.

We brought this issue to the pinnacle of international diplomacy at the G8 and the UN Security Council, we deployed our team of experts to collect evidence of crimes in Syria, train judges in Bosnia and teach soldiers in Mali, and we launched a historic Declaration of Commitment to End Sexual Violence in Conflict that has now been signed as of yesterday by 144 countries.

I firmly believe that our leadership can help to turn the tide against this appalling crime, and I look forward to hearing Erin Gallagher's expert view on the scale of the problem and the challenges that we must overcome.

The United Kingdom has also blazed the trail internationally in showing how government and businesses can work together to promote human rights for all of our benefit. The National Action Plan we launched in September was the first of its kind anywhere in the world. It will help British companies – who are already pioneering in so many ways – to lead the way in respect for human rights wherever they operate, anticipating risks and improving business environments for the long term.

And I am delighted that Mo Ibrahim can be here today as someone who has immense business experience and whose foundation is doing such valuable work on good governance and tackling corruption in Africa, and I look forward to hearing his thoughts on how success for British business and respect for human rights can go hand in hand.

But the Foreign Office is not only championing new issues, we have maintained our work on the full spectrum of human rights concerns.

Our re-election to the Human Rights Council last year gives us the platform we need to promote respect for all human rights around the world. We will use it to the full, including to advance the social, political and economic rights of all women everywhere, and their involvement in peace processes: two goals close to my heart.

We have already used our seat to campaign powerfully for a resolution on Sri Lanka that will establish an international investigation into alleged human rights abuses committed by both sides in that country's long conflict.

The passing of that resolution just two weeks ago is a major step forward, which should help to establish the truth for all Sri Lankans, and to lay the groundwork for lasting peace, unity and reconciliation.

So there have been proud moments for the United Kingdom in the last year. But as the many distinguished activists in the audience here this morning know, the struggle to secure universal respect for human rights cannot be won overnight or in any one year.

2013 was a tumultuous year that saw setbacks as well as successes.

In some countries a desire for power at any cost fuelled terrible human rights abuses, while a lack of political will at the national and international level meant that not enough was done to prevent them.

The consequences were most catastrophic in Syria. The Assad regime bears the primary responsibility for protecting its own population. But it continued last year to kill civilians mercilessly and indiscriminately with chemical weapons, barrel bombs, and artillery fire.

Regime forces have used starvation as a weapon of war and detained civilians in appalling conditions in prisons where torture, sexual violence and extra-judicial killing are rife. In his desperate attempt to cling on to power, Assad has fuelled sectarian tensions and cooperated with terrorist groups so extreme and frenzied that even Al-Qaeda has disowned them.

The United Kingdom has supported projects to document these appalling violations. We have helped the moderate opposition build the protections for human rights that they aspire to. We have played a crucial role in the effort to find a political settlement that would halt the suffering, and we have provided £600 million for humanitarian relief, making us the second largest donor country in the world.

Now all states must urge Assad to implement UN Security Council resolution 2139 and grant humanitarian access inside Syria, so that the Syrian people can at last see some chink of light on the horizon.

But Syria is not the only crisis we face. Last year civilians were also the targets of brutal violence in Central African Republic and in South Sudan. Thousands of people have been killed and hundreds of thousands forced to flee their homes. These grave abuses cannot be ignored and Central African Republic has been added to our list of countries of concern, on which South Sudan already features.

Elsewhere we have seen welcome progress marred by continuing human rights abuses.

In Burma, the government, military and ethnic armed groups are in talks to agree a historic nationwide ceasefire. But the plight of Burma's Rohingya Muslims, which is now particularly acute, threatens to eclipse the many positive changes.

In Egypt a draft new constitution in December offered greater protection for women's rights and minorities.

But in the last year we have also seen the use of excessive force against protestors, hundreds of death sentences handed down after inadequate trials and worrying restrictions on political participation. We are also deeply concerned by the harassment and detention of journalists, including the 20 Al-Jazeera staff whose trial resumes today. Freedom of expression is a priority for the UK and it should be the bedrock of a strong democracy.

In some parts of the world we have also seen tightening restrictions on the rights of Lesbian, Gay, Bisexual and Transgender people and increasing persecution. In many cases this came as part of a wider crack-down on civil society.

The United Kingdom will work assiduously to do all we can to arrest and begin to reverse this trend. We will speak up in public, and in private, against discrimination and help build more tolerant societies through our diplomacy and through the work of the Department for International Development.

I have recently written to the Commonwealth Secretary General to ask to work with him on a major drive to improve respect for LGBT rights across the Commonwealth.

So human rights will remain at the heart of our work for the year ahead.

In just two months time we will host the largest Summit ever held on Preventing Sexual Violence in Conflict, which we want to raise global awareness to a new level and to unleash a wave of practical actions to eradicate warzone rape in the future.

We will use our seat on the Human Rights Council to promote human dignity for all, to help countries improve respect for human rights and to hold other governments to the same high standards to which we must hold ourselves.

We will continue to support civil society the world over, including through our Arab Partnership Fund, and we will work closely with the human rights defenders who take such personal risks to campaign for basic freedoms for all. This report contains many accounts of the unjust punishments they face for this essential work, from China to Iran to Belarus. We will continue to do our utmost to protect and support them.

I look forward to working closely with my Advisory Group over the year ahead and I thank them for their invaluable expertise and their frank advice.

I also thank my Ministerial team and Baroness Warsi in particular, as the Minister responsible for human rights, and for her tenacious and assiduous work on these issues.

It is now three and a half years since I first set out my vision for the central role of human rights in the UK's foreign policy. In that time, world events from the Arab Spring to the protests in Kyiv have continually brought home in new and surprising ways just how important human rights are. Human rights remain a universal aspiration and by defending individual freedoms we strengthen our own and the world's security and prosperity, and, as we face new challenges and multiple crises, this thought should inspire and sustain us all.
William Hague speech at Human Rights and Democracy Report 2013 launch
Further information
Read the Foreign and Commonwealth Office Human Rights and Democracy Report 2013 report
Follow the Foreign Office work on Human Rights on twitter @FCOhumanrights
Follow the Foreign Secretary on twitter @WilliamJHague
Follow the Foreign Office on twitter @foreignoffice
Follow the Foreign Office on facebook and Google+
Published 10 April 2014
Last updated 16 April 2014
+ show all updates
Added translation
First published.