World location news
Syria and the UK
— Oral statement to Parliament
Foreign Secretary Dominic Raab answered an Urgent Question in the House of Commons about Turkey's incursion into north east Syria.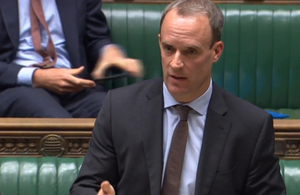 Statement issued by Foreign Ministers of Egypt, France, Germany, Jordan, Saudi Arabia, the UK and the United States at the United Nations General Assembly.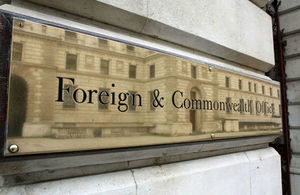 The RAF are continuing to take the fight to Daesh in Iraq and Syria.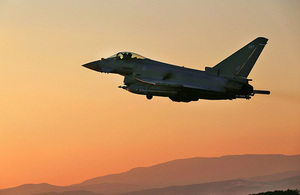 Our mission
Due to the Asad regime's atrocities against the Syrian people, the UK suspended all services of the British Embassy in Damascus and withdrew all diplomatic personnel from Syria in 2012.
From outside the country, the UK works for a political solution that will establish a lasting settlement to the conflict and protects the rights of all Syrians. We believe that the only forum capable of achieving this is the UN-led Geneva process; the UK fully supports the work of UN Envoy Geir Pedersen. We will not reopen our embassy or provide reconstruction assistance without a credible, substantive and genuine political process being firmly underway.
Alongside our support for diplomatic efforts to end the violence, the UK has alleviated suffering by committing £2.81 billion of humanitarian aid to the Syria Crisis since 2012, our largest ever response to a single humanitarian crisis. This aid package includes food, water, sanitation and basic relief items.
Additionally, the UK is committed to ensuring that those responsible for the most serious crimes in Syria are held to account. The UK has contributed over £9 million since 2012 to various accountability mechanisms and NGOs gathering evidence and assisting victims. We also continue to support the independent UN Commission of Inquiry's investigations into human rights violations and abuses in Syria.
The UK, as a leading member of the Global Coalition against Daesh, has contributed to the liberation of all territory previously held by Daesh in Syria and Iraq. For more information on this, see UK action to combat Daesh.
Documents