Press release
Wine smugglers sentenced in £5m wine fraud
Two men guilty of smuggling illicit Italian wine into the UK have been jailed for excise duty and VAT evasion after an investigation by HMRC.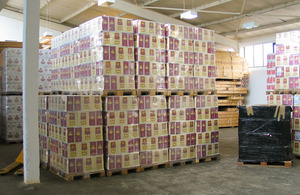 Roberto Parma, 54, was sentenced to six years and seven months imprisonment. Alberto Mori, 53, was sentenced to seven years. They imported wine from Italy and sold it on without paying more than £5 million in duty and VAT.
Parma, owner of I Nobili UK Ltd, imported wine from an Italian-based company, Cantine Soldo spa, using the UK's duty suspension scheme. Parma and Mori exploited this scheme by using the same delivery documents many times and avoiding paying duty by diverting the wine from the bonded warehouse, when duty would normally be paid.
Mori, owner of Soldo UK Ltd, a London wine merchant, worked with Parma to sell the imported wine illegally through a network of wholesalers around the UK.
HMRC investigators found that Parma's company provided cover for the fraud. It used Skype messaging to orchestrate the movement of wine from Italian warehouses and gave code words to drivers to use when picking up the loads, to avoid paperwork landing in official hands.
David Margree, Assistant Director of Criminal investigation, HMRC, said:
The sole intention of importing this wine was to rip off the honest taxpayer to line their own pockets. These men thought they would use crafty code words and complex chains to avoid detection, but HMRC was able to detect and stop this scam.

HMRC will not stand by while criminals try to cheat the system. The message is clear - HMRC will find you, and you will go to court.
Parma and Mori were arrested in July 2009 after a discovery of more than 114,000 litres of wine during a search. HMRC investigators realised the scale of the fraud after finding records on a company computers and on a memory stick mapping out the fraud.
A further indication of the fraud was revealed to HMRC investigators when stock levels at the UK bonded warehouse showed that wine was being stored for unusually long periods of time.
Parma and Mori skipped bail and returned to Italy, but were tracked down by Italian Police and extradited to the UK in 2012 to stand trial. During the arrest more than £58,000 of cash was seized.
Confiscation proceedings are underway.
The movement of duty suspended alcohol is controlled by HMRC and foreign customs authorities. Alcohol can be stored and moved between bonded warehouses within the EU without the payment of excise duties. Once the business needs to release the alcohol to retail outlets, the excise duty becomes payable at the rates applicable in the host country. Therefore UK duty was due as soon as the alcohol was diverted from the UK bonded warehouse to the UK market.
Published 13 March 2013