News story
Shisha smuggling gang sentenced
Six men involved in the illegal importation of shisha tobacco into the UK were sentenced today after HMRC's largest-ever investigation into smuggled shisha.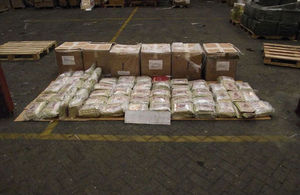 A further two men will be sentenced on 1 November 2013.
Brothers Mahfouz Chowdhury and Sayyeduz Chowdhury from Camden, London, were the main organisers of the group, and arranged for more than 5.8 tonnes of the tobacco, with a duty loss of more than £0.5 million, to be brought into the UK.
HM Revenue and Custom's investigation began in April 2012, after Border Force officers at Tilbury docks discovered 2.2 tonnes of shisha in a consignment from Dubai. The load was supposedly Arabian incense, but each of the 2,200 packages had false labels which, when removed, revealed the true contents to be shisha tobacco.
The consignment was destined for Sahar Lounge Ltd, which operates a shisha café in Kilburn, London. Further enquiries revealed that the brothers had arranged four previous importations from the United Arab Emirates in the previous six months, each described as Arabian incense. The shipments weighed 3.6 tonnes and arrived via Heathrow Airport and the Port of Felixstowe.
The Chowdhury brothers, who are directors of the company, were arrested and their mobile phones analysed for evidence. The phones contained photographs of the tobacco being repackaged, and hundreds of text messages to other people involved in the smuggling and distribution of the tobacco. These included Sunit Vekaria, who had paid Mahfouz Chowdhury more than £10,000 to buy shisha tobacco in Dubai, and Asadur Rahman, a co-director of Sahar Lounge Ltd. Rahman's mobile revealed texts discussing a 300kg importation to and from Luthfur Rahman, Abdulah Al Mohammed Rafi and Mohbubur Rahman.
John Pointing, Assistant Director, Criminal Investigation, HMRC, said:
Led by the Chowdhury brothers, the gang looked to flood London streets with illegal shisha and pocket the taxes due. We are investing more time and resources than ever in tackling the threat posed to the UK economy by tobacco smuggling and will not cease in our efforts to stamp out this trade.

We encourage anyone with information about tobacco smuggling and tax evasion to contact the Customs Hotline on 0800 59 5000.
Six men appeared at the Old Bailey today, 14 October 2013, for sentencing. Mahfouz Chowdhury and Sayyeduz Chowdhury had already admitted conspiracy to evade excise duty on 5,892kg of tobacco.
Asadur Rahman, Luthfur Rahman, Abdulah Al Mohammed Rafi and Mohbubur Rahman had admitted at a previous hearing conspiracy to evade excise duty on 300kg of tobacco. Adel Al-Khazraji of Wembley and Sunit Vekaria of Harrow will be sentenced at the same court next month.
Published 14 October 2013