News story
Hurricanes Irma and Maria: government response and advice
From:

Foreign & Commonwealth Office, Department for International Development, Ministry of Defence, and Prime Minister's Office, 10 Downing Street

Part of:

Anguilla, Barbados, British Virgin Islands, Cuba, Dominican Republic Montserrat, Turks and Caicos Islands, USA, Antigua and Barbuda, Bahamas, Dominica, Haiti, St Kitts and Nevis, St Vincent and The Grenadines, St Lucia, Bonaire/St Eustatius/Saba, Guadeloupe, Martinique, and St Maarten

Published:

6 September 2017

Last updated:

24 September 2017, see all updates
Summarises the UK government response and gives advice for British nationals affected by Hurricane Irma and Hurricane Maria.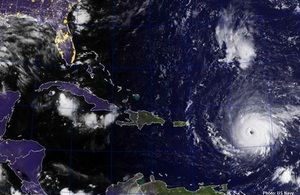 Hurricanes Irma and Maria have affected large parts of the Caribbean. The Foreign & Commonwealth Office (FCO) has updated travel advice to provide guidance for British nationals who are in countries and overseas territories affected by Hurricanes Irma and Maria.
The hotline for British people affected or concerned about others: +44 (0)20 7008 0000.
Latest travel advice for places affected by Hurricanes Irma and Maria
See also the guidance on what to do if you're affected by a crisis overseas.
For the latest updates follow @FCOtravel on Twitter or FCOtravel on Facebook.
Government response
Facts and figures
24 September
22 September
21 September
20 September
18 September
15 September
14 September
13 September
12 September
11 September
10 September
9 September
8 September
7 September
6 September
Watch an overview of the UK government's preparation for Hurricane Maria in the UK Overseas Territories
Document information
Published: 6 September 2017
Updated: 24 September 2017
Extra UK aid to Dominica following deadly Hurricane Maria
Cuba travel advice updated
Sir Alan Duncan's update added
travel advice for Bahamas, Dominican Republic and Haiti updated
Update on Government response to Hurricane Irma and Maria added
Ministerial statements on Hurricane Maria added
Updated with latest travel advice in advance of Hurricane Maria
Lord Ahmad's visit to Turks and Caicos, and latest numbers added
UK aid update added
update on Hurricane Irma British Red Cross Appeal
Update on Foreign Secretary's visit added
Added latest facts and figures update
Added update on aid
Sir Alan Duncan's Commons statement added.
Added International Development Secretary's update
Added Foreign Secretary's visit to hurricane hit islands.
Added Foreign Secretary's interview with media and post-COBR meeting statement.
Foreign Secretary's interview on BBC Radio 4 Today programme added.
Added the Foreign Secretary's post-COBR meeting statement
Added Foreign Secretary's article and UK government actions update
New MOD story added
Change to number
Prime Minister's post-COBR statement added
added travel advice for the Bahamas
Added Foreign Secretary's latest statement
Added Prime Minister's statement and International Development Secretary's update.
Latest ministerial statements added
First published.