Press release
Hurricane Irma: Foreign Secretary's statement on Anguilla and the British Virgin Islands
Foreign Secretary Boris Johnson gave a statement on how the UK government is supporting our Overseas Territories following Hurricane Irma.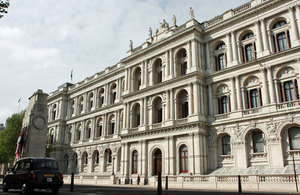 Foreign Secretary Boris Johnson said:
The UK government is responding to the catastrophic damage that has been caused by Hurricane Irma to the Caribbean and in particular obviously to the overseas territories, Anguilla, and the British Virgin Islands.

Our thoughts go out to the people who have been affected, to those families who have lost loved ones, and as you can expect we are doing everything we can with humanitarian relief and assistance.

We have the fleet auxiliary boat RFS Mounts Bay is in the vicinity, we have people on the ground.

But what we will be doing now is making an urgent assessment of the further needs of communities in the British Virgin Islands and Anguilla to see what more can be done in terms of financial and humanitarian assistance.
Published 7 September 2017