Press release
Hurricane Irma: Foreign Secretary's statement, 8 September 2017
Boris Johnson gave an update on the UK government's response to Hurricane Irma in the Caribbean and announced the hotline: +44 (0)20 7008 0000.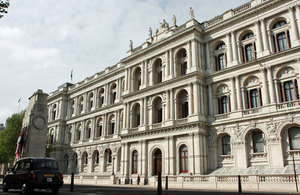 Foreign Secretary Boris Johnson said:
I want to say something about the continuing crisis in the Caribbean where Hurricane Irma has caused great devastation in the British Virgin Islands and elsewhere. There are now further storms moving in, Hurricane Jose.

We have sent, as you know, RFA Mounts Bay which will be moving from Anguila to the British Virgin Islands later on this morning to distribute humanitarian aid there. We've announced a £32 million aid package for the area. We're sending a Foreign Office team as well as DFID teams and UK troops.

And the Foreign Office has set up a hotline. If anyone is concerned about their relatives or about what is likely to happen to holiday makers in that area, please get onto that hotline which should be available on the website.
The hotline is +44 (0)207 008 0000.
Read more about the government's response and advice for people affected by Hurricane Irma.
Published 8 September 2017
Last updated 9 September 2017
+ show all updates
Change to number
First published.