News story
Hurricane Irma: Foreign Secretary interview with media, 11 September 2017
After chairing a COBR meeting, the Foreign Secretary spoke to media on the UK government's response to those affected by Hurricane Irma.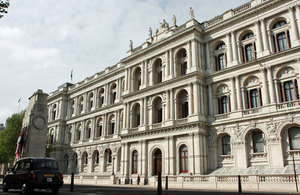 Foreign Secretary Boris Johnson said:
We are continuing to deliver aid, including food and water, to where it is needed. There are now 700 UK troops and more than 50 police officers in Anguilla, British Virgin Islands, and Turks and Caicos islands. More than 40 tonnes of UK aid has arrived in the region with much more on the way.

In Anguilla there has been a request for building supplies, in particular plywood, to begin reconstruction and we have responded. We are also sending more police into both the BVI and into Anguilla, so that security has improved and a sense of confidence is rising. We have also taken steps in relation to St Maarten, which is a French and Dutch territory. There are a lot of Brits on holiday there and we have sent UK consular representatives.

Across the area the breakdown in communications, the inability to use mobile phones or access the internet, has people worried. So an effort is underway to re-establish wi-fi across the region as well as electricity supplies. We are doing everything possible to help Brits in need.
Read more about the government's response to Hurricane Irma.
Published 11 September 2017