News story
Hurricane Irma: Overseas Territories Minister visits the Turks and Caicos Islands
Lord Ahmad visited the Turks and Caicos Islands to see the reconstruction work starting after the devastation of Hurricane Irma.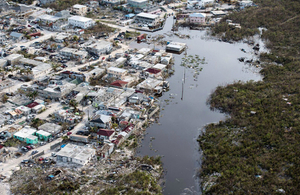 Visiting Grand Turk today, the Minister for the Overseas Territories, Lord Ahmad said:
I'm in Grand Turk which is the capital of Turks and Caicos and I'm seeing first-hand, with the Premier, with the Governor, the devastation of Hurricane Irma.

There's parts of Turks and Caicos where it's really heartening to see that the community spirit has kicked in, and already reconstruction has started. But as you can see around me here in the capital, in some of the more challenged parts of Turks and Caicos right here in Grand Turk, there's plenty of work to be done. And that means that the military support we've been giving, and also more importantly the reconstruction effort needs to kick in straight away.

And that's the kind of things I've been seeing, so thank you for all those who are doing what they're doing, the military, the DFID teams, but also the government here in Turks and Caicos and the excellent team around the Governor, but equally it's important that we underline the importance of what's next, the reconstruction of what is the capital of a great island.
Published 15 September 2017