News story
Carbon credit VAT fraudster to pay back £13 million
A leader of an organised criminal gang has been ordered to pay back nearly £13 million to HMRC or face 10 further years in prison.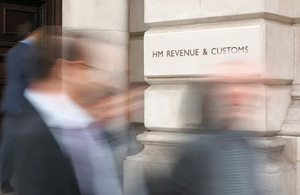 Sandeep Singh Dosanjh, 31, of London, who was jailed for 15 years for his part in a £38 million VAT fraud, has been ordered to pay back £3 million in hidden assets within three months and the remainder of the £12,887,685.47 within six months.
He was instrumental in setting up a complex chain of companies in order to trade fraudulently in EU emissions allowances – known as carbon credits. In the only case of its kind, Dosanjh and the rest of the gang stole around £38 million through a complex "missing trader" fraud in a six month period starting in January 2009. The law was changed to prevent carbon credit VAT fraud as a direct result of this investigation.
Dosanjh spent some of his share of the proceeds of this crime on luxury cars including a Rolls Royce, Mercedes and Range Rover. He also attempted to hide further money in offshore bank accounts. HM Revenue and Customs was able to identify these accounts, and that money formed part of the confiscation order.
Robert Alder, HMRC Criminal Investigations, said:
Dosanjh enjoyed a lavish lifestyle, investing the proceeds of his crimes in property and luxury cars.

This was a complex and lengthy financial investigation requiring enquires to be made with overseas authorities. This large confiscation order shows that HMRC is committed to not just bring criminals to justice, but also to ensure that we recover the money stolen from the taxpayer by criminals and return it to the Exchequer.
The fraud was committed by bogus companies importing the carbon credits free of VAT into the UK. They then sold the credits on, charging VAT which was never paid to HMRC, and then dissolved the importing companies. The credits were then sold on again between three further "buffer" companies – also run by the gang – before finally being sold on to legitimate companies so the trading chain appeared legal. The VAT charged by the "missing trader" was then shared out between the gang.
The trades were made in a matter of minutes via a computer system, and the stolen VAT was transferred to offshore bank accounts in the United Arab Emirates to 'clean' the stolen cash.
Confiscation proceedings are ongoing to recover further money from the other convicted defendants.
Published 17 October 2013