News story
£28 million mobile phone VAT fraudsters jailed
Four men involved in a £28 million "missing trader" VAT fraud have been jailed for a total of 27 and a half years.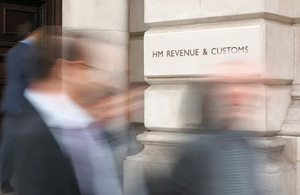 Brian Murray, Ross Bell, Lonnie Smith and Gary Salter, all from Kent, committed the multi-million pound fraud, claiming fraudulent VAT repayments for mobile phones and computer chips imported from Europe and the United States.
Her Majesty's Revenue and Customs (HMRC) investigators successfully stopped attempts to claim VAT repayments worth over £18 million.
John Cooper, Assistant Director Criminal Investigation, HMRC, said:
This fraud made huge profits for the gang members at the expense of UK taxpayers. The techniques used by HMRC officers in this long and complex investigation have resulted in the successful prosecution and imprisonment of those involved. We will now seek to recover the profits of crime.
If you have information about anyone committing VAT fraud, please call the Customs Hotline on 0800 59 5000 and help us fight this type of criminal activity.
The fraud involved the sale of phones and computer chips through a contrived supply chain of UK traders. A company involving all four of the accused, Amber Communications Management Ltd (ACM), then exported the goods principally to Switzerland or Dubai. The UK traders at the start of the supply chain – which in some cases were set up purely to commit the fraud – failed to pay to HMRC the VAT they had charged on their original supply.
Murray and Bell were directors of ACM during part of the fraud. Smith was company secretary and Salter an employee who was involved in day-to-day trading activities.
All four men were found guilty on 20 February 2014 after a lengthy trial at Kingston Crown Court, and were sentenced today, 10 April 2014.
Confiscation proceedings are in place to reclaim any financial gain.
Published 11 April 2014