News story
£1.2 million tax fraud uncovered in tobacco raids
A man has pleaded guilty to being knowingly concerned in the fraudulent evasion of Excise Duty and sentenced to eight months imprisonment.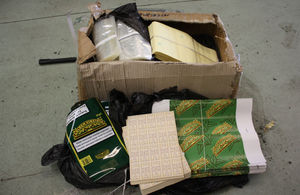 Jin Yong Wang, an illegal immigrant living in Renfrew, pleaded guilty at Paisley Sheriff Court on Tuesday 30 April to operating a tobacco counterfeiting operation that would have led to a duty loss of £461,000.
A follow-up investigation by HM Revenue and Customs (HMRC) led to the discovery of a shipment of counterfeit hand-rolling tobacco pouches at Manchester Airport. The counterfeit packaging seized had the potential to evade £735,000 in revenue.
Anne-Marie Gordon, Assistant Director, Criminal Investigation, HMRC said:
"Cheap tobacco may seem like a bargain at the time, but this tobacco was packaged in less than ideal conditions. Tobacco factories like this are packaging low quality tobacco and I'd urge people to be wary - if you're offered tobacco at a price that seems too good to be true, then seizures like this would explain why.
"Tobacco smuggling is a serious crime. It undermines honest traders, putting their livelihoods at risk and damages our local economy. Anyone with information about tobacco smuggling can help us by calling the Customs hotline on 0800 59 5000."
In October 2012, HMRC officers, accompanied by Royal Mail investigators searched a flat in Inchinnan Road, Renfrew, where they seized two heat-sealing machines, eight notebooks containing lists of postal imports, scales, 3,800 counterfeit Benelux Tax Stamps, 53,450 counterfeit Golden Virginia pouches, 10.15kg of tobacco and £5,345 in cash.
The intelligence gathered from Inchinnan Road led to the seizure of 85,000 counterfeit tobacco pouches at Manchester Airport in December 2012, destined for an organised crime gang based in the north west of England.
Published 8 May 2013