News story
'Most wanted' tax fugitive captured and jailed
A member of a Nottingham-based crime gang who fled the UK to avoid prison has been captured in the Czech Republic and returned to the UK to start a five-year jail term.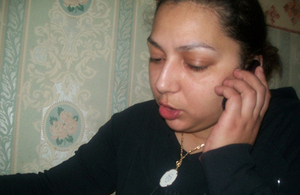 Magdalena Ferkova was part of a family group from the Czech Republic who duped people into coming to the UK to act as "benefit tourists", illegally claiming over a million pounds in tax credits and Child Benefit. She was tracked down in her home country as a result of information received after being added to HM Revenue and Customs' (HMRC) 'Most Wanted' gallery of tax fugitives.
Carolyn Norsworthy, Assistant Director, Criminal Investigation, HMRC, said:
Magdalena Ferkova thought she could flee the country to avoid justice. She was wrong. We have tracked her down and, working with the Czech authorities, have brought her before the UK courts so justice can be served.
Ferkova was part of an extremely well organised and ruthless crime group, committed to stealing vast amounts of public money at the expense of the British taxpayer. They exploited the many people they lured to the UK from abroad with the promise of legal employment, but then manipulated and discarded them.
His Honour Judge Sampson commented on sentencing: "You are thoroughly dishonest and a brazen liar."
Four other members of the gang were sentenced in November 2013 after an investigation led by HMRC into the £1.2 million fraud.
They arranged for vulnerable foreign nationals from the Czech Republic and Slovakia to be brought to Nottingham where they were told they would be given jobs. The criminal gang took their passports, housed them in the city temporarily and then "helped" them to get a National Insurance number and open a bank account. After forcing the individuals to make applications for tax credits and Child Benefit, the gang sent the claimants home.
Anyone with information about any of the other Most Wanted tax fugitives should contact HMRC's Customs Hotline on 0800 59 5000.
Published 7 April 2014