Press release
Fake 'Customs Officers' jailed
Three men who attempted to steal alcohol and cash from a warehouse in Brierley Hill, West Midlands by impersonating HMRC officers have been jailed.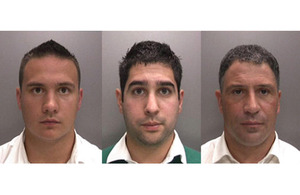 Two of the men attempted to make themselves look legitimate by carrying identity wallets, evidence bags and seizure forms. One of the men was also carrying handwritten instructions on how to 'act as a Customs Officer'.
On 25 August 2012, the men tried to seize cash and alcohol from the proprietor, claiming he had not paid duty on the goods, but he became suspicious as their identity cards did not include photographs, and contacted the police who responded immediately. Goods worth hundreds of thousands of pounds were in the premises at the time.
Adrian Farley, HMRC Assistant Director of Criminal Investigation, said:
Impersonating an HMRC officer is a serious criminal offence and we will take action against anyone found committing this crime. We would always urge people to check the identification of those wanting to enter their home or business. Any legitimate law enforcement officer or caller will not mind waiting outside while their identity is verified. If you are suspicious, call the police.
His Honour Judge Challinor said in his summing up in court:
These type of cases damage HMRC and the identities of the officers in whom the public must be able to have confidence in to carry out their duties and any sentence must be seen as a deterrent.
All defendants pleaded guilty to charges of Attempted Theft, contrary to the Criminal Attempts Act 1981, and Molinari and Rodrigo pleaded guilty to the impersonation of a Customs Officer under the Commissioners of Revenue and Customs Act 2005.
This was a joint investigation and prosecution by HMRC and West Midlands Police.
HMRC officers always identify themselves on arrival by showing an identity card bearing their photograph. Anyone with concerns should contact the police immediately.
Published 12 April 2013