News story
Asset Recovery and the G8 Deauville Partnership with Arab Countries in Transition
The UK's G8 is committed to support the recovery of stolen assets for the Arab Countries in Transition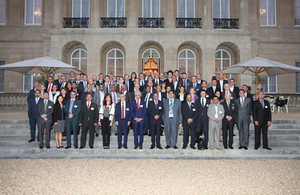 This year, the UK holds the G8 Deauville Partnership Presidency, and is committed to support Arab Countries in Transition seeking to trace and recover significant sums of money stolen by former regimes.
In June 2013, The G8 Leaders' Communiqué from Lough Erne reiterated the G8's high level commitment to return stolen assets to the Arab Countries in Transition, including through participation in the Arab Forum on Asset Recovery (AFAR):
We reiterate our high level of commitment to return stolen assets to countries in transition, including through participation in the Arab Forum on Asset Recovery. We will continue to strengthen cooperation on bilateral casework and develop further the collaboration among our practitioners.
Under this year's G8 Presidency, the UK is working in conjunction with the Stolen Asset Recovery Initiative (StAR) of the World Bank and UN Office on Drugs and Crime. The Arab Forum on Asset Recovery was established last year under the US's G8 Presidency, to bring together the Arab Spring Countries, the G8, regional partners and other financial centres for a coordinated effort to recover stolen assets. The first AFAR took place in Qatar in September 2012, bringing together key individuals, institutions and governments to discuss the challenges and expectations of asset recovery in the Arab World.
Following this meeting, it was proposed that a number of special sessions would take place to enhance technical assistance and training ahead of the next AFAR. The UK has organised three special sessions this year – in Qatar in April, in Egypt in June, and London in September – all aimed at addressing technical challenges encountered by countries in the tracing of assets.
Between 26-28 October in Marrakesh, AFAR II will be jointly organised by Morocco and the UK. This meeting will seek to increase cooperation on asset recovery for the Arab Countries in Transition. It will also look back on the progress made over the last year and develop the existing work between the Arab Nations, regional partners and the G8.
What the UK is already doing:
In line with the Prime Minister's announcement at the UN General Assembly in September 2012, the UK has created a cross-Government Asset Recovery Task Force dedicated to increasing and accelerating our effort to return stolen assets to Egypt, Libya and Tunisia.

The UK has posted a Regional Asset Recovery Adviser to Cairo to provide expert technical assistance to countries in the region.

Under the UK's Presidency, the G8 has agreed to collective action to improve the transparency of beneficial ownership to tackle illicit financial flows, and to make it easier for law enforcement and tax administrations to fight company misuse. This will have a positive impact on asset recovery work.
Learn more about the G8 Deauville Partnership with Arab Countries in Transition here.
Published 3 October 2013
Last updated 8 October 2013
+ show all updates
Photo changed
First published.