Corporate report
Government Digital Strategy: quarterly progress report March 2015
Published 27 March 2015
© Crown copyright 2015
This publication is licensed under the terms of the Open Government Licence v3.0 except where otherwise stated. To view this licence, visit nationalarchives.gov.uk/doc/open-government-licence/version/3 or write to the Information Policy Team, The National Archives, Kew, London TW9 4DU, or email: psi@nationalarchives.gsi.gov.uk.
Where we have identified any third party copyright information you will need to obtain permission from the copyright holders concerned.
This publication is available at https://www.gov.uk/government/publications/government-digital-strategy-quarterly-progress-report-march-2015/government-digital-strategy-quarterly-progress-report-march-2015
We published the Government Digital Strategy in November 2012 and updated it in December 2013. It sets out 16 actions saying what government will do to:
create digital services so good that people will choose to use them
support those who aren't online
build digital capability and skills across government
use digital to improve policy making
Foreword by Mike Bracken, Executive Director, Government Digital Service
All our quarterly progress reports mark important milestones, but this one feels like it's more of a milestone than most.
Back in February we hosted Sprint 15, the culmination of 2 years and "400 days of delivery" on the transformation exemplar projects. It was an opportunity for colleagues from across government to gather together and reflect on 2 years of extraordinary effort and hard work.
The 25 exemplar projects (20 of which are now in the public domain, either as live services or public betas) were set up not only to transform services, but to kick-start new thinking and new ways of working. The exemplar programme has prompted departments to completely rethink how they deliver digital services, and some have started to build their own in-house digital teams. This sort of change was unthinkable just 2 years ago.
We've completed a tremendous amount of work this quarter, as you'll see when you read through the detail that follows. My thanks to everyone who has contributed, within GDS and beyond - I know the pace is fast and there's rarely a chance to stop and pause for breath. It was good to see the GOV.UK team do exactly that with their firebreak in January. It was a chance for the team to regroup, re-think, and work on things that weren't on the official to-do list. Some good ideas came out of it, and the team emerged refreshed and re-energised.
So Spring 2015 feels like a new chapter, a fresh start. Of course we'll continue our existing work, because there's always new user research to react to, new ways to iterate and make things better. But as an organisation, we've started a new phase, a programme of work that will help shape our focus in the coming years.
It means working with colleagues across government to identify what common platforms should be, how they should work, and how we should build them. We've already begun building detailed cross-government business cases for each one.
This is a big task, and not something any one department or GDS can do alone. It's a stepping stone, preparing ourselves and the rest of government for something wider and more ambitious: Government as a Platform. It's a task that requires teamwork.
As always, the unit of delivery is the team. As we move onwards into this new phase, that team is wider, stronger and more important than ever.
In 2013, digital leaders agreed an annual review process to track departmental progress against 16 of the actions in the Digital Strategy. They also agreed to a narrative highlight report each quarter. This is the last of those reports for this Parliament.
What we've done so far across government
Between January and March, 7 more transformed services went live with a further 5 entering public beta. This means there are now 20 services available for use by the public.
We ran:
GOV.UK Verify (our federated identity assurance service) is now being used by 25,000 people in 4 services available for use by the public.
We also published a Digital and technology skills manual.
GOV.UK
Use of GOV.UK
The transition of over 300 agency and arms length bodies' (ALB) websites to GOV.UK was completed in December. Since then, usage figures have risen.
This quarter GOV.UK: * averaged 12 million weekly unique visitors * was ranked the 25th most used website in the UK (up from 31st in November).
We saw the highest number of unique visitors and visits to date in the last week of January (13.6 million unique visitors and 21.2 million visits). This was largely caused by the 31 January Self Assessment tax return deadline. The deadline day also saw 2.2 million visitors, the highest number of daily visits for a Saturday ever.
Firebreak
In January, GOV.UK ran a 'firebreak'. People in GOV.UK's product and infrastructure teams spent this time investigating new ideas, improving processes and planning the next phase of GOV.UK's development. This involved making several changes to speed up delivery and reduce human error in the future. Examples include:
cutting the release process (a task performed about 10 times per day) down from 30 steps to just 5
running an extremely important and useful disaster simulation game day to test GOV.UK's resilience
New products and tools
This quarter, GOV.UK built new product features and bespoke tools for agencies with complex user needs. These included:
HM Revenue & Customs (HMRC) built a new publishing system for its tax manuals. It is now easier for its tax experts to update and maintain the content of the department's manuals. VAT Government and Public Bodies was the first manual to be published on the new system in February when it entered public beta. The department is gathering feedback from users before migrating HMRC's 200-plus remaining manuals onto their new publishing system.
Other government websites
In January, we published our regular quarterly report on open government websites. This provided information on government-funded websites and stated our intention to reduce their numbers. The number of open government websites at the end of December 2014 was 297 (70 fewer than in the previous quarter).
Redesigning services
GDS continues to support departments as they redesign and improve 25 of the most important and highly used services to make them digital by default. These are reported on the transformation dashboard.
Service transformation
Seven more exemplar services went live this quarter. They are:
By the end of March, a total of 20 exemplar services were available for public use. Four services are in beta development and one is in alpha. Home Office, Department for Work and Pensions (DWP), HMRC and Department for Business Innovation & Skills (BIS)/Land Registry will continue work to deliver these remaining 5 exemplars, building digital by default services that meet the needs of their users.
The Registered Traveller Service helps frequent visitors from the US, Japan, New Zealand, Canada and Australia to be able to enter the UK more quickly and easily.
Apply to an employment tribunal went live in February allowing users to lodge an appeal to an employment tribunal and pay the accompanying fee online.
The new Find an apprenticeship service went live in March. This allows citizens aged 16 or over to search and apply for an apprenticeship that combines practical training with study. Already nearly 168,000 people have applied for jobs.
On 18 February, the 4 millionth registration was submitted via the online Register to vote service. The service supports 46 million voters across 400 local authorities. On 5 February, Cabinet Office (CO) ran National Register to Vote day. This saw a record 166,000 applications, most made by people between the ages of 25 and 34.
Exemplar projects: what we're learning
We want departments to learn from this transformation work and to use exemplars as templates when redesigning their own digital services. We're also looking at how organisational structures and culture need to adapt and staff skills need to improve.
Sprint 15 gave people working on digital transformation projects a chance to share what they've learned.
Other service transformations
Other government departments continue to make their services digital by default alongside the exemplar projects.
The Intellectual Property Office (IPO) Register a design passed its alpha assessment this quarter. If you come up with an original design of your own, you can apply to IPO to register it. This gives you exclusive rights to use that design for 25 years and gives protection should someone else infringe it. By improving the design of the application process, IPO aims to significantly reduce the 87% of applications that must be followed up on because of errors on the paper form.
Department for International Development's (DfID) International development funding finder helps potential applicants find funding for international development work. In January, a new email subscription service went live to alert subscribers of new funding opportunities.
Foreign and Commonwealth Office's (FCO) Consular appointments system is now being used in 90% of posts. GDS learned many valuable lessons from building the booking service, which went live on 16 February.
Cabinet Office's Honours and Appointments System (HAS) moved into alpha. It allows members of the public to nominate people for honours through an online portal on GOV.UK. The redesign of the service includes the back end platform with a new case management platform for the HAS team.
Ministry of Justice (MOJ) started work with GDS on Payment to Prisoners, a possible first version of a government-wide digital payment platform.
Meeting the Digital by Default Service Standard
The Government Service Design Manual, first published in April 2013, gives departments information and guidance on meeting the Digital by Default Service Standard. This sets out the criteria we use to judge whether a digital service is good enough for public use.
GDS teams began 34 assessments between January and March 2015. Assessments are held for each service before it can move on to the next development stage and prior to going live.
Departments self-certify services handling under 100,000 transactions each year. GDS has trained nearly 200 assessors in 22 departments and 8 agencies for this purpose.
All the assessment reports are published on the [GDS data blog]((https://gdsdata.blog.gov.uk/all-service-assessments-and-self-certification). Not only does this make the process open and transparent, but it also helps other services to better understand the assessment process and its requirements. We've published a dashboard on the performance platform to show trends in assessments.
Helping more people use digital services
We want everyone who is able to use our digital services to do so. To design services that work for users, we need to understand:
who can use digital services
who can't use them
what help we need to offer people who aren't online
To persuade people who are already online to use government digital services, we need to make those services clearly preferable to the alternatives and make sure people know about them. We also need to work with a range of other organisations to help people currently offline gain the basic digital skills they need to go online safely. If people can't use digital services on their own, we'll find other ways to support them so they still get the services they need.
Increasing digital take-up
In the Autumn Statement government committed to:
increase digital take-up of public services by 10% (as an average across all services) by mid 2016
bring average digital take-up to 90% of people who are online by 2020
Digital leaders agreed a baseline from which to measure the 10% and a method for calculating the 90% of those online by 2020. Digital leaders agreed that digital take-up plans will be a mandatory requirement for all services going into public beta from 1 April 2015. The default target will be 90% take-up (of those online) by 2020.
Civil Legal Aid (CLA) worked with Legal Aid Agency to promote the use of online channels over the CLA's call centre. The call centre used an interactive voice recognition journey to promote the digital channel as a convenient alternative to waiting on hold.
Helping people get online: digital inclusion
We published the government Digital Inclusion Strategy in April 2014. The strategy explains what departments, partners and GDS will do to help people go online.
Currently about 1 in 5 of the adult population lacks basic digital skills. The Digital Inclusion Strategy aims to reduce the number of people offline by 25% every 2 years. At that rate, by 2020 fewer than 4.7 million people will lack basic digital skills and the ability to go online.
Working together
So far, 71 organisations from the public, private and voluntary sectors have signed up to the UK Digital Inclusion Charter and agreed to help people learn new skills and put those skills into practice. These organisations will have more impact working together than in isolation.
Digital Inclusion forum
We ran a digital inclusion forum in January that brought together our corporate, public and third sector partners with cross-government officials. All committed to working together to reverse digital inclusion through actions based in social housing, community hubs and libraries. For example, a series of digital inclusion pilots in libraries will take place in the spring as a result of public/private sector partnerships.
At the forum, we shared the first iteration of the digital inclusion roadmap. This gives partners and government departments a clearer picture of work being done and helps co-ordinate digital inclusion activity.
The Minister for CO, Francis Maude, welcomed new signatories of the Digital Inclusion Charter and encouraged attendees to support the Digital Friends initiative.
Digital Friends
Digital Friends, an initiative to promote informal peer-to-peer sharing of basic digital skills, was launched nationally in March. Recent research shows that those who are digitally excluded are more than 3 times as likely to accept help to use online government services from family and friends than from any other source.
Digital Inclusion partners and government departments will ask employees, volunteers and contractors to share their digital skills with family, friends or local community groups who need help getting and staying online. This could mean setting up an email account or showing them how to contact friends and family online.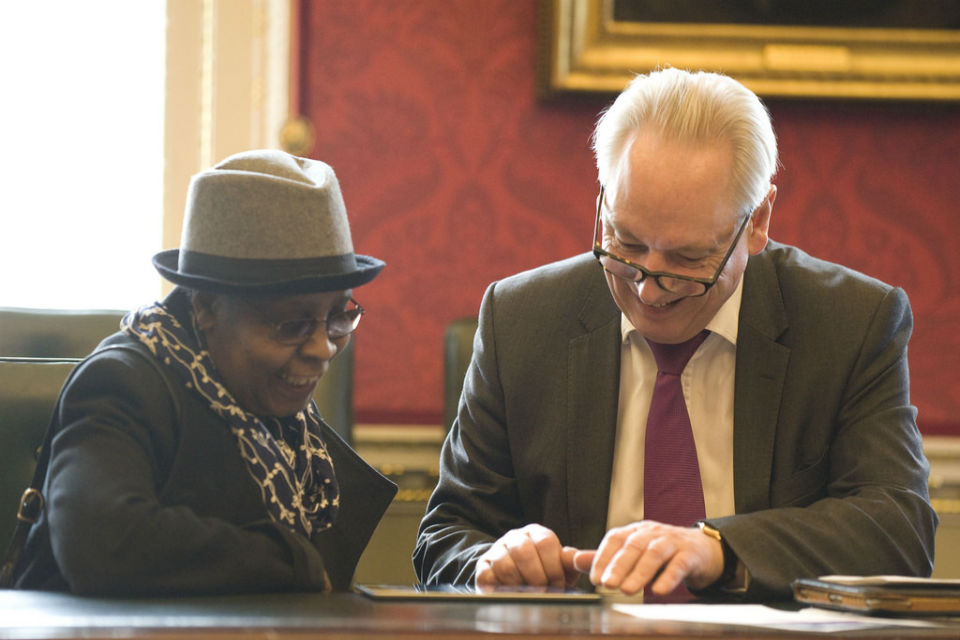 Helping people use digital services: assisted digital provision
Not everyone who uses government services is online, and not everyone will be able to use digital services independently. The government has to make sure everyone who's entitled to a service can get access to it.
What we provide for people who remain offline will depend on the service and the needs of the user. Many people who are offline will be helped to use the digital services through non-digital ways, such as face to face, by phone and through intermediaries. In some cases, people may be offered help to use the digital channel independently.
Understanding user needs
The assisted digital team at GDS are helping departments establish assisted digital requirements for their services.
The assisted digital team in GDS worked with the Universal Credit digital service to test how services can best signpost users with a range of needs to appropriate assisted digital support.
Defra created 50 digital support centres to provide one-to-one assistance for those who need it to register and apply for subsidies under the Common Agricultural Policy. The centres are located in existing Rural Payments Agency offices and no farmer has to travel more than 30 miles to reach a digital support centre.
MOJ's Make your plea online service provides assisted digital support through a call centre, where staff make a plea on behalf of the user.
Helping civil servants understand digital
The Civil Service Capabilities Plan, published in April 2013 and updated in June 2014, identified building digital skills as 1 of 4 priorities across government. We want civil servants to understand how they can use the internet and technology to make government policy and digital services better.
DFID has built a digital skills self-assessment tool (the Digital Quiz) that has been made available to all staff to raise digital awareness and point to learning resources. Initial results have been analysed and shared. As the quiz is built in open source, we have shared the code and instructions for other departments/organisations so they can modify and re-use the quiz with their staff.
Strategy and digital leadership
Department for Communities and Local Government (DCLG) and Ministry of Defence (MOD) appointed a new digital leader and FCO appointed a new board digital champion, Julian King, during this quarter.
Home Office published an update of their digital strategy
Cabinet Office support across government
Recruitment
GDS's Recruitment Hub helps departments make both permanent and fixed term appointments for senior civil servants and other digital roles. This includes:
shaping job roles and advertising approaches, learning from experience across government
advice on salary levels and on using specialist recruitment companies
running campaigns
joining recruitment panels
advising on interim roles when necessary
Between January and March, the hub successfully helped recruit leadership positions including:
DWP - Head of Service Architecture
DWP - Director of Enabling Digital Delivery
ONS - Director General Data Capability
MOJ - Director of Digital and Change
HMRC - Digital Operations Delivery
MOJ National Offender Management Service - Director of Digital Change
HMRC - Head of IT Programme Design
CO - Chief Digital Officer
Guidance and advice
Between January and March, we've:
run 3 Service Manager induction programmes and 6 open programme events which between them involved around 62 people from 25 different departments or agencies.
launched the Digital people blog, which follows digital and technology recruitment and skills activity at GDS and in wider government
Support for departments and professions
The Service Manager Community supports transformation by providing a platform for government service managers to share ideas, problems, questions and experience using a variety of methods. The community is active through a Google Group, fortnightly newsletter, mentoring programme and quarterly meetups. The community was refreshed in January 2015. This involved:
changes to the community platform based on feedback from users
running additional community activities such as a mentoring scheme and quarterly face-to-face forums
There are 10 formal communities for people who share common job roles or responsibilities, enabling them to share best practice, problems and news. They include user research, content, digital service design, agile, security, technical architecture and service management. A 'community of communities' was established to co-ordinate these formal networks and share best practice in the use of community tools and techniques as identified in the Community development handbook.
Improved digital training and development
On 25 February the Digital and technology skills manual was published, setting out skills for digital and technology specialists across government. This is the first definitive guide on digital skills across all of government, providing a baseline of skills for departments, agencies and ALBs to carry out their digital transformation.
Previously described as a matrix because it was originally presented as a spreadsheet, the manual categorises over 350 specialist skills into 18 skill groups and will be used to support skills transformation. The skills groups include front-end digital activities like web content design and user research and back-end specialisms such as technical architecture and operations management. Departments already using the manual include:
DfE, The National Archives, MOJ, HMRC, Defra and MHRA for skills assessments
DWP and HMRC for digital fast track apprenticeship programme
DfE for digital skills profiles
Office for National Statistics (ONS) published a set of editorial standards in February to help government statisticians improve the quality of statistical commentary.
How departments are becoming more digital
Department for Business, Innovation & Skills (BIS)
BIS increased the number of staff in its digital and technology team. The team will support BIS and its partner organisations to develop capability, particularly around service design, development and delivery. BIS introduced senior digital advocates, a network of deputy directors and directors who champion digital in the day-to-day activity of their team. BIS launched the Digital Practitioners Group this quarter. Made up of experienced policy professionals, it meets monthly to review upcoming projects, challenge decisions and share good practice.
Department for Communities and Local Government (DCLG)
DCLG aims to have 70% of staff at level 7 on the digital inclusion scale by July 2015. It is offering targeted coaching for senior civil servants. This quarter DCLG doubled the number of digital champions who designed a 'digital basics' toolkit and took their teams through it.
Department for Education (DfE)
DfE ran a Digital Learning month in February. They ran over 40 events in 5 locations nationally with support from GDS, small and medium sized enterprises (SMEs), other government departments and the University of Surrey. These included sessions on:
How GOV.UK works
Agile for beginners
User needs
Digital inclusion
Open data
One highlight was Coding Day, which involved a company running a day of digital masterclasses. For every member of staff who attends these sessions, the company will also train a young person (aged 16 to 25) for free.
Department of Health (DH)
DH launched its new Digital Passport based on level 7 of the digital inclusion scale at the Digital Champions Basecamp in March. The department want 1,000 staff to get their passport during 2015. Training sessions are given throughout the year by the 100 strong Digital Champions network. The Basecamp in March saw them hand over to new volunteers.
Department for International Development (DFID)
DFID ran an agile training programme for 37 staff in their business solutions team to improve their capability in designing digital services. This was a series of workshops, coaching and exams.
Department for Work and Pensions (DWP)
In January, DWP held the first cross-government digital academy, with members of various departments completing the course.
Foreign & Commonwealth Office (FCO)
In January 2015 FCO launched a digital curriculum, now available across its global network. It consists of 10 modules covering communications, policy work and service delivery and offers foundation, practitioner and expert levels. Staff can put modules together into a personalised programme. The next stage of the curriculum will cover new areas such as the use of digital in crisis situations.
FCO ran an Open Policy Making week in February looking at social media analysis, hack days and challenge sessions.
Home Office
In February, Home Office launched a graduate internship programme to attract graduate talent. Designed in partnership with University College London, it focuses on user research and software development, providing hands on experience for graduates.
Ministry of Defence (MOD)
Defence Science and Technology Laboratory's Social Business Software team was runner up in the technology category at The Way We Work (TW3) awards in January. Their tool was used to identify and bring together the various scientific elements which supported the government's response to the Ebola crisis.
Ministry of Justice (MOJ)
MOJ ran their Code Club this quarter. An in-house weekly lunchtime course, it's open to all digital services staff who received training in basic programming.
Digital platforms shared across government
The government is establishing or sharing common approaches across departments in a number of areas supporting digital. GDS leads on much of this activity, and also supports departmentally-led work where requested.
GOV.UK Verify
The identity assurance programme is working with central government departments and agencies and other public service providers to plan their use of GOV.UK Verify, the new way to prove who you are online. It means people will be able to access their government records and services securely and safely, without having to use postal or face-to-face services.
Self-assessment trial
In the run-up to the self-assessment deadline on 31 January, HMRC ran a trial to see how it works for users accessing the service through GOV.UK Verify instead of using Government Gateway.
By 31 January, 11,000 people filed their Self Assessment tax returns using GOV.UK Verify, including about 3,300 people who had not used the self-assessment service before. This saved them having to call the HMRC call centre or wait for new Government Gateway credentials to arrive in the post.
By 25 March, there had been 25,000 new registrations and over 80,000 sign-ins for GOV.UK Verify for users across all services.
Procurement update
The Official Journal of the European Union (OJEU) notice for the second framework procurement for GOV.UK Verify was published on 17 December and the deadline for bids was 16 February. The new suppliers were announced on 25 April
Growing our Identity Assurance hub
Post Office joined the GOV.UK Verify public beta as an identity provider on 5 March.
Services using GOV.UK Verify
During the quarter, several services started to use GOV.UK Verify. The services now available through the Verify public beta are:
More services will be joining GOV.UK in the next few months
Buying digital services
The Digital Marketplace helps those transforming public services by making it simpler, clearer and faster for them to buy what they need. It provides a single place for the public sector to buy from the G-Cloud and Digital Services framework.
On 2 February 2015, G-Cloud 6 services became available in the Digital Marketplace. G-Cloud 4 services have ended but G-Cloud 5 services are still available to buy.
The Digital Marketplace delivery team is making a number of back-end improvements which will reduce maintenance and hosting costs. These changes will make it easier and faster for us to add new features in the next financial year.
G-Cloud
G-Cloud allows anyone in the public sector to buy off-the-shelf cloud-based services on a pay-as-you-go basis, through the Digital Marketplace.
As of 23 March, G-Cloud sales figures are £516 million. Half of these were with SMEs. We are tracking progress through the G-Cloud dashboard.
G-Cloud 6 went live on 2 February 2015. It has been the most effective iteration for attracting new suppliers, with 516 new to the framework. This brings the total number of suppliers on the Digital Marketplace to 1,852 (87% SMEs), with 19,966 services available.
Digital Services framework
The Digital Services framework provides the public sector with easy access to a diverse range of suppliers that have the right capabilities to help the government carry out its digital strategy. Digital Services 2 (DS2) brings in some very important changes required by the public sector that were highlighted during discovery. DS2 is currently in the OJEU procurement process.
A multidisciplinary team has been set up to work on the next iteration of the Digital Services framework (DS3). It includes people from GDS, Crown Commercial Service, Treasury Solicitors and private sector experts. This means we'll benefit from the widest possible range of views when developing DS3. This also helps ensure DS3 is developed in line with the GDS design principles and meets all user needs, regardless of who that user is.
Performance measurement
The performance platform, which provides structured data to help departments improve services, continues to grow. There is now a range of detailed service and overview dashboards. All departments have committed to publish information openly and transparently on how their digital services are performing.
This quarter we moved all performance data from Transactions Explorer to the Performance Platform, launching over 700 new dashboards on 23 March. There are currently 813 service dashboards available on the Performance Platform and all transactional government services now have a dashboard displaying performance data. This means there is 1 one place to find data about how government services are performing.
In February the performance platform launched its new homepage. Other new dashboards include:
During the quarter, GDS created:
a new services data page which allows you to search for data about services in various ways (eg you could find all the services that sit in a particular department or agency)
a 'big screen view' which helps users show their key performance indicators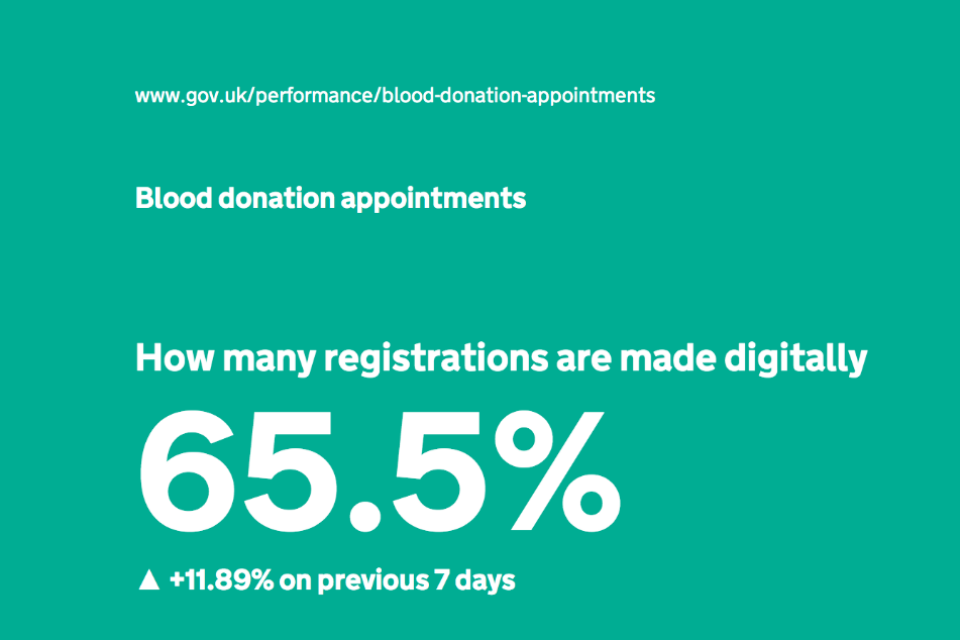 Performance analytics
We believe in using data to inform design. GDS has:
assisted with Home Office digital analytics procurement being lead by the Passports exemplar
supported Rural Payments Agency to create conversion funnels to provide completion rates for the performance platform
provided practical help for HMRC's Your tax account, Self Assessment and PAYE to implement and optimise digital analytics.
provided practical help to the Visas exemplar to enable them to determine aggregate completion rates and completion rates by visa product.
provided practical help to the Highways Agency to fix errors in the completion rates for the Dart Charge
run a workshop with Universal Credit mapping reporting requirements to digital analytics implementation
Data Science
The Data Science Accelerator Programme, set up to engage the analytical professions in government with the benefits of data science, ran a second cohort this quarter. Five participants from various departments joined the induction day in January. They've received mentoring and support as they develop their projects and learn the skills and techniques of data science. They can then take this learning back to their own teams and departments. Projects include:
using open data to assess the health of UK companies
using student loans data to improve learnings forecasts
using different data sources to improve the Food Hygiene Rating Scheme
The data science community across government continues to expand. In January, we launched our community space, which already has 50 members. On 19 February GDS ran the Fourth Data Science Show and Tell. Demonstrations and discussions were lead by the BBC's Ransome Mpini, a guest speaker with fascinating insights into data journalism.
Researching user needs
GDS has a user research lab for government departments to use. DVLA has mirrored this design and is building its own user testing lab in Swansea which will open on 22 April.
Over this quarter, GDS alone tested services with nearly 285 users, over nearly 262 hours. This is in addition to work carried out across all departments.
GDS has continued to work with departments to build capability and share learning through:
starting a new community in February for people building user research labs across government (over 40 attended from different departments at the first meeting)
training customer insight and user research practitioners on 'understanding our audience through market segmentation and personas'
putting the third cross-government cohort through its user research induction programme
Government IT systems
GDS is developing a common, cross-government approach to the IT services that everyone uses, like desktops and hosting. We're calling this Common Technology Services (CTS). Our aim is to show a different way of designing and providing technology to the civil service. We want users to have modern, flexible technology services that are at least as good as those people use at home. These services will also be cheaper than the services currently in place.
As part of the Cabinet Office's technology transformation programme we transitioned 2,380 staff across CO and DCMS on to the new technology service. This means they now have:
a choice of devices to support flexible working and mobility
cloud-based apps that support easy collaboration and flexibility in choosing tools to meet a wide range of needs
access to fast, open wi-fi across 20 sites
Cabinet Office Technology Transformation
A new in-house digital and technology team was established in the Cabinet Office to support and continually improve digital and technology services for government. The team consists of digital product managers, delivery managers, user researchers, business analysts and technical architects. They are working on a number of projects including a:
Open Policy Toolkit
Jobshare Noticeboard
Employee Benefit Portal
Contracts Finder
mapping tool for drawing up the new boundaries and wards for the Boundaries Commission for England
Public Services Network (PSN)
Public Services Network's goal is to deliver a cost- effective, high performance government network. It works with a wide range of stakeholders, including industry and local government.
The compliance of PSN Customers has been published on the performance platform. The number of compliant or in-progress organisations has increased from 75% at the start of the year to 85% by the end of February.
Crown Hosting Service
Crown Hosting Services announced a joint venture with supplier, Ark Data Centres, to provide hosting data centre services for government service delivery will start in March.
Common platforms
Work on GOV.UK and the transformation programme has revealed a huge opportunity for service transformation through the development of shared, interoperable services. These are services that can work together as they're developed. This approach, known as 'Government as a Platform', will help government build and provide new and redesigned services.
We've already built platforms for publishing (GOV.UK), identity (GOV.UK Verify) and performance data. These are platforms all of government share, saving money and unifying the experience for users.
We've started work to enable more cross-government platforms. This involves working with agencies and departments to identify what the priority platforms might be and how we start developing them.
DfID is working with FCO, UK Trade and Investment and British Council to design and introduce new systems with a common technology platform. An example is the recent introduction of a new UK telephone system, which involved consolidating into a single DFID/FCO global telephone system.
DH made their intranet code available on Github, an online library for coders.
FCO is sharing its previous technology work with Passport Office and aligning services that handle emergency travel documents and passport renewal processes.
Open standards
Between January and March:
GDS published guidance on working with the Open Document Format (ODF) to help digital and technology leaders in departments to implement the standard
GDS ran a series of open format clinics so that departments could share what they're learning during the move to open formats.
several departments published their plans for moving to open formats when they work with editable documents.
the Standards Hub was relaunched in public beta following a period of user research and testing to better meet the needs of its users
New approaches to government technical architecture
GDS worked out a new structure for the architecture function that will be better able to support the Government as a Platform work. That will mean focusing on the development and operation of new platforms and defining standards to support them.
Telecommunications and digital infrastructure
A second review of public sector telecommunications and digital infrastructure was published on 25 March. Using existing capacity, government has made its buildings available for telecommunications infrastructure, increasing the chances of improved connectivity in urban and rural areas.
Digital policy making
In February, the Open Policy Making team organised a week of workshops for civil servants on a range of subjects:
user-led design
how to make better use of data
Government as a Platform
digital tools in policy making
They showed the great work that departments are doing, provided a platform for discussion and opportunities to make new connections and pick up new skills. The workshops were hosted by CO, BIS, DfE, DH, FCO, HMRC and MOJ.
Many departments already use digital tools to engage with the public and to improve policy making. FCO published the 2014/2015 Human Rights and Democracy Report case studies in March. The public are able to comment and feed into policy formulation and suggest improvements to the report (for example, translating more of the text into foreign languages).
DH's platform for consultation, campaign and complex publication sites went live in February with the Francis Response consultation. All new and existing campaign, consultation and complex publication sites are hosted as subdomains of engage.dh.gov.uk.
Home Office and MOJ's TrackMyCrime service went live in January. It is available to all police forces and also allows victims of crime to digitally track the police investigation and response through the police.uk web portal.
Visual.ONS went into public beta on 15 January. It creates interactive graphics from data. This content is aimed at their 'inquiring citizen' persona.