Press release
Cabinet Office unveils technology transformation
Government unveiled the next wave of digital transformation at the Sprint 15 conference in London.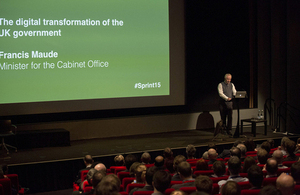 The UK government's digital revolution is now turning from focusing on individual online services to delivering a new suite of digital platforms, the Minister for the Cabinet Office, Francis Maude, announced today (3 February 2015).
Speaking at Sprint 15, the third annual showcase for digital government, Francis Maude launched the Cabinet Office's technology transformation. This is based around the simple aspiration that civil servants should have access to equipment at work which is at least as good as they have at home. Over the past few months over 2,000 officials in the Cabinet Office and The Department for Culture, Media & Sport (DCMS) have taken part in the transformation.
The new technology:
is flexible, allowing officials to collaborate on documents and the ability to work across the estate thanks to high-quality wi-fi
is cheaper, saving an estimated 40% despite being more effective
is designed around our users, so users have a choice of equipment
is delivered in house, drawing on a wide range of suppliers
Since the Government Digital Service (GDS) was formed in 2011 it has succeeded in transforming government's digital offering:
Building on its success, government will move to developing common building blocks which will be adopted by all departments and available to the wider public sector. This 'Government as a Platform' model is based around the success of the single web platform, GOV.UK and the identification application, Verify. Our estimates suggest that this common approach could save billions over the next Parliament and will start with the development of a prototype payments platform and, potentially, platforms for messaging and appointment bookings. New digital services will also be available via an open Application Programming Interface (API) as well as a web browser. This will allow others to integrate their services with the government's and encourage private sector innovation. You could, for example, buy your car tax at the same time as your car insurance, or develop an app based on government data.
Minister for the Cabinet Office Francis Maude said:
Thanks to the hard work of the Government Digital Service, IT has gone from being a byword for failure to a shining example of public sector innovation and reform. As part of our long-term economic plan we are reforming government to be digital-by-default, redesigning services around user need and saving taxpayers' millions. In the years to come we will replace our digital systems with standard building blocks that will be built once and shared by all departments – this is our government as a platform model.

My simple goal is that civil servants should have equipment at work that is at least as good as that which they have at home. So in my department we are not replacing the legacy contract we inherited after the 2010 general election with another big contract. Instead we are building up our own capacity and giving our staff modern, flexible technology designed round users' needs. We have installed secure wi-fi and allowed users to choose their own devices and collaborate on documents. The new technology is better, but also an estimated 40% cheaper.
Executive Director of GDS Mike Bracken said:
Thanks to the hard work and dedication of people right across government, we've succeeded in delivering digital public services fit for millions of users. Launching the award-winning GOV.UK and replacing the 300 existing government websites was a major achievement in its own right, and means that people now have access to simpler, clearer and faster services. We've also radically overhauled the way we purchase IT and in doing so opened up the market to a range of new suppliers.

An exciting period is ahead, and we plan to go even further. Developing a common digital infrastructure across government will not be an easy task, but we'll keep pushing ahead full steam in our mission to build better services and save billions for the taxpayer.
Attended by nearly 500 digital experts, Sprint 15 included speeches and presentations from notable officials such as:
Thierry Mandon, French Minister for Modernisation and Regulatory Reform
Baroness Lane Fox of Soho
Baroness Shields, the Prime Minister's Advisor on the Digital Economy
Jen Pahlka, Executive Director of Code for America
Tim O'Reilly, Founder and CEO of O'Reilly Media Inc.
Published 4 February 2015