Case study
Staff leading by example: encouraging good behaviour
How teachers at schools in the White Horse Federation lead by example to encourage good behaviour and academic achievement.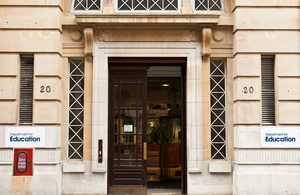 The White Horse Federation (Swindon) includes 7 primary schools, located in a range of different contexts. The federation ranges from a small 36-place emotional and behavioural difficulties school to a large 3-form entry school. The schools welcome pupils from a range of backgrounds and 43 different languages are spoken across the federation.
Teacher induction on behaviour
The schools have a number of measures in place to help staff manage and improve behaviour, beginning during the induction for new teachers and including a workshop on behaviour.
The teachers are asked 'What is good behaviour?' and invariably they start talking about what they expect of the pupils. This discussion is then turned around and used to show teachers the importance of adult behaviour in achieving good pupil behaviour. This encourages staff to model the behaviour they expect of their pupils.
In addition, the schools are clear that all staff have a joint responsibility to all the pupils. All staff, including non-teaching staff, are expected to look out for the children and to spot any signs that they are unhappy or suffering.
Language skills
A high number of pupils speak English as a second language, so communication can be frustrating for the pupils and cause them to misbehave. The schools support pupils to develop their English language skills through school staff demonstrating good English. For example all staff must use non-colloquial, clear and distinct language. In addition, visual displays around the school are labelled clearly in English to help pupils make a real connection between the picture and the letters.
Celebrating diversity
The schools have developed an open and caring ethos which encourages good behaviour where pupils and teachers respect each other. This has been achieved by celebrating diversity, which helps reduce ignorance and develops understanding.
For example, the schools celebrate Eid, Diwali and Christmas, and explore the similarities, rather than the differences, of these festivals. All 3 festivals are a celebration of light, use the colour red and have a charity dimension. Pupils are encouraged to wear traditional dress to celebrate these festivals.
Published 25 March 2014