News story
New international development funding finder launched
A new online tool will make it easier for organisations, individuals and businesses to search for DFID funding opportunities.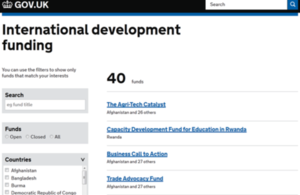 An international development funding finder tool is now live on the GOV.UK website. It is a new way to help organisations such as charities and NGOs find suitable funds that they can apply for.
The funding finder has a number of dropdown menus to help identify the most relevant funds. You can search by sector, country, amount of money required and type of organisation.
The finder will produce a shortlist of funds that match your criteria. If you know the name of a fund, you can use the search box to find it.
The funding finder includes DFID-funded grants, funds or business support which relate to international development work. It replaces the former 'funding opportunities' page.
Feedback
We welcome your feedback and we will take it into consideration when making further improvements to the funding finder. To do so, please use our contact form to send us your comments.
Published 27 August 2014