World location news
Liberia and the UK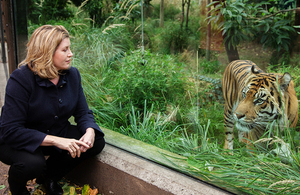 UK aid will protect critically endangered wildlife in Indonesia and Liberia by creating sustainable jobs for people who work near these animal's habitats.
15 November 2018
Policy paper

14 November 2018
Guidance

21 September 2018
Press release
Our mission
We work closely with the Liberian Government and international partners to further the country's recent progress with security and prosperity. On security we are supporting the training of the Liberian security forces as the UN operation (UNMIL) draws down. On prosperity the UK supports UK companies investing in and trading with Liberia.
For further information on development see DFID Ghana (including Liberia).
Documents