News story
Be a part of the World Islamic Economic Forum
This news article was withdrawn on
This content is no longer current as it relates to an event that has passed.
From:

Part of:

Afghanistan, Algeria, Bahrain, Bangladesh, Bosnia and Herzegovina Brazil, Brunei, China, Egypt, India, Indonesia, Iraq, Jordan, Kazakhstan, Kuwait, Libya, Malaysia, Morocco, Oman, Pakistan, Qatar, Russia, Saudi Arabia, South Africa, Tunisia, Turkey, United Arab Emirates, and USA

Published:

25 September 2013
From 29 to 31 October 2013 the UK will be hosting the first WIEF held outside of the Muslim World.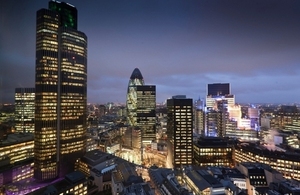 The World Islamic Economic Forum (WIEF) Foundation is a Kuala Lumpur based organisation which grew out of the business conference of the Organisation of the Islamic Conference (OIC). It brings together government leaders, captains of industry, academic scholars and regional experts to discuss opportunities for business partnerships in the Muslim world and beyond.
WIEF has been hosted annually since 2005 in destinations including Jakarta, Islamabad and Kuwait. One of its aims is to promote dialogue and foster co-operation among international businessmen - in the belief that business partnerships can become genuine bridges towards peace and prosperity between the Muslim and non-Muslim world.
Delegations to the WIEF are expected from across the Islamic world and beyond, representing more than half of UK Trade & Investment's (UKTI's) priority high growth markets and over 30 major international projects identified under UKTI's High Value Opportunities programme. The WIEF has invited a number of Heads of State and Government to the WIEF, those confirmed to attend include:
the Chairman of the WIEF Foundation the Hon.Tun Musa Hitam
the Prime Minister of Malaysia and Patron of WIEF Foundation H.E.Dato' Sri Mohd Najib Tun Abdul Razak
Prime Minister David Cameron
the Mayor of London Boris Johnson
a number of ministers from the UK Government
9th WIEF in London - changing world, new relationships
The 9th WIEF will be held on 29 to 31 October 2013, in ExCeL, London. It is the first time the Forum has been held outside the Muslim World.
The theme of the Forum will be: "Changing World, New Relationships" to encapsulate the emergence of new economic linkages between nations across borders, religions and cultures in a fast changing world.
For the UK, this is a fantastic opportunity to:
showcase the UK as a global destination for Islamic finance
champion UK jobs and growth by promoting the UK's economic reputation and showcasing trade and investment opportunities
strengthen UK relations with participating countries, on a bilateral and multilateral basis
British Business Pavilion
To compliment the main themes of the WIEF, UKTI is running a series events as part of the British Business Pavilion. The sessions and workshops will cover the latest business opportunities, expertise and innovative solutions in:
education - including English language and business English teaching; Special Educational Needs; higher education partnerships; skills development and entrepreneurship; and educational technology and online learning
finance - including UK expertise can meet the needs of Islamic finance and Islamic finance's facilitation of investment in infrastructure
healthcare - including advances in managing non-communicable diseases; the role policy has in driving innovation; and the implementation in the UK and overseas of new care models for conditions like diabetes and cancer
smart cities - including how the UK's ICT, smart technology and environmental expertise can underpin the creation of low carbon future cities
By signing up to the British Business Pavilion you are eligible for a discounted WIEF ticket price for the 3 days which will include:
entry to the British Business Pavilion and the full WIEF three-day programme
exclusive access to 1,000+ global decision makers and solution providers in your sector
excellent networking opportunities throughout the three days including the WIEF Business Networking Breakfast (booking required)
invitation to the WIEF Gala dinner attended by the Malaysian Prime Minister (WIEF Patron), heads of state and their senior delegations, senior UK Ministers and other VIP guests
business matching service providing a tailored, one-to-one meeting service between British Business Pavilion delegates, and with those attending the WIEF
For those unable to take advantage of the full 3-day WIEF programme, a 1 day pass is available.
The British Business Pavilion is an invitation-only event for senior decision makers. To register your interest, contact bbp@innovision.eu or call 0207 034 3293.
Document information
Published: 25 September 2013