News story
G8 transparency: UK and France join the Extractive Industries Transparency Initiative
The United Kingdom and France announce that they will join the global standard ensuring transparency of payments from natural resources.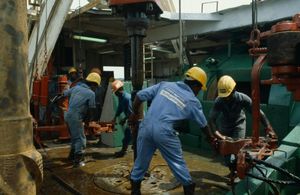 On Wednesday 22 May the Prime Minister and French President, François Hollande, announced that both countries will be signing up to the Extractive Industry Transparency Initiative (EITI).
EITI was set up to help tackle corruption, to improve the way revenues from oil, gas and minerals are managed and to make sure that people across the world share in the economic benefits of the natural resources in their country.
The EITI provides an assurance that companies will publish what they pay for extracting natural resources and that governments will disclose the money that they receive from this - so that people know how the resources of their country are being managed.
Prime Minister David Cameron said:
Mineral wealth for developing countries should be a blessing, not a curse. And I urge our G8 partners to champion the same high standards of transparency.
I am determined to use our G8 leadership to put a new and practical emphasis on transparency and accountability, particularly in our partnerships with less developed and emerging countries.
Prime Minister David Cameron on the importance of EITI
The governance of natural resources
This is an issue that affects half of the world's population: 3.5 billion people live in countries rich in oil, gas and mineral resources. Many of the world's poorest countries have some of the greatest supplies of natural resources, but are plagued by a lack of transparency and corrupt practices. If resources are managed well then the revenue can be reinvested and help countries grow, develop and graduate from aid.
The revenues from natural resources can help drive a country's growth and reduce poverty, far more than traditional aid. For example, last year Nigerian oil exports were worth almost $100 billion, more than the total net aid to the whole of sub-Saharan Africa.
By signing the Extractive Industries Transparency Initiative, the UK and France will play their part in ensuring that people around the world benefit fairly from the natural resources of the countries in which they live.
Business Secretary Vince Cable said:
Some of our biggest extractive companies in the UK are already in favour of the measures – whether as founding members of EITI, sitting on the EITI board or reporting in the other countries which already use the standard.
It is of course key we get this right for everyone – this is about levelling the global playing field and boosting transparency, not about getting in the way of business and meddling in their affairs.
There is a long road ahead to make sure that this works best for everyone. That is why discussions will commence soon between the Government, industry and all interested parties as to how we can get this system working as effectively as possible for the UK.
G8 Summit 2013
At this year's G8 Summit, the UK Chair will seek to secure higher global standards for the extractives industry. Alongside signing up to EITI, the UK will promote partnerships with key developing countries who are willing to move forward on extractives transparency. These partnerships will provide support to new countries signing up to EITI, and also help existing members maintain and implement global EITI standards.
Employment Relations and Consumer Affairs Minister Jo Swinson will now lead the implementation of the EITI in the UK.
Jo Swinson welcomes the announcement that the UK and France will sign the EITI
Further information
Published 23 May 2013