News story
DFID Research: Climate Week Award for DFID
Last week Evergreen Agriculture, a DFID funded project, was recognised in the UK Climate Week Awards.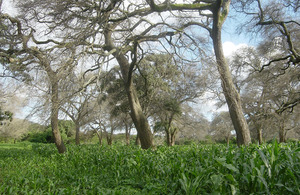 The UK Climate Awards were established to highlight the most innovative, effective and ambitious organisations, communities and individuals combating climate change. The aim of these awards is to give recognition to a variety of uniquely inspirational initiatives taking place in various sectors to combat climate change.
The DFID funded Evergreen Agriculture Project was one such outstanding program that was recognised during the 2013 Climate Awards. Evergreen Agriculture is helping millions of farmers in Africa to protect themselves against the consequences of climate change such as drought while simultaneously reducing greenhouse gas emissions.
Results were announced at an event commemorating Climate Week at the UK House of Commons on 4 March 2013. The "Evergreen Agriculture: feeding the world's poor, sustainability" project is part of the work being undertaken by the World Agroforestry Centre (ICRAF).
The project received the award for the Best Initiative by a Government or Statutory Body. The project is currently operating in 17 countries. Agroforestry focuses on increasing the productivity of farm land through the restoration of degraded lands. By planting trees in stressed soils on farmlands, crop yields usually increase by 30% or more. It promotes inter-cropping, sustainable soil management, increased efficiency of water use while diversifying diets and providing alternative fuel and food during periods of hunger.
Published 25 March 2013
Last updated 26 March 2013
+ show all updates
Updated to include article in Research News series
First published.