News story
CDE Marketplace 2016
The Centre for Defence Enterprise (CDE) will showcase some of the best research ideas it's funded at a Marketplace event in London on 27 April 2016.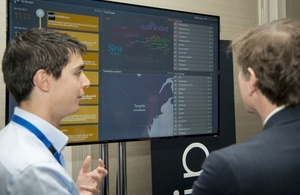 The Centre for Defence Enterprise (CDE), part of MOD's Defence Science and Technology Laboratory (Dstl) is holding a Marketplace event in London on 27 April 2016.
The aim of the Marketplace is to showcase innovations from some of our funding competitions to potential investors, from the defence market and wider, to increase the likelihood of exploitation.
Attendance at this event is by invite only to potential investors from the defence industry and other areas, plus wider government.
This Marketplace will feature the winners of our persistent surveillance from the air, and agile immersive mission training competitions with the UK Defence Solutions Centre, plus additional successful projects from other CDE funding competitions.
This high-profile event will be opened by Philip Dunne MP, the Minister for Defence Procurement.
The day will include keynote presentations, 5-minute pitch sessions for our exhibitors giving a taster of what they've done, and exhibition areas to showcase innovative projects, network and build new relationships.
The companies exhibiting for CDE are listed below along with the innovative project title, click on the project title to view the case study.
CDE enduring and themed competitions
Agile, immersive mission training competition
Persistent surveillance from the air competition
We had a similar event last year and 100% of our exhibitors said that they found the event useful and made new connections, and attendees found out about useful capabilities from innovative SMEs and academia that fitted with their programmes. The event was attended by over 100 potential investors.
About CDE
CDE funds novel, high-risk, high-potential-benefit research. We work with the broadest possible range of science and technology providers, including academia and small companies, to develop cost-effective capabilities for UK armed forces and national security.
CDE is part of Dstl.
Centre for Defence Enterprise
Building R103
Fermi Avenue

Harwell Oxford
Oxfordshire
OX11 0QX
Email cde@dstl.gov.uk
Telephone +44 (0)30 67704236
Alternative number +44 (0)30 67704237
Please email for the quickest response.
Published 24 March 2016
Last updated 21 April 2016
+ show all updates
Links to case studies have been added.
First published.