News story
Portable blood salvage device to improve survivability of severely injured personnel
Case study from the University of Strathclyde who pitched their ideas to industry and investors at the CDE Marketplace on 27 April 2016.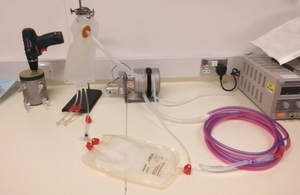 The University of Strathclyde has received Centre for Defence Enterprise (CDE) funding to develop and test a novel blood salvage device to minimise blood loss in severely injured personnel in the field.
The device is able to directly return the blood lost due to open injury to the casualty, or to concentrate the blood and return it in the form of concentrated blood cells.
The technology can be easily deployed in the field and is independent of electrical power. In addition, once the casualty has been received at a hospital location, the device can be transferred to a base station platform and used as a conventional blood salvage device.
The device could ultimately reduce the need for donor blood transfusions in the treatment of injured personnel. Patents have been filed and a business partner secured to commercialise the technology with the objective of deploying the device under clinical conditions.
Professor Terry Gourlay, Department of Biomedical Engineering, University of Strathclyde says:
The funding support we received from CDE enabled us to develop prototype devices, test these and secure the interest of a commercial partner to take our life saving technology closer to clinical deployment.
View the pitch presentation slides.
About CDE
CDE funds novel, high-risk, high-potential-benefit research. We work with the broadest possible range of science and technology providers, including academia and small companies, to develop cost-effective capabilities for UK armed forces and national security.
CDE is part of Dstl.
Centre for Defence Enterprise
Building R103
Fermi Avenue

Harwell Oxford
Oxfordshire
OX11 0QX
Email cde@dstl.gov.uk
Telephone +44 (0)30 67704236
Alternative number +44 (0)30 67704237
Please email for the quickest response.
Published 20 April 2016