News story
Agile training for explosive ordnance search teams
Case study from Plextek who pitched their ideas to industry and investors at the CDE Marketplace on 27 April 2016.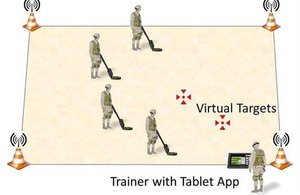 With Centre for Defence Enterprise (CDE) funding, Plextek has developed a new augmented-reality training system to allow agile training for explosive ordinance (EO) search, either by teams or by individuals.
The system can be added to any search tool and requires a minimal infrastructure of marker cones spread around the perimeter of the training area.
The system opens up new possibilities for EO search training, such as the ability to record quantitative data to show that user training has been successful or to rapidly simulate different training scenarios.
Plextek has produced a concept demonstrator for accurate real-time tracking, where the data can be processed and displayed graphically in a training app on a ruggedized tablet. It shows in real-time the quality of EO search metrics (such as ground coverage, speed) while allowing virtual target positions and characteristics to be simulated.
The real-time information and the ability to vary augmented virtual targets at the touch of a button opens up many possibilities. The system is able to change target type, such as the size or metal content, and soil type dynamically during an active training mission allowing for representation of different operational scenarios.
Plextek is now working with a supplier of EO search tools and a global provider of EO search training, both based in the UK, to develop a demonstrator to show to clients in the UK and internationally.
Peter Doig, Plextek Business Development Consultant said:
We're pleased to have continued our successful relationship with CDE, securing 6 projects across 4 themed competitions in 2015. This has led to Plextek's wider collaboration within Dstl and MOD, the UK Defence Solutions Centre, and across the defence supply chain.
Plextek , based in Great Chesterford, has been at the forefront of business and product innovation since 1989 and currently employs 70 staff.
View the pitch presentation slides.
About CDE
CDE funds novel, high-risk, high-potential-benefit research. We work with the broadest possible range of science and technology providers, including academia and small companies, to develop cost-effective capabilities for UK armed forces and national security.
CDE is part of Dstl.
Centre for Defence Enterprise
Building R103
Fermi Avenue

Harwell Oxford
Oxfordshire
OX11 0QX
Email cde@dstl.gov.uk
Telephone +44 (0)30 67704236
Alternative number +44 (0)30 67704237
Please email for the quickest response.
Published 20 April 2016