News story
Adding wearable technologies into simulation experiences
Case study from QinetiQ who will pitch their ideas to industry and investors at the CDE Marketplace on 27 April 2016.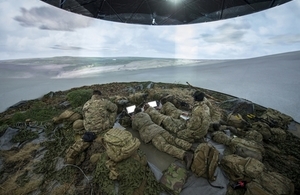 QinetiQ has been funded by the Centre for Defence Enterprise (CDE) to develop its Java Augmented Reality and Virtual Stealth Technology (JARViST).
JARViST provides a standards-compliant framework integrating wearable technology into simulations. It allows instructors to monitor how trainees are reacting to training. It supplies them with objective evidence to refine and deliver more efficient and effective training scenarios. It does this through making it easy to add new wearable technologies into simulation experiences and then to use the data from these devices to understand better how individuals and teams are responding to the training in real-time.
Phase 2 of the JARViST framework proposes to work with academia to better understand the measurements and displays that can be employed to give feedback to trainees. The development of an 'in-action review' tool that allows the modification of training based on feedback from the wearable technology worn by trainees would also be explored.
Charles Cranstoun, JARViST Project Manager, QinetiQ says:
CDE funding has allowed the development of JARViST complementing a wide variety of simulation-based training research projects, allowing us to enhance our existing offerings to customers. The funded development is a foundation for wearable monitoring technologies to be easily incorporated into simulation data providing greater insight and control to simulation based training.
QinetiQ is a British defence, science and technology organisation. Founded in 2001 it has its headquarters in Farnborough, Hampshire and has approximately 9000 employees worldwide.
About CDE
CDE funds novel, high-risk, high-potential-benefit research. We work with the broadest possible range of science and technology providers, including academia and small companies, to develop cost-effective capabilities for UK armed forces and national security.
CDE is part of Dstl.
Centre for Defence Enterprise
Building R103
Fermi Avenue

Harwell Oxford
Oxfordshire
OX11 0QX
Email cde@dstl.gov.uk
Telephone +44 (0)30 67704236
Alternative number +44 (0)30 67704237
Please email for the quickest response.
Published 20 April 2016