News story
Small sensors for high-resolution imaging and video
Case study from QinetiQ who will pitch their ideas to industry and investors at the CDE Marketplace on 27 April 2016.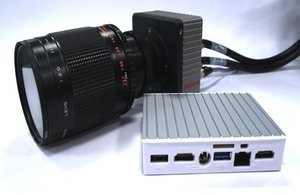 With Centre for Defence Enterprise (CDE) funding, QinetiQ has developed techniques to process data from a new type of compact commercial hyperspectral sensor, suitable for use on low-power computer hardware.
These techniques enable a single camera to provide high-resolution hyperspectral data and full motion video, while reducing image degradation.
A compact lightweight hyperspectral sensor package can provide additional information beyond conventional colour imaging, for both commercial and military applications. This type of sensor could also have applications in environmental observation, such as characterising land use and monitoring crop health.
Philip Kent, Low Size Weight and Power Hyperspectral and Full Motion Video Electro-Optical Sensor Technical Lead, QinetiQ says:
Funding and support from CDE has enabled the QinetiQ surveillance team to evaluate novel commercial hyperspectral sensing technologies and develop new techniques that will be beneficial to both the targeted persistent surveillance applications and other UK government funded activities. Involvement in this CDE project has also engendered useful new relationships with other organisations and companies.
QinetiQ is a British defence, science and technology organisation. Founded in 2001 it has its headquarters in Farnborough, Hampshire and has approximately 9000 employees worldwide.
About CDE
CDE funds novel, high-risk, high-potential-benefit research. We work with the broadest possible range of science and technology providers, including academia and small companies, to develop cost-effective capabilities for UK armed forces and national security.
CDE is part of Dstl.
Centre for Defence Enterprise
Building R103
Fermi Avenue

Harwell Oxford
Oxfordshire
OX11 0QX
Email cde@dstl.gov.uk
Telephone +44 (0)30 67704236
Alternative number +44 (0)30 67704237
Please email for the quickest response.
Published 19 April 2016