News story
Identifying strengths and weaknesses with virtual-reality skills tests
Case study from Plextek who pitched their ideas to industry and investors at the CDE Marketplace on 27 April 2016.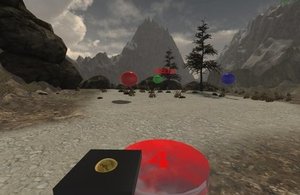 Plextek has used Centre for Defence Enterprise (CDE) funding to create a virtual-reality skills assessment system to identify candidate training needs to help reduce the training burden in terms of cost and equipment.
Plextek has created a skills assessment to help identify a range of cognitive skills that military personnel require for their jobs.
The results will show the strengths and weaknesses of an individual in areas of multi-tasking, time challenge, spatial awareness, navigation, and recall-ability. It will also compare them to their peers.
A series of virtual-reality challenges and skill tests can then be produced, providing the trainees with the same cognitive workload as real-world activities.
Plextek is now looking to extend the skills tests to apply to a wide range of military and civil-service roles. It intends to partner with behavioural scientists whose expertise can provide proven cognitive testing methodologies.
Plextek also plans to run trials over a large user base of approximately 200 trainees to demonstrate that the system is fit for purpose.
Peter Doig, Plextek Business Development Consultant said:
We're pleased to have continued our successful relationship with CDE, securing 6 projects across 4 themed competitions in 2015. This has led to Plextek's wider collaboration within Dstl and MOD, the UK Defence Solutions Centre, and across the defence supply chain.
Plextek , based in Great Chesterford, has been at the forefront of business and product innovation since 1989 and currently employs 70 staff.
View the pitch presentation slides.
About CDE
CDE funds novel, high-risk, high-potential-benefit research. We work with the broadest possible range of science and technology providers, including academia and small companies, to develop cost-effective capabilities for UK armed forces and national security.
CDE is part of Dstl.
Centre for Defence Enterprise
Building R103
Fermi Avenue

Harwell Oxford
Oxfordshire
OX11 0QX
Email cde@dstl.gov.uk
Telephone +44 (0)30 67704236
Alternative number +44 (0)30 67704237
Please email for the quickest response.
Published 20 April 2016