News story
Laser radar system for high-resolution 3D imaging
Case study from QinetiQ who will pitch their ideas to industry and investors at the CDE Marketplace on 27 April 2016.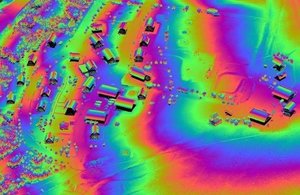 Through Centre for Defence Enterprise (CDE) funding, QinetiQ has developed a 'software-defined multifunction LIDAR' (laser radar) system. It can be configured and re-configured in software at mission run-time. This single LIDAR architecture can perform the role of multiple different instruments - eg 3D imaging, ranging, Doppler, communications - providing exceptional sensing flexibility.
The system is very sensitive, making it ideally suited for high-altitude platforms (HAPS) where the duration of a mission may require multiple different sensing modes, and the platform needs a sensor of low size, weight and power.
Software-defined multifunction LIDAR brings new operational capability to persistent surveillance platforms. For example, while conventional 3D mapping can discover a vehicle under camouflage netting, this LIDAR could also determine whether its engine is running and possibly the type of vehicle by using vibrometry mode.
Brian Perrett, Security Products Business Lead, QinetiQ says:
The CDE funding and support has helped us to bridge the gap between concept and demonstration of a novel LIDAR technology that we believe could have a significant impact on the electro-optic sensor space for high altitude platforms.
QinetiQ is a British defence, science and technology organisation. Founded in 2001 it has its headquarters in Farnborough, Hampshire and has approximately 9000 employees worldwide.
About CDE
CDE funds novel, high-risk, high-potential-benefit research. We work with the broadest possible range of science and technology providers, including academia and small companies, to develop cost-effective capabilities for UK armed forces and national security.
CDE is part of Dstl.
Centre for Defence Enterprise
Building R103
Fermi Avenue

Harwell Oxford
Oxfordshire
OX11 0QX
Email cde@dstl.gov.uk
Telephone +44 (0)30 67704236
Alternative number +44 (0)30 67704237
Please email for the quickest response.
Published 19 April 2016