News story
High-resolution imaging from smaller apertures
Case study from Spectra Medical who pitched their ideas to industry and investors at the CDE Marketplace on 27 April 2016.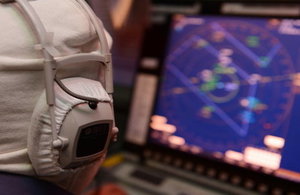 Through Centre for Defence Enterprise (CDE) funding, SME Spectra Medical has successfully demonstrated a novel method of imaging using Synthetic Aperture Radar (SAR), Optical Coherence Tomography (OCT) and commercially available components.
SAR is a form of radar that's used to create high-resolution, broad area imaging of objects, such as landscapes. OCT is an emerging technology sometimes described as ultrasound with light. With CDE funding, Spectra Medical combined SAR with OCT to showcase a new method for collecting high-resolution images from smaller apertures for use in the space and defence sectors.
It's hoped that in the future this technique will enable higher resolution imaging from smaller apertures than previously needed, such as producing high-resolution images from small micro satellites.
John Rogers, Director, Spectra Medical says:
The funding received from CDE has allowed Spectra Medical to expand from the medical imaging industry and enter the defence and space sector.
Spectra Medical is a specialist in the technology of OCT. Founded in January 2014 and based in Canterbury, Kent, Spectra Medical currently has 2 employees.
View the pitch presentation slides.
About CDE
CDE funds novel, high-risk, high-potential-benefit research. We work with the broadest possible range of science and technology providers, including academia and small companies, to develop cost-effective capabilities for UK armed forces and national security.
CDE is part of Dstl.
Centre for Defence Enterprise
Building R103
Fermi Avenue

Harwell Oxford
Oxfordshire
OX11 0QX
Email cde@dstl.gov.uk
Telephone +44 (0)30 67704236
Alternative number +44 (0)30 67704237
Please email for the quickest response.
Published 20 April 2016