News story
Using simulation for better Armoured Fighting Vehicle training
Case study from Minerva Simulation who pitched their ideas to industry and investors at the CDE Marketplace on 27 April 2016.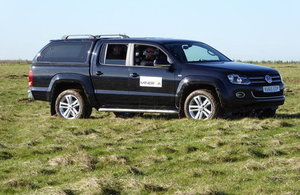 Minerva Simulation has been funded by the Centre for Defence Enterprise (CDE) to develop low-cost, immersive and realistic Armoured Fighting Vehicle (AFV) simulation training.
As part of this project Minerva developed the Thunderbird Tactical Part Task Trainer, which is designed to operate in a standard 4x4 double-cab vehicle, to mimic in a virtual environment the challenges of operating a real vehicle while fighting opposing forces.
Planned next steps will focus on improving the immersive experience of operating Thunderbird for the vehicle crew. This includes 'motion haptics' linked to the virtual weapon systems, so that when a virtual round is fired a recoil effect is felt within the real vehicle.
Thunderbird has the potential to transform reservist training, by offering AFV simulation training alongside the challenges of operating a real vehicle. Also, removing costs associated with live AFV training but offering a more real experience compared to simulation-only training.
Oliver Parker, Managing Director, Minerva Simulation, says:
Participating in a CDE competition has given Minerva a platform to showcase both what we as a company, and Thunderbird as a concept can do.
Formed in 2013 Minerva Simulation is a small organisation based in Malvern.
View the pitch presentation slides.
About CDE
CDE funds novel, high-risk, high-potential-benefit research. We work with the broadest possible range of science and technology providers, including academia and small companies, to develop cost-effective capabilities for UK armed forces and national security.
CDE is part of Dstl.
Centre for Defence Enterprise
Building R103
Fermi Avenue

Harwell Oxford
Oxfordshire
OX11 0QX
Email cde@dstl.gov.uk
Telephone +44 (0)30 67704236
Alternative number +44 (0)30 67704237
Please email for the quickest response.
Published 20 April 2016