News story
Closing the training loop with the novel use of learning data
Case study from BMT Defence Services who pitched their ideas to industry and investors at the CDE Marketplace on 27 April 2016.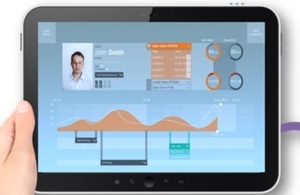 BMT Defence Services received funding through the Centre for Defence Enterprise (CDE) to develop a solution to record, review and act on training data in real time and in after-action review.
Training data is created by individuals and teams and there are an ever-growing number of data sources and various formats. BMT Defence Services' technology solution pulls together several new open-learning technologies to enable a trainee's learning data to be captured in real-time when interacting with military training media.
Standardised data is then played back (in action and after action) to the instructor. The instructor will be able to provide feedback and adjust training objectives for the trainee. This is a closed training loop.
The use of an Experience API (open standard) and a LRS (Learning Record Store) overcomes many of the limitations of current learning standard ('SCORM' - Sharable Content Object Reference Model).
Next, BMT Defence Services plan to expand the capability from supporting trainers to both trainers and trainees, and to use gamification technology to provide an engaging learning platform. They would also like to increase the level of automation (ie use of machine learning) within the solution to lessen the trainer's workload.
The future aim is a 'military career portal' to support the career journey of individuals (for instructors and trainees) throughout their military career and beyond.
Simon Luck, Department Head of Information Systems, BMT Defence Services says:
CDE funding has provided us with the opportunity to perform R&D activities that have enabled us to diversify and expand our capability offerings.
View the pitch presentation slides.
About CDE
CDE funds novel, high-risk, high-potential-benefit research. We work with the broadest possible range of science and technology providers, including academia and small companies, to develop cost-effective capabilities for UK armed forces and national security.
CDE is part of Dstl.
Centre for Defence Enterprise
Building R103
Fermi Avenue

Harwell Oxford
Oxfordshire
OX11 0QX
Email cde@dstl.gov.uk
Telephone +44 (0)30 67704236
Alternative number +44 (0)30 67704237
Please email for the quickest response.
Published 20 April 2016