News story
Travel advice for Manchester United v Valencia - possible General Strike in Spain
Manchester United fans should be aware of a possible national General Strike in Spain on Wednesday 29 September 2010.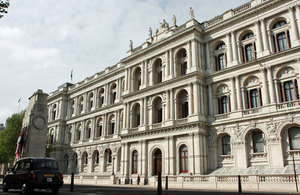 If you're going to watch the match, bear in mind that a General Strike could have an impact on public services, including air transport. You should contact your airline or travel agent for the latest news before travelling.
If you are going to watch your club play, bear in mind :
You don't need a visa to enter Spain, but your passport must be valid for the duration of your stay.

Remember to take out some travel insurance even if you're only going for one night - if you get into difficulties it could save you a lot of money!
See our travel advice for Spain for information on local laws and customs.
In Spain, it is illegal to drink in the street and you may be arrested for doing so. If in doubt, check with local police or tourist authorities.
Crowds in and around football stadiums can attract pickpockets. Take care to safeguard your possessions in crowded areas.
You can find more tips in our advice for travelling football fans.
Published 27 September 2010