News story
Real Madrid vs. Manchester United: travel advice
Advice for fans travelling to Madrid for Manchester United's Champions League Round of 16 match with Real Madrid on 13th February.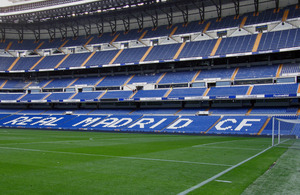 As well as this advice, check out our travel advice for Spain.
Passports and visas
You don't need a visa to travel to Spain, but your passport should be valid for the duration of your stay
Remember your European Health Insurance Card (EHIC) but also take out travel insurance, even if you're only going for one night - it could save you a lot of money in you get into difficulties
Take a photocopy of your passport and keep this separate from your passport.
Always take care of your passport, as obtaining a replacement is costly and time-consuming.
Getting to the stadium
Nearest metro station is the Santiago Bernabeu on Line 10. View on Google Maps
At the match
Manchester United fans are located in the 2 top tiers on the North stand and should enter through tower block D
Access to the stadium can be slow. There will be ticket checks and body searches at the entrance to the turnstiles. To avoid a last minute bottleneck you should get to the stadium early (Doors will open 90 minutes before kickoff)
Anyone who is obviously drunk or bearing racist insignia will not be allowed into the stadium. Also, any banners bearing political slogans will not be permitted inside the stadium.
No flares, fireworks, alcohol, cans, glass, bottle tops or containers over 1/2 litre are allowed in the stadium. Soft drinks are available and can be taken inside.
Drinking in the streets in some areas of Spain is illegal, and you can be arrested for doing so.
Visiting supporters will be kept behind for around 15/20 minutes after the match to allow the home fans to disperse
Tips
As in any other city beware of pickpockets and bag snatchers at airports, railway stations, around the town centre and when using public transport. Only carry what you need, leave spare cash and valuables in hotel safety deposits .
When collecting your tickets in the centre of town, Plaza Santa Ana, pay particular care with your belongings as it has been known for pickpockets to operate in this area.
In case of a consular emergency you should call the British Consulate on 902 109 356.
Further information
Follow @fcoTravel for the latest travel updates
Published 30 January 2013