World news story
Pope Francis's visit to Portugal – Travel Advice
Top tips for your pilgrimage.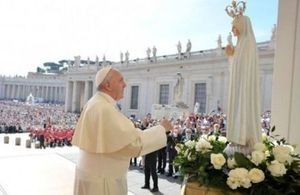 Top tips for your pilgrimage
Plan your trip in advance – there's lot of practical information at www.papa2017.fatima.pt

Check FCO Travel Advice before you set off

Ensure you have relevant travel insurance

Make sure you've got an EHIC – it could save you money if you need medical treatment

Dress comfortably and take a hat with you – it may be difficult to find shade

Carry water with you - you may be standing in the open for long periods of time

Take care of your belongings and watch out for pickpockets especially on public transport and in crowds

Carry a copy of your passport at all times #PassportAware

If you lose your passport, you need to purchase an emergency travel document to get back home

Dial 112 for emergency services in Portugal and +351 21 392 4000 for consular assistance
Arrangements for the Pope's visit
Full details for Pope Francis's pilgrimage to the Shrine of Our Lady of Fátima can be found here. Further information, including a history of the Apparitions and guidance on getting to Fátima, can be found on the website dedicated to the visit. Please note that the two main roads around the Sanctuary – Avenida Papa João XXIII and Rua Beato Nuno – will be closed to traffic from 0900 on 12 May to 1800 on 13 May.
Passports and visas
You don't need a visa to travel to Portugal but you must hold a passport. For stays of up to 3 months, your passport must be valid for the proposed duration of your stay; you don't need any additional period of validity on your passport. However, it's always sensible to have a short period of extra validity on your passport in case of any unforeseen delays to your departure.
Portugal will impose border controls on all travellers between 10 and 14 May 2017 to enhance security during the Pope's visit. Allow extra time to transit passport control at airports, seaports and border crossings. Contact your travel provider for more information and guidance.
Health
Remember your European Health Insurance Card (EHIC) - it could save you a lot of money if you get into difficulties. The EHIC isn't a substitute for medical and travel insurance, but it entitles you to state provided medical treatment that may become necessary during your trip.
The weather in Portugal in May can be hot. As you should expect to be standing in the open for long periods of time, potentially without shade, you should consider dressing appropriately and carrying bottled water with you at all times.
Personal security
As in other cities and places where there are large gatherings of people, beware of pickpockets and bag snatchers. Only carry what you need, leave spare cash and valuables in hotel safety deposit boxes. Carry a photocopy of the data page of your passport and keep it in a safe place separate from your passport.
Stolen passports
If your passport is stolen, report the loss to the local police as soon as possible and ask for a copy of the police report. Please be aware that you can't travel back to the UK without a valid travel document. You will need to apply to the Consular Section of the British Embassy in Lisbon during opening hours for an Emergency Travel Document.
The Emergency Travel Document is a temporary one-way travel document which will allow you to return to the UK or back to your country of residence. You will need to produce the following:
a copy of the police report confirming your passport has been stolen
one passport-sized photograph. We can take a photo at the Consulate at the cost of €5, if required
details of your return travel arrangements
photo ID, if possible (eg driving licence or photocopy of your passport)
consular fee of £100 (payable in cash or by VISA or Mastercard)
authorisation from both parents, if you are under 16
Lost wallets
If you lose your wallet, cancel your credit cards as soon as possible. British consular officials can't give you money to help you return home. You can transfer money from relatives or friends using one of the reputable commercial money transfer agencies, including Western Union and Moneygram.
Consular staff can assist you with this. You can also use most major credit cards (and debit cards carrying the Maestro and EC logos) to obtain money from Portuguese cash machines if you have your PIN. You can use telephone and internet facilities at the Consulate during opening hours.
Consular assistance
The Consular Section of the British Embassy in Lisbon is open to the public from 9.30am -2.00pm Monday, Wednesdays and Fridays. If you need assistance outside of these hours, please contact +351 21 392 4000 (press 1, then 2, then 1). The address of the British Embassy in Lisbon is:
Rua de São Bernardo 33
1249-082 Lisbon.

Local emergency services
(+351) 112 all emergency services
Visitors should check the latest Travel Advice for Portugal. We hope you enjoy your pilgrimage to the Shrine of Our Lady of Fátima.
Published 26 April 2017