News story
Contractors appointed to enforce Criminal Court orders
HMCTS confirms the results of the tender process for Approved Enforcement Agency Services.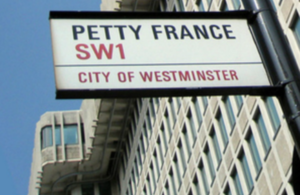 In 2017 HMCTS commenced a procurement exercise to re-tender the Approved Enforcement Agencies contracts. Approved Enforcement Agencies act on behalf of HMCTS to enforce Criminal Court orders. They have a range of legal powers, including where directed by the courts, the execution of Warrants of Arrest. These powers are well established and have been in use for some time in our existing contracts.
HMCTS can today confirm that the successful companies are:
Capita Business Services Ltd
Excel Civil Enforcement Ltd
Jacobs Enforcement
Outsourcing UK Ltd
During the procurement exercise each potential provider was tested rigorously against a strict set of criteria. Importantly they were required to clearly evidence that they could meet our criteria surrounding the protection of vulnerable people.
From this exercise HMCTS was able to identify a number of providers who met these high-quality standards whilst also delivering value for money. All companies will be subject to strict oversight by HMCTS and the contracts will contain a code of conduct. HMCTS has the option to apply penalties for failures in performance or behaviour.
These new contracts will be signed shortly and should take effect from 1 February 2019. They are designed to improve on the existing contracts, providing HMCTS with increased contractual oversight on what is a vital service. We anticipate these new contracts will deliver significant savings to the taxpayer of more than £45 million over the next five years.
Published 19 July 2018