Guidance
Living in Ecuador
How to get an identity card, driving license and other local procedures for Britons living in Ecuador.
Overview
We estimate that there are 1,500 British nationals living in Ecuador, most of them in Quito, Guayaquil, Cuenca and Galapagos Islands.
This guide sets out essential information for British nationals residing in Ecuador, including some useful reference points on how to drive in Ecuador, how to obtain an identity card and other local procedures. We are unable to provide any guidance on general lifestyle enquiries apart from the information and links listed below. See our information on what consulates can and cannot do for British nationals.
Read our Enjoy Ecuador: Consular Services and Travel Safety guide for other useful information for travelling or living in Ecuador.
Entry and residence requirements
British nationals are not required to obtain an Ecuadorean visa to visit Ecuador as tourists for short stays (90 days), but visitors must comply with immigration requirements to enter the country for longer periods of time. If you are planning on staying for more than this period, you must apply for a visa from an Ecuadorean Embassy before your arrival in the country.
Read the Ecuador immigration policy for further useful reference points and contact details of the relevant immigration authorities in the country, who will be able to provide you with advice on visas to work and reside in Ecuador.
Please also visit our Travel Advice for Ecuador, which includes information on entry requirements to the country.
To obtain an Ecuadorean residence visa, you will need to provide a criminal records certificate from all the countries you have lived in during the last 5 years. Therefore, you will need to access information about yourself to complete this process. The police record needs to be legalised ("apostilled") in the UK, by the Legalisation Office, otherwise it will not have complete local validity. The Ecuadorean authorities require the police record to be translated in Ecuador and the translation notarised locally.
The Data Protection Act and the Right for Information Act give you the right to ask in writing whether there is any personal data that the [Metropolitan Police Service](https://www.met.police.uk/rqo/request/ri/request-information/rso/request-information-about-yourself-or-someone-else/ (or any other UK police) holds or has processed about you. This is the right of Subject Access. Therefore, requests for personal data can only be made via a subject access request under the Data Protection Act.
Subject access requests
If you do not live or have never lived in the London Metropolitan area, please apply to other UK Police Service that covers the relevant region or area.
Driving licenses and vehicles
You can drive for up to 6 months using a UK driving license, from the entry date to Ecuador. Carry your British passport with you at all times when driving.
You can drive with a valid International Driving License for the same tourist permit period. You cannot apply for an Ecuadorean/International driving license in Ecuador if you are not a resident in Ecuador.
Read the reference points to apply for an Ecuadorean driving license: Requirements to obtain driving license (PDF, 360KB, 1 page)
The SPPAT (formerly known as SOAT) is a mandatory vehicle insurance established by law that guarantees the immediate attention of road accident victims, injured and dead. Further information is available on the ANT website.
Ecuadorean police criminal record check
There is an online free system run by the Ecuadorean Ministry of Interior
To obtain this criminal record certificate, the applicant should insert the Ecuadorean ID or passport number. If the search is not for the same criminal record holder, the applicant should include the holder´s ID or passport number and the reason why this certificate is required for.
Health
Healthcare is available in Ecuador, but medical care outside Quito, Guayaquil and Cuenca can be limited, but is improving. Medical care in public hospitals is free. Private medical care is available, but can be expensive. If travelling and/or living in Ecuador, it is highly advisable to obtain medical insurance. Private hospitals might require payment prior to giving treatment to patients.
There is a sole national healthcare system in Ecuador ('sistema nacional de salud'), managed by the Ministry of Health (MSP). This involves public hospitals and medical centres, which are complemented by the private sector. Public centres/hospitals have been classified with levels of attention (1 to 4), starting from a preventative-promotional-health care. Level 2 includes basic and general hospitals for outpatient and inpatient treatment, involving some mental health units (unidad de salud mental). Level 3 are specialised hospitals for more complex treatment, including psychiatric treatment and drug/alcohol addiction rehabilitation (unidad terapéutica). Level 4 is more related to medical research.
The level of care provided in public hospitals can vary greatly, but during the last six years the Ecuadorean government has significantly improved the medical attention and resources.
A new mobility law demands a private or public health insurance for all foreign residents. IESS social insurance affiliation is accepted for this purpose.
In emergencies, whether involving residents or tourists, you should dial 911. Patients in a critical condition should be assisted, with or without an ID card, by any hospital whether public or private, until they are stabilised. Patients in a private hospital without the appropriate medical insurance could be transferred to the nearest public hospital once out of risk.
Ecuador's public healthcare has introduced a national telephone booking system for medical appointments for all Ecuadoreans and residents. To book an appointment dial 171 and follow the instructions to choose the type of medical practitioner required. Calls are free from mobiles or landlines. This service is only available to residents in Ecuador with an ID card (cédula de identidad). In principle patients will be allocated an appointment at the medical centre closest to their home.
Please note the 171 line does not have English speaking staff, so if you do not speak Spanish, if possible you should seek assistance from a Spanish-speaking friend or relative when calling. For your convenience, we have provided an English-language summary of the questions you will be asked when dialling 171.
More information about Ecuador's public health system can be found on the Ministry of Health website.
Residents in Ecuador affiliated to the national social security scheme Instituto Ecuatoriano de Seguridad Social - IESS can book appointments with IESS medical centres, for themselves or their dependents, by dialling 140 and providing their ID card (cédula de identidad) number. In principle patients can choose the medical centre of their preference.
More information on this system can be found on the IESS website. The Embassy's list of English speaking private medical practitioners in Ecuador can be found here.
More information on hospitalisation in Ecuador can be found here.
Victims of sexual assault or domestic abuse
If you are a victim of sexual assault, you can seek emergency assistance from the Ecuadorean Ministry of Public Health, which has implemented a network of 13 First Medical Assistance Response Centres ('Salas de Primera Acogida') across the country. These centres operate within some public hospitals and were created especially for providing emergency medical and psychological attention to victims of sexual violence. Each centre has a team of doctors, nurses, psychologists and social workers. You can find a full list of the centres and telephone numbers here Salas de Primera Acogida (PDF, 252KB, 1 page)
The British Embassy in Quito and Honorary Consuls in Guayaquil, Cuenca and Galapagos take sexual assault and domestic violence reports very seriously and can offer you assistance of what to do next and to get guidance from a competent authority or support groups (medical procedures, local police, protection measures, etc).
A Freephone (1800 828282) and Smartphone App (Junt@s) have been implemented for guidance on gender violence.
Remember anything you tell us will be treated in the strictest confidence.
Guidance on bringing medication into Ecuador
Please contact the Ecuadorean Consulate in London about information on bringing medication into Ecuador.
Education
Please contact the Ecuadorean Ministry of Education for general information about the Ecuadorean educational system.
Contact the Higher Education Office (SENESCYT – Secretaria Nacional de Educación Superior, Ciencia, Tecnología e Innovación) for university, master and PHD information, including the registration of foreign higher educational certificates.
UK educational documents cannot be legalised directly, they must first be signed by a UK notary or solicitor. Please contact the Legalisation Office for further advice.
Postal Services in Ecuador
Certain restrictions exist when receiving parcels from overseas using 'Correos del Ecuador' (Ecuadorean national postal service).
All parcels must go through a 'nationalisation' customs review process upon arrival in Ecuador, before being released. The customs review process means the packages are passed through an X-ray machine, and may be opened to review contents in more detail.
The processing time depends on the weight of the parcel and the type of postal service used by the overseas sender.
See table below: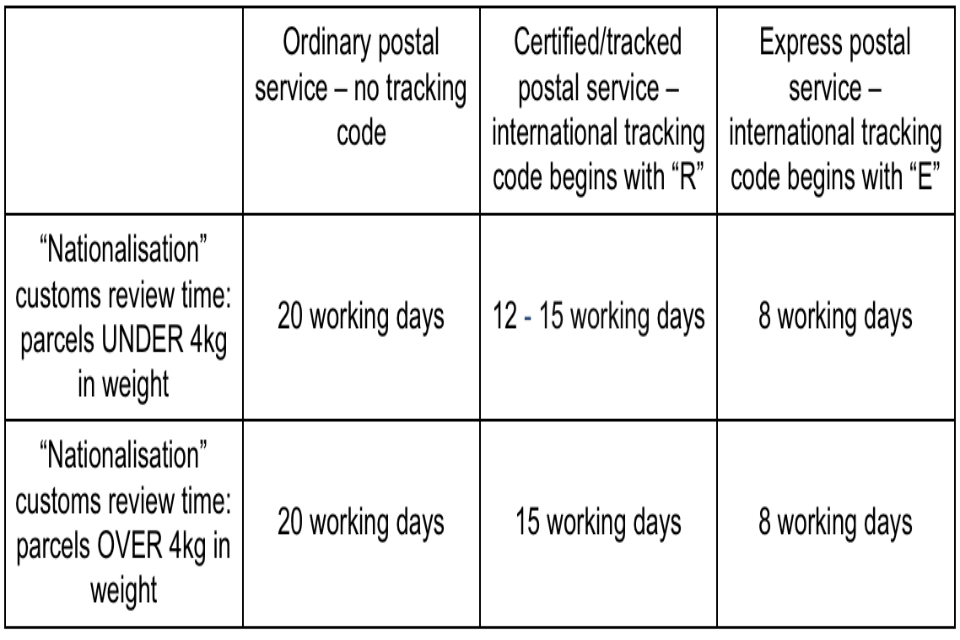 If the parcel contains items that are liable for tax payment, it will be opened and the nationalisation process could take longer than the times advertised above.
A full list of items liable to tax payments can be found on the 'Correos del Ecuador' website.
Contact numbers for Correos del Ecuador are as follows: +593 02 3828 400 / 2996 800. There is the option to speak in English. For Customer Service dial 1700 267736.
Social ethics and traditions
The Roman Catholic religion is still the major one in Ecuador, which makes it a conservative country with popular religious traditions. Despite various and recent official diversity campaigns, there is still a tendency for regional, class, colour and ethnic divisions and discrimination.
Since January 2000, the official currency is the US dollar.
Ecuadorian food varies by region, with coastal dishes being based on seafood, cooked "platanos" (green bananas) and rice. Highland dishes are mainly beef, pork, chicken, and guinea pig and there is a wide range of soups, with rice, corn and potatoes as staples throughout the country. In the Amazon area, freshwater fish is popular.
Spanish is the official language, and English is popular among its citizens, although not spoken by everyone. Ecuador is divided into 4 main regions (Coast, Andes (sierra), Amazon (rainforest) and the Galapagos Islands) and it has altogether 24 administrative provinces. Ecuador is a democratic country and there are presidential, parliamentary, regional and municipal elections every 4 years.
Useful links
Disclaimer
This information is provided as a general guide and is based upon information provided to the embassy by the relevant local authorities and may be subject to change at any time with little or no notice. The FCO and the British Embassy will not be liable for any inaccuracies in this information. British nationals wishing to obtain any further information must contact the relevant local authority.
Published 3 May 2013
Last updated 30 August 2018
+ show all updates
update version
updated document
updated version
updated document
updated information
updated version
updated version
updated version
Wording and documents updated December 2017
Updated version
updated document
updated document
updated version
Updated Postal Services in Ecuador May 2017
Health section updated May 2017
Updated 30 May 2016
Update list of medical practitioners
First published.