World location
UK and Denmark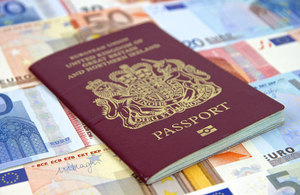 Information on the rights and status of UK nationals living and travelling in the European Union (EU) following the triggering of Article 50.
The Foreign Secretary has welcomed the appointment of Sir Tim Barrow as the UK's Permanent Representative to the European Union.
Our mission
We work with Denmark for a positive European future, building economic growth and trade. We improve the strong relationship between our countries, and work together to reduce global conflict, increase trade and investment, and to beat threats to our national security.
Documents
Organisations
Foreign & Commonwealth Office
We develop and maintain relations between the UK and Denmark. Our work covers a range of issues including political, commercial, security and economic questions.
British Embassy Copenhagen
Department for International Trade
The Department for International Trade (DIT) helps UK-based companies succeed in the global economy. We also help overseas companies bring their high-quality investment to the UK's dynamic economy.
Department for International Trade Denmark
British Embassy
Kastelsvej 36-40
DK-2100 Copenhagen
Denmark
Foreign & Commonwealth Office
Department for Business, Energy & Industrial Strategy
Science and innovation are at the heart of government strategy for promoting prosperity and growth. Research and knowledge is increasingly developed and transferred through international collaboration which provides opportunities to work with the best in the world, exchange students and researchers, and gain access to large scale international facilities; leading to mutual benefits for the UK and Denmark.