World news story
Travel advice for the 30th Summer Universiade
Advice for UK delegation members and visitors travelling to Naples for Universiade 2019 from 3 - 14 July 2019.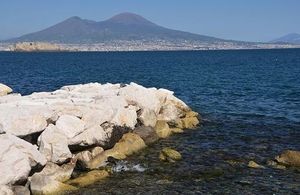 Date: 3-14 July 2019
Venue: Naples, Italy
Opening ceremony at the San Paolo Stadium, Naples: 3 July at 9pm
As well as this advice, check out our travel advice for Italy Further useful advice is offered by ABTA.
Passports and visas
You don't need a visa to travel to Italy but you must hold a valid passport. Your passport must be valid for the proposed duration of your stay. In Italy it is obligatory to carry ID with you at all times. If you have alternative forms of ID, like a driving licence or student ID card, it might be worth taking it with you and leaving your passport safe in your room. Alternatively, carry a photocopy of the personal details pages of your passport.
Lost or stolen passports
If your passport is stolen report the loss to the local police as soon as possible and obtain a copy of the police report. You can't travel back to the UK without a valid travel document. You will need to apply for an Emergency Travel Document online.
The cost for an Emergency Travel Document is £100 and you can pay online as part of your application. If you don't, you'll be asked to pay over the phone. If you need help with the application, you should contact the Embassy Emergency number +39 06 42200001.
After you've applied online, you may need to attend an appointment at the British Embassy in Rome. You'll be told after you've submitted your application whether you need an appointment. You'll need to give a contact telephone number and email address as part of your application. Your Emergency Travel Document will normally be ready in 2 working days. You'll be told after you've applied how and when you can collect your Emergency Travel Document at the British Embassy in Rome.
The easiest way to get to Rome from Naples is by high-speed train. The journey takes approximately 1 hour. Tickets can be purchased online. The Emergency Travel Document is a temporary one-way travel document which will allow you to return to the UK or back to your country of residence. Please note that if you're under 16, authorisation from both parents is needed.
Transport in Naples
Naples airport is located 6 km north of Naples, in the Capodichino district.
From 27 June to 16 July all accredited delegation members will be provided dedicated transport services. Non-accredited members can reach Naples Central Train Station and Naples Ports by the Alibus Airport Shuttle service. The current cost of a one-way ticket is €5 and can be purchased on-board.
Tickets for public transport (bus, metro, trains and funicular railway) must be purchased before the journey and stamped in the appropriate machine on the railway platform or on-board the bus. If unstamped, they are deemed invalid and you will be fined if checked by local authorities. You can purchase tickets at the station and most newsagents.
The Naples Pass combines interesting discounts on public transports and museums.
Taxi in Naples
Official registered taxis in Naples are white and metered. Extra charges can be added when travelling after 10pm, or on a Sunday, or with luggage.
You should check if your destination is included in the fixed tariffs list (the list is displayed by law on the back of the front seat) If you want a fixed tariff rate, you must inform the driver in advance.
There are several taxi ranks throughout the city, but you can also book a taxi by phone:
Consortaxi +39 0812222
Consorzio Taxi Napoli +39 081 8888
Radio Taxi Napoli +39 081 5564444
Radio Taxi La Partenope +39 081 0101
You can also use the MyTaxi app in Naples.
Tips
As in any other major city, beware of pickpockets and bag snatchers at airports, railway stations, around the town centre and when using public transport. Only carry what you need, leave spare cash and valuables safe in your room.
Naples can be very hot in July. Remember to stay protected by wearing sunscreen and sunglasses. Drink plenty of water to keep hydrated, and stay cool in covered areas.
You're advised to use plastic free water bottles. From 1 May to 30 September 2019, the Naples waterfront is strictly plastic free. It's no longer possible to use, supply and trade disposable plastic items for food that are not biodegradable and compostable.
Lost wallets
If you lose your wallet you should try to cancel your credit cards as soon as possible. British consular officials cannot give you money to help you return home. You can transfer money from relatives or friends in the UK using many of the reputable commercial money transfer agencies in Italy including Western Union and Moneygram and Consular staff can assist you in this. You can also use most major credit cards (and debit cards carrying the Maestro and EC logos) to obtain money from Italian cash machines if you have your PIN.
Consular assistance
The Consular Section of the British Embassy in Rome is open to the public from 9am – 12pm and 2pm-3pm Monday-Fridays.
The contact number for those requiring consular assistance including emergencies during your visit to Naples is +39 06 4220 0001.
The address for the British Embassy Rome is Via XX Settembre 80/a, 00187 Rome, Italy.
Local emergency services
(+39) 118 Medical Services

(+39) 113 Police

(+39) 112 Carabinieri

(+39) 115 Fire services

(+39) 1530 Emergency at sea
We hope you enjoy the games and your visit to Naples!
Further information
Published 26 June 2019