News story
Croatia vs. Scotland: Travel advice
Advice for fans travelling to Zagreb for Scotland's World Cup Qualifier with Croatia on 7 June 2013.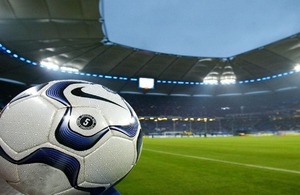 As well as this advice, check out our travel advice for Croatia.
Match details
Date: 7 June 2013
Venue: Maksimir Stadium in Zagreb
Kick off time: 20:15
Passports and visas
You don't need a visa to travel to Croatia, but your passport should be valid for the duration of your stay.
Your European Health Insurance Card (EHIC) is not valid in Croatia, so travel insurance is essential, even if you're only going for one night - it could save you a lot of money if you get into difficulties
It is necessary to carry ID with you as all times – you might need to carry your passport to the match to gain entry to the stadium.
Lost passports: if stolen you will need a local police report, if lost you do not need to obtain a police report but it might be useful to have one (e.g. for claiming insurance). You will need to come to the Embassy in Zagreb in order to apply for an Emergency Travel Document (we are not able to offer a replacement passport). You will need to pay the fee (£95, i.e. HRK905, payable in Croatian Kunas or by Visa or MasterCard) and have 2 passport size photographs and details of your travel itinerary.
Getting to the stadium
Flights to Zagreb/ Pula/ Rijeka/ Split and then by bus or train to Zagreb
The Stadium is 20-30 minutes walk away on foot from the centre of Zagreb (eastward)
Trams No 11 and 12 take you to the Stadium (7 stops eastwards from the main square – the one with the statue of a man on a horse), but travellers should be aware that the tram service might be stopped before and after the game. The city of Zagreb has promised to provide two rounds of city buses for the supporters to go from the centre (from in front of the Cathedral, just above the main square) to the stadium before the match.
At the match
Entrance for Scotland supporters will be marked and security/ police will direct supporters to the correct side of the stadium.
Access to the stadium can be slow. There will be ticket checks and body searches at the entrance to the turnstiles. To avoid a last minute bottleneck you should get to the stadium early.
Large amounts of loose change and lighters may be confiscated and are unlikely to be returned. No bottles and cans are allowed to be brought into the ground and any drunken fans will not be permitted to enter the stadium. Flags and banners without poles are allowed subject to size. Musical instruments are permitted.
It is usual that visiting supporters are kept behind for around 15-30 minutes after the match to allow the home fans to disperse first.
Tips
As in any other city beware of pickpockets and bag snatchers at airports, railway stations, around the town centre and when using public transport. Only carry what you need, leave spare cash and valuables in hotel safety deposits. However, you must carry your passport on you at all times as this is your only ID in Croatia.
You will need to register with police within 48 hours of your arrival into the country. If you move from one city to another, you need to register in both.
Important – you can expect heavy fines for yelling at or insulting police officers, urinating in public or performing indecent acts in public.
Embassy
British Embassy Zagreb
Ivana Lucica 4
10000 Zagreb

T. + 385 (0)1 6009 100 F. +385 (0)1 6009 298
Please note that the Embassy will not be open over the weekend to issue Emergency Travel Documents. An Emergency Travel Document can be issued in cases of emergency (for example, medical cases). The Embassy will reopen on Monday 10 June at 08:30.
Emergency services numbers
112- for all emergencies - they will put you through to the right service.
Main hospitals
Trauma hospital: Draskoviceva 19, tel 00385 1 469 7000
Nova Bolnica, Klinika Dubrava: Avenija Gojka Suska 6, T 00385 1 2902 444
Klinika Rebro: Kispaticeva 12, Tel 00385 1 2388 888
Further information
Follow Foreign Office Travel on twitter @fcotravel
Follow the Foreign Office on twitter @foreignoffice
Follow the Foreign Office on facebook and Google+
Subscribe to the announcements feed or email alerts to get our latest news and announcements
Published 5 June 2013