Advancing our health: prevention in the 2020s – consultation document
Published 22 July 2019
Presented to Parliament by the Parliamentary Under Secretary of State for Public Health and Primary Care.
July 2019
CP 110
ISBN: 978-1-5286-1545-7
Executive summary
1.

Opportunities

The 2020s will be the decade of proactive, predictive, and personalised prevention. This means:
targeted support
tailored lifestyle advice
personalised care
greater protection against future threats
New technologies such as genomics and artificial intelligence will help us create a new prevention model that means the NHS will be there for people even before they are born. For example, if a child had inherited a rare disease we might be able to diagnose and start treatment while they are still in the womb, so they are born healthy.
Using data held by the NHS, and generated by smart devices worn by individuals, we will be able to usher in a new wave of intelligent public health where everyone has access to their health information and many more health interventions are personalised.
In the 2020s, people will not be passive recipients of care. They will be co-creators of their own health. The challenge is to equip them with the skills, knowledge and confidence they need to help themselves.
2.

Challenges

Over the decades, traditional public health interventions have led to significant improvements in the nation's health.

Thanks to our concerted efforts on smoking, we now have one of the lowest smoking rates in Europe with fewer than 1 in 6 adults smoking. Yet, for the 14% of adults who still smoke, it's the main risk to health. Smokers are disproportionately located in areas of high deprivation. In Blackpool, 1 in 4 pregnant women smoke. In Westminster, it's 1 in 50.

Obesity is a major health challenge that we've been less successful in tackling. And clean air will continue to be challenging for the next decade. On mental health, we've improved access to services. In the 2020s, we need to work towards 'parity of esteem' not just for how conditions are treated, but also for how they are prevented. On dementia, we know 'what's good for your heart is also good for your head'. A timely diagnosis also enables people with dementia to access the advice, information, care and support that can help them to live well with the condition, and to remain independent for as long as possible.

The new personalised prevention model offers the opportunity to build on the success of traditional public health interventions and rise to these new challenges.

The NHS is also doing more on prevention. The Long Term Plan contained a whole chapter on prevention, and set out a package of new measures, including:
all smokers who are admitted to hospital being offered support to stop smoking
doubling the Diabetes Prevention Programme
establishing alcohol care teams in more areas
almost 1 million people benefiting from social prescribing by 2023 to 2024
These measures will help to shift the health system away from just treating illness, and towards preventing problems in the first place.
3.

Strong foundations

When our health is good, we take it for granted. When it's bad, we expect the NHS to do their best to fix it. We need to view health as an asset to invest in throughout our lives, and not just a problem to fix when it goes wrong. Everybody in this country should have a solid foundation on which to build their health.

This is particularly important in the early years of life. Most children are born into safe and loving homes that help them develop and thrive. But this is not always the case. We must help all children get a good start in life.

This 'asset-based approach' should then follow through to other stages of life, including adulthood and later life. It's difficult to live a fulfilling life if you're worried about money, live in cold or damp conditions, or feel cut-off from those around you.

At national level, we will lay the foundations for good health by pushing for a stronger focus on prevention across all areas of government policy. At local level, we expect different organisations to be working together on prevention. This means moving from dealing with the consequences of poor health to promoting the conditions for good health and designing services around user need, not just the way we've done things in the past.
Conclusion
The commitments outlined in this green paper signal a new approach for the health and care system. It will mean the government, both local and national, working with the health and care system, to put prevention at the centre of all our decision-making. But for it to succeed, and for us to transform the NHS and improve the nation's health over the next decade, individuals and communities must play their part too. Health is a shared responsibility and only by working together can we achieve our vision of healthier and happier lives for everyone.
Introduction
From life span to health span
Thanks to developments in public health and healthcare, we've made great progress in helping people to live longer lives. For example, life expectancy has increased by almost 30 years over the past century.[footnote 1] Cancer survival rates are up [footnote 2] and mortality rates from heart disease and stroke are down.[footnote 3]
However, these improvements in life expectancy are beginning to slow,[footnote 4] and over 20% of years lived are expected to be spent in poor health. On average, men born today can expect to live 16 years in poor health. For women, it's 19 years.[footnote 5]
There is also a clear social gradient to healthy life expectancy. That is, people in deprived areas tend not only to live shorter lives, but they also spend more of those years in poor health. For example, women living in the 10% most deprived areas can expect to live 18 fewer years in good health than those in the 10% least deprived areas.
Figure 1: Female healthy life expectancy at birth and years lived in poorer states of health by national deprivation deciles, England, 2015 to 2017[footnote 6]
Deprivation deciles: 1 = most deprived, 10 = least deprived
| Deprivation decile | Healthy life expectancy | Years lived in poorer states of health | Life expectancy |
| --- | --- | --- | --- |
| 1 | 52.0 | 26.7 | 78.7 |
| 2 | 56.9 | 23.5 | 80.3 |
| 3 | 59.2 | 22.4 | 81.6 |
| 4 | 61.9 | 20.6 | 82.5 |
| 5 | 64.1 | 19.0 | 83.1 |
| 6 | 65.8 | 17.9 | 83.7 |
| 7 | 66.9 | 17.3 | 84.2 |
| 8 | 68.2 | 16.4 | 84.6 |
| 9 | 68.7 | 16.5 | 85.1 |
| 10 | 70.4 | 15.9 | 86.2 |
Inequalities also exist across a range of other dimensions, including ethnicity, gender, sexuality and having a disability. The underlying causes of these inequalities often cluster together, with people experiencing 'multiple disadvantage'. There are also certain groups who experience poorer health outcomes than the wider population, such as people sleeping rough, leaving care, and offenders in prison or in the community.
For learning disabilities, autism and other neurodevelopmental or behavioural conditions such as attention deficit hyperactivity disorder (ADHD), an early diagnosis can help a child's development. Specifically, it can help them get the help they need at school, and ensure families and carers can support them better. This in turn helps to improve wider outcomes and prevent needs escalating. But this early diagnosis doesn't always happen. We also know that adults living with these conditions often have worse mental and physical health than the wider population, and can struggle to access the help they need.[footnote 7]
Risk factors like obesity, smoking and physical inactivity place us at higher risk of both early death and ill-health/disability.[footnote 8] Yet, we know the things that kill us (such as cancer, heart disease and stroke) are not always the same as the things that make us unwell. Some of the most common causes of ill-health are: joint, bone and muscle problems, depression and anxiety, long-term conditions like asthma and diabetes.[footnote 9]
Figure 2: Leading causes of years lived with disability, England, 2017[footnote 10]
| Cause | Percentage of total years lived with disability |
| --- | --- |
| Musculoskeletal disorders | 22.7% |
| Mental disorders | 14.0% |
| Neurological disorders | 9.0% |
| Unintentional injuries | 6.4% |
| Chronic respiratory diseases | 6.3% |
| Sense organ diseases | 6.0% |
| Other non-communicable diseases | 5.8% |
| Skin and subcutaneous diseases | 5.6% |
| Diabetes and kidney diseases | 4.9% |
| Cardiovascular diseases | 4.4% |
Problems with joints, bones and muscles
For the last 30 years, problems with joints, bones and muscles have been the most common cause of years lived with disability in England.[footnote 11] They affect around 15 million people (1 in 3 adults in England).[footnote 12] They are sometimes called musculoskeletal (or 'MSK') conditions. The most common are conditions of musculoskeletal pain, such as osteoarthritis or back and neck pain. Women are more likely to be affected than men.[footnote 13] The risk of having back pain also increases with rising body mass index.[footnote 14] For this reason, the policy priority is helping people to achieve a healthier weight, eat well and stay active.
Depression, anxiety and other mental health problems
Poor mental health is the second most common cause of years lived with disability in England.[footnote 16] The most common conditions are depression and anxiety, which make up the majority of mental health cases.[footnote 17] Approximately 1 in 4 people report living with a mental health issue.[footnote 18] Incidence is highest in the working-age population, and higher in women than men.[footnote 19] Other groups at greater risk include: those living on low incomes, people with problem debt, and those identifying as lesbian, gay, bisexual or transgender (LGBT).[footnote 20]
Other long-term health conditions
Together, musculoskeletal problems and mental health conditions account for almost 40% of the total years lived with disability in England. The remaining 60% is split among a number of mainly long-term conditions, such as diabetes, lung conditions like asthma and chronic obstructive pulmonary disease (COPD), sight loss, hearing loss and dementia.[footnote 22]
In many cases, long-term conditions cluster together. This is sometimes called multimorbidity. There are no official measures, but between 15 and 30% of the adult population are thought to be living with multiple conditions.[footnote 23] Problems are more common in later life, in deprived communities, and among people who are overweight or who smoke.[footnote 24]
The drivers of good health
The good news is that much premature ill-health and disability can be prevented, and there are actions we can take to increase our chances of living longer, healthier lives. Some health conditions we are born with and cannot avoid. Where this is the case, the priority is supporting people to enjoy a good quality of life and to live well.
The mission
Last year, the government set a mission as part of the Ageing Society Grand Challenge[footnote 26] to "ensure that people can enjoy at least 5 extra healthy, independent years of life by 2035, while narrowing the gap between the experience of the richest and poorest".
The green paper proposals will not deliver the whole '5 years'. But they will help us towards achieving this mission. Further details on this will be provided later in the year, through a government response to the green paper.
The mission is based on the technical term 'disability-free life expectancy at birth'. That is, the time a child born today can expect to live without a limiting health condition: a mental or physical condition that's long-term and affects day-to-day activities.[footnote 27]
The latest figures for disability-free life expectancy are 62 years for women and 63 for men.[footnote 28] To achieve our mission in England, we will need to increase this to at least 67 for women and 68 for men by 2035. That's almost 4 months per year. Given that disability-free life expectancy has remained stable in recent years,[footnote 29] this is likely to be extremely difficult, and will require bold action.
Much has been written on the factors that shape our health. As set out in the Prevention Vision, evidence suggests there are 4:
the services we receive (Chapter 1)
the choices we make (Chapter 2)
the conditions in which we live (Chapter 3)
our genes, which we inherit from our parents
Figure 3: Determinants of premature mortality and their contribution (McGinnis and others, 2002)[footnote 30]
Genetic predisposition, 30%; social circumstances, 15%; health care 10%; environmental exposure 5%; behavioural patterns, 40%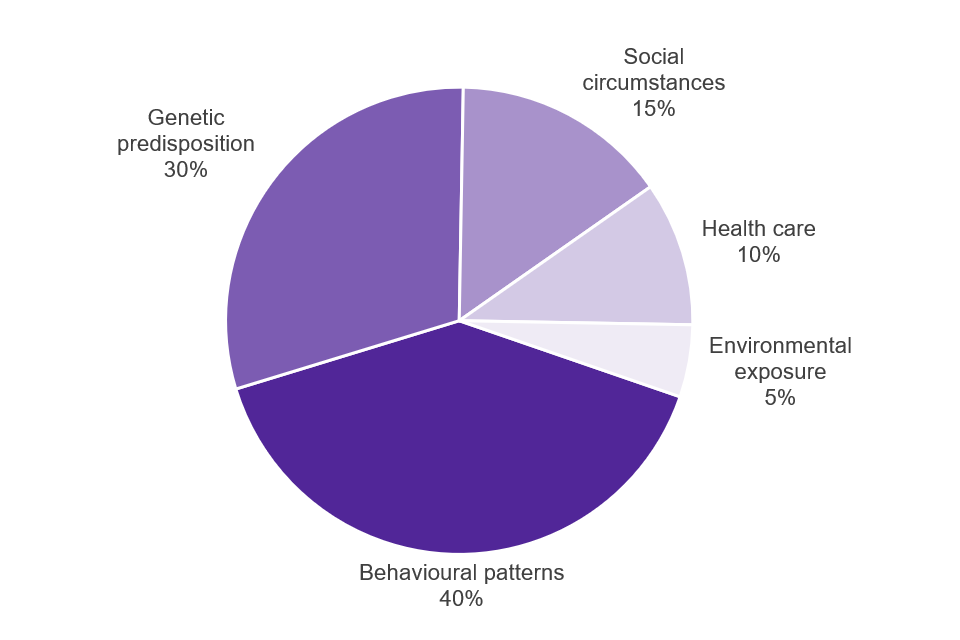 Figure 4: Estimated impact of determinants on health status (Canadian Institute of Advanced Research, 2002)[footnote 31]
Health care system 25%; biology/genetic endowment 15%; physical environment 10%; social and economic environment 50%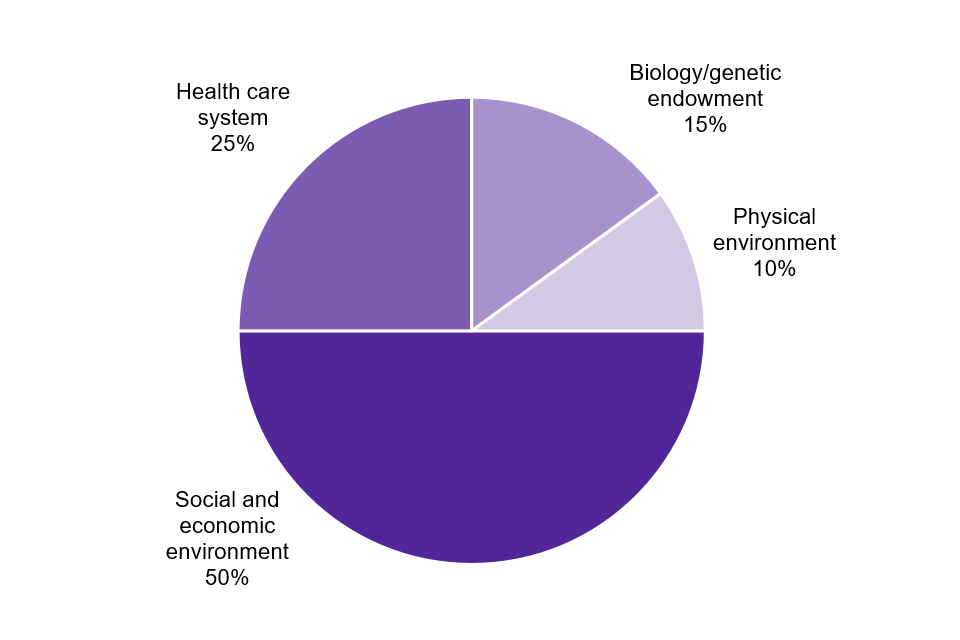 There are different views about the contribution made by each, which is likely to vary from person to person and from disease to disease. Nevertheless, most people agree that the choices we make, shaped by the conditions in which we live, have the biggest impact. The focus of this green paper is on services, choices and conditions.
If we are to achieve our mission, we need to take bold action in all areas: making the most of the opportunities in front of us and being open to innovations ahead. This includes:
bringing in a new wave of intelligent public health, which is more proactive, predictive and personalised, while also taking tough action on our biggest challenges: smoking, obesity and mental ill-health[footnote 32]
taking a behavioural science approach to some of our biggest challenges on prevention. This means making healthy choices as easy as possible for people, and, in some cases, making all options healthier
viewing health as our most precious asset, and not just a problem to fix when it goes wrong. Good health is the foundation of happy families, thriving communities, and a strong economy. When our health is good, we take it for granted. When our health is bad, we expect the NHS to do their best to fix it. We need to lay the foundations for good health so everyone has a chance to live a healthy and happy life
Chapter 1: Opportunities
Intelligent public health
In today's increasingly digital world, technology and data have a clear role to play in helping us to deliver more proactive, predictive and personalised services to people. We've already taken the first steps in doing this.
PHE's social marketing campaigns already personalise lifestyle advice to different audiences, with 90% of their social media messaging on smoking being seen by people who smoke. That's modern, efficient and focused prevention in action.
The future is even greater personalisation and a closer fit with individual needs. There will always be a place for interventions that improve everyone's health. But it can be less intrusive and better value for money to offer people more personalised and tailored support. Many are already opting in to this kind of approach. In the next decade, intelligent public health will mean:
focused support and advice to those who need it and choose to participate
precision medicine
tackling current and future threats
Predictive prevention
Use of data: a citizen's view
The data we generate about our health, our activities, our genomes and our environment can empower us in unimaginable ways. We can tailor our diet to meet our metabolism, we can account for air pollution in our exercise plans, and we can take action to prevent painful diseases decades before they would begin. And we know this is only the beginning.
Finding insights in this data is an ongoing challenge, one that can be met on our phones and tablets, in the GP surgery or nationally, at a population level. We are entering a new era of evidence-based self-care, driven by us as patients in partnership with the NHS.
PHE and the NHS use data and insights to create these algorithms and models, and the public can have a role in this if we choose to help by either allowing our phones and devices to send data, or by allowing PHE and the NHS to access our anonymised clinical data. There is some indication from PHE's targeted marketing campaigns that citizens are willing to share their contact details to receive information, and to have an ongoing dialogue around health issues relevant to them. To date, there have been over 7.1 million responses to this type of offer from PHE. The UK Biobank has also been able to build a record of the data of over half a million volunteers.
To make this work, PHE and NHS organisations will ensure that they respect and protect our data. They will focus on the requirements of the General Data Protection Regulation and Data Protection Act 2012, adhere to the Caldicott principles and implement Department of Health and Social Care (DHSC) policy on patient preferences. At all stages, they will work closely with the Information Commissioner's Office, the National Data Guardian, the new Centre for Data Ethics and Innovation, and academics and other experts in information governance.
They will work closely with the public, privacy organisations and other relevant bodies including the Information Commissioner's Office and the Centre for Data Ethics and Innovation, to understand what we consider to be acceptable use of our data. They will also explore developing models of dynamic, informed consent, so we can choose how and when we want to share our personal data for this purpose.
The impact achieved will be constantly evaluated in the open, with regular and transparent engagement with the health sector and the public – ensuring that individual interventions are having a positive impact overall, and that we are narrowing the gap between richest and poorest.
Focused support and advice
In the future, the support and advice we provide to people will become much more focused and tailored. We will start this transformation with 2 of our largest existing programmes – screening and NHS Health Checks.
Intelligent screening
Screening programmes have long been used to identify those at risk of or already living with health problems. By preventing conditions – or detecting them at more treatable stages – it's possible to save lives and improve outcomes.
Our vision for future screening in the NHS is for:
uptake to be maximised, including by making screening easier for people to access, and tackling unjustified variations in take-up
existing national screening programmes to become more personalised and stratified by risk, so we focus interventions where they are most needed. For example, reviewing the case for increasing cervical screening intervals for lower-risk groups, such as women vaccinated against human papillomavirus. We also know that the predictive power of a screening test is increased if you identify high-risk groups, rather than screening everybody
focused screening within high-risk populations to be offered for a greater range of conditions. For example, considering introducing lung cancer screening to high-risk individuals, such as smokers, together with more personalised ongoing support
better use of technology, including an expansion of our offer on genomics, better use of data and embedding the use of artificial intelligence. This includes incorporating genetic testing into screening and diagnostics. For example, using next generation sequencing to confirm cases of cystic fibrosis in children (currently being tested in the newborn bloodspot programme), or screening for genes associated with Lynch syndrome, which leads to an increased risk of bowel cancer
recommendations to be developed in a co-ordinated way across different kinds of screening opportunity, while continuing to be based on the best evidence and advice. For example, by reviewing how the different sources of expert advice on screening, in particular the National Institute for Health and Care Excellence (NICE) and the UK National Screening Committee (UK NSC), relate to one another
faster implementation of recommended interventions and programmes, with clear accountability for delivery and investment in supporting IT
Professor Sir Mike Richards is currently carrying out a review of cancer screening. The report is due to be published in September 2019. This provides a good opportunity to update and modernise our approach to screening.
Intelligent health checks
NHS Health Checks is a national programme commissioned by councils. Health Checks offer people aged 40 to 74 a free check-up of their overall health, every 5 years. The results can tell people whether they are at higher risk of developing certain health problems, such as heart disease, diabetes, stroke and dementia. They help underpin the NHS Long Term Plan commitments to prevent 150,000 heart attacks, strokes and cases of dementia, and to double the NHS Diabetes Prevention Programme.
The NHS Health Check programme has achieved a lot. But uptake varies across the country,[footnote 33] the risks identified in a check could be followed up more consistently by the NHS, and evidence is emerging that people could benefit from a more tailored service.[footnote 34] There may also be a case for a particular focus on supporting people through key changes in their life, in particular thinking about future care needs and how they can remain healthy and active in older age.
Details will be confirmed later this year, but the scope is likely to include:
ways of increasing uptake, particularly among high-risk groups
options for making it more focused, for example identifying people on the basis of information about their likely risks, rather than making the same offer to everyone. This could mean more support to those who need it most
considering how it's delivered, for example using developing digital service offers to intervene in a more efficient and tailored way
reviewing what's covered in an NHS Health Check, for example increasing the range of health and care advice that checks can offer
reviewing the evidence for a specific 'MOT' when approaching retirement age to help prevent or delay future care and support needs
Precision medicine
Genomics is changing the future of health and medicine. From providing more tailored cancer treatments to helping diagnose unknown conditions, it will underpin a new era of precision medicine. Over the next decade, we want to build on our position as a world leader in genomics and make the UK the number one destination to research and develop the latest scientific advances in genomic healthcare.
For the last 70 years, the UK has been at the forefront of the use of genetics to improve healthcare. However, it's only in the last 10 years, with advances in science and technology, that we have begun to unlock the wider potential. We have led the way globally with initiatives like the 100,000 Genomes Project, which was led by Genomics England and is the largest national sequencing project anywhere in the world. This project is already making a real difference for patients. Early results show 1 in 4 rare disease patients previously without a diagnosis now receive one, and up to half of cancer patients could be provided with findings that put them and family members on a better care pathway.
Later this year, Genomics England and the NHS will start returning results of additional findings related to preventable conditions to participants who have chosen to receive them. These may be available based upon follow-up analysis of their samples.
The Genomic Medicine Service in the NHS is the first of its kind in the world to integrate whole genome sequencing into the healthcare system. It aims to deliver equitable access to genomic testing to help more accurately diagnose disease and personalise treatments and interventions. Our partnerships with researchers, industry and governments, domestically and internationally, all contribute to advancing this area.
Genomic approaches will be transformative for early detection of many of the common diseases and cancers. Opportunities to understand how best to realise these benefits will be explored as part of plans to sequence 5 million genomes by 2023 to 2024, through a unique collaboration between the NHS, UK scientists and industry.
Genetic risk in healthy populations
We know genetic factors play a role in human health and disease, including most major chronic diseases. For some diseases, many thousands of genetic variations across our genomes each have a small impact on the chance that we will develop some common diseases. It is now possible to combine this genetic information from many people into polygenic risk scores (PRS), which identify those at highest risk of particular diseases. This could allow individuals to make lifestyle changes that will help prevent disease or reduce its impact, lead to more effective prescription medicines and improve other public health interventions.
PRS could also help to define new, currently invisible, patient populations. This could, for example, include people at risk of heart disease who would benefit from receiving statin therapy but who are currently not receiving preventative treatment because their blood pressure and cholesterol levels are normal. As the evidence develops, complementing existing risk scores (such as the QRisk Score for cardiovascular disease) with this kind of genetic information will be a priority for the UK healthcare system.
Building on recent advances realised through UK BioBank, the clinical implementation of this approach will be pioneered at scale in the new Accelerating Detection of Disease (ADD) challenge, which aims to recruit up to 5 million healthy participants into a world-leading research cohort in order to shed new light on the detection and treatment of common diseases. A key part of the ADD challenge will be to offer as many participants as possible their PRS. Individuals will volunteer their genetic information, which will be used in accordance with relevant legislation, regulation and good practice guidance on use of data, in order to develop and improve the evidence base for the use of PRS.
The goal of the ADD challenge will be to support research, prevention and treatment across major chronic diseases, including cancer, dementia, heart disease and mental health conditions. The project will seek to enrol under-represented groups, such as ethnic minorities, to enable a better understanding of disease and preventative measures for every individual in society and reduce existing health inequalities. The project brings together the NHS, industry and leading charities including Cancer Research UK, the British Heart Foundation and Alzheimer's Research UK. It will be the largest ever study of its kind, collecting a broad range of data from healthy volunteers over many years.
Tackling current and future threats
Antimicrobial resistance
Antimicrobial resistance (AMR) is one of the most pressing global challenges we face this century. If no action is taken, up to 10 million people per year could die worldwide. This would make drug-resistant infections a bigger killer than cancer currently is now over the next 30 years.[footnote 35] AMR is already estimated to contribute on average to over 2,000 deaths annually and cost the NHS approximately £95 million each year in the UK.[footnote 36]
In recognition that there are no 'quick fixes', the UK government set out its longer-term vision of a world in which AMR is contained and controlled by 2040, supported by a 5-year action plan. This covers actions across human and animal health, addressing infection prevention, use of antimicrobials, increasing the availability of clean water, and minimising spread through the environment and food.
But the UK cannot tackle AMR alone. Global problems require global solutions. That's why One Health co-ordinates action in all sectors, across the world. In the UK, we continue to play our part globally by modelling best practice, sharing this good practice with other countries, and supporting international efforts.
Immunisations
Vaccinations are one of the most cost-effective health interventions.[footnote 38] Not only are there substantial health gains – saving lives, protecting vulnerable groups and reducing disability – but they also reduce pressure on the NHS and improve productivity.[footnote 39] Despite this, there's been a gradual decline in vaccine uptake in recent years, with too many people not getting the vaccines they need for themselves or their children.[footnote 40]
The government will also continue to emphasise the preventative value of vaccines at every opportunity. This is to ensure that people have the facts they need, and that vaccine misinformation is addressed as effectively as possible.
Chapter 2: Challenges
When it comes to living a healthier life, the modern world presents many challenges. It can feel like the odds are stacked against us. This is particularly the case if you're living on a low income or have a serious mental illness or learning disability. This green paper is not about nannying, but empowering people to make the decisions that are right for them. It's about providing everyone with the chance to live happy, healthy lives.
By taking a few actions, we can reduce our chances of developing arthritis, dementia, diabetes and various other health conditions. This applies to people of all ages. Evidence suggests our biggest challenges are: being smoke-free, eating a healthy diet and staying active, and taking care of our mental health.[footnote 41]
Figure 5: Leading risk factors of years lived with disability, England, 2017[footnote 42]
| Risk factor | Percentage of total years lived with disability |
| --- | --- |
| High body-mass index | 6.4% |
| Tobacco | 5.9% |
| High fasting plasma glucose | 5.5% |
| Occupational risks | 3.3% |
| Dietary risks | 3.1% |
| High systolic blood pressure | 2.3% |
| Drug use | 2.3% |
| Alcohol use | 2.2% |
| Child and maternal malnutrition | 1.9% |
| Air pollution | 1.5% |
Being smoke-free
There has been good progress in moving towards a smoke-free society. Over the last 35 years, smoking rates in Great Britain have halved.[footnote 43] We now have one of the lowest rates in Europe,[footnote 44] with fewer than 1 in 6 adults smoking.
Figure 6: Adult smoking prevalence in England, 2011 to 2018[footnote 45]
19.8% in 2011; 19.3% in 2012; 18.4% in 2013; 17.8% in 2014; 16.9% in 2012; 15.5% in 2016; 14.9% in 2017; 14.4% in 2018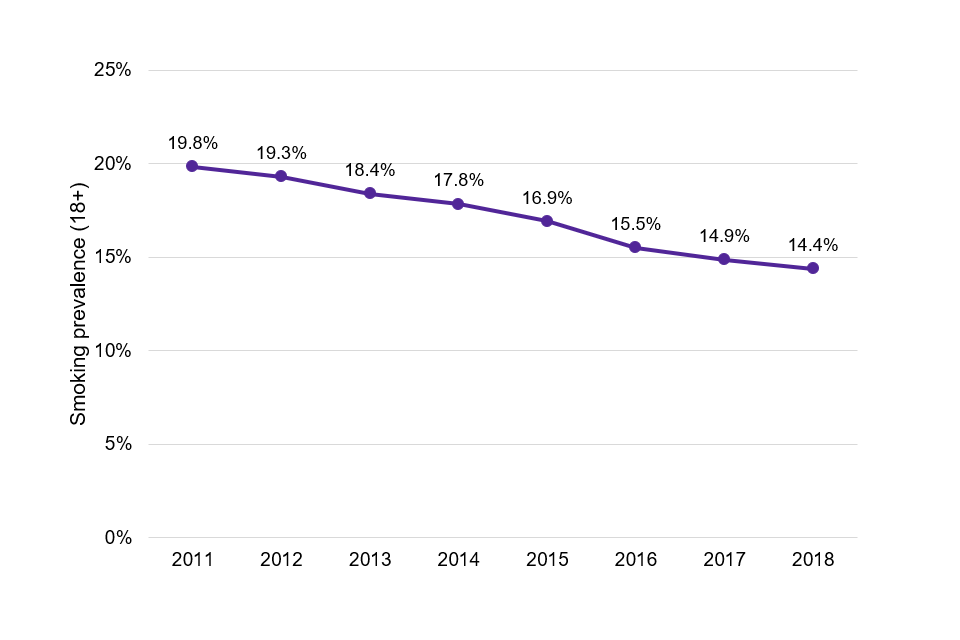 This remarkable change is the result of decades of concerted effort and government action. We were one of the first countries to ban smoking in public places (2007), we established education campaigns like Stoptober (2012), and introduced plain packaging for cigarettes (2016). Recently, the government also published a tobacco control plan, which included the goal of reducing smoking rates to 12% in adults by 2022.
The gains in tobacco control have been hard-won, and there's still much to do. For the 14% of adults who are not yet smoke-free,[footnote 46] smoking is the leading cause of ill-health and early death, and a major cause of inequalities.[footnote 47] That's why the government wants to finish the job.
This goal is extremely challenging. Although smoking rates are falling overall, they remain stubbornly high in certain groups, including:
Tackling these inequalities is the core challenge in the years ahead. If we are to achieve this vision of a smoke-free future, we need bold action to both discourage people from starting in the first place, and to support smokers to quit.
Discouraging people from starting
Two in 3 people who experiment with smoking go on to become smokers. Discouraging young people from trying cigarettes is an important priority.[footnote 53] In 2007 the government raised the age of sale for tobacco from 16 to 18. This helped contribute to lower teenage smoking rates, and forms part of wider government action to deter people from starting in the first place, including bans on:
television advertising (1985)
printed advertising (2003)
sponsorship (2005)
Supporting smokers to quit
Help to quit is mostly delivered by the NHS or local authorities, paid for through general taxation. Given the pressure on local budgets, the government is considering other ways of ensuring people can get the help they need.
The government is committed to monitoring the safety, uptake, impact and effectiveness of e-cigarettes and to assess further innovative ways to deliver nicotine with less harm than smoking tobacco. There is a large amount of research now available to support e-cigarette use as a safer alternative to smoking and help people quit smoking, and we continue to monitor the evidence. There are also claims that heated tobacco products could be less harmful than smoking and help smokers quit. Heated tobacco products are relatively new to the UK market in comparison with e-cigarettes, and research is in its infancy and mainly led by the tobacco industry.
The latest evidence on heated tobacco (given by the independent Committee on Toxicity in December 2017 and in the February 2018 PHE evidence review)[footnote 54] stated that heated tobacco products still pose harm to users, but may be less harmful than smoking conventional cigarettes. Information on the impact on health is very limited and we recommend that smokers quit completely rather than move to these products.
Maintaining a healthy weight
For other areas, the trend is going in the wrong direction – with only a third of adults a healthy weight. Since 1993, rates of adult obesity have almost doubled (to 29%), and morbid obesity has quadrupled (to 4%)[footnote 55]. One in 3 children aged 10 to 11 are now overweight or obese and we know that obese children are 5 times more likely to become obese adults.[footnote 56]
Figure 7: Obesity – the scale of the problem[footnote 57]
Nearly 1 in 4 reception age children are overweight or obese; 1 in 3 Year 6 children are overweight or obese; 2 in 3 adults are overweight or obese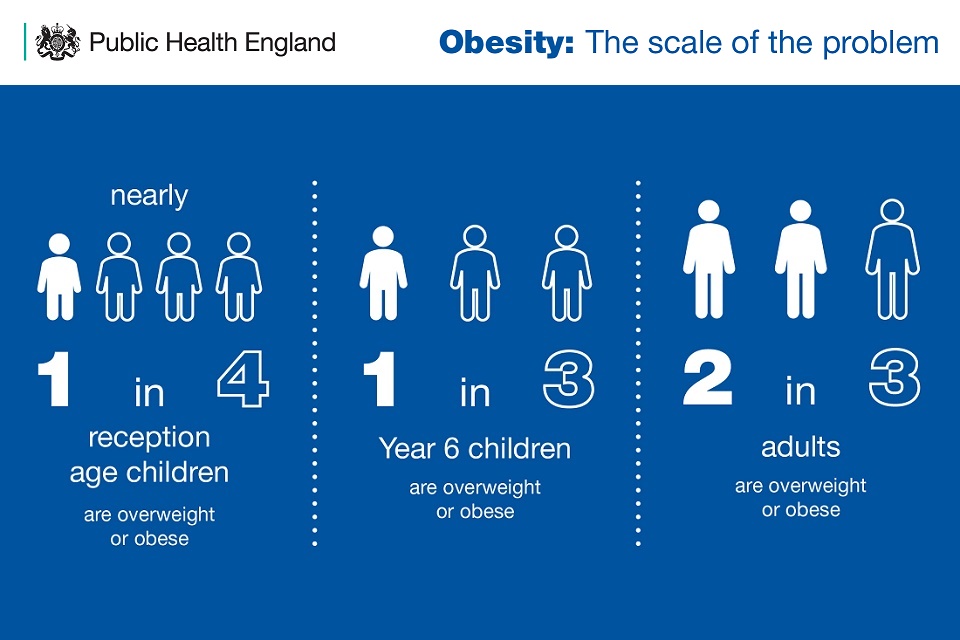 This is storing up health problems for the future, and is a cause for serious concern. This is because being overweight or obese is a major risk factor for a number of conditions, including diabetes, heart disease and stroke, and some cancers.[footnote 58] Improving our diet is one of the biggest health-related actions we can take to improve the health of the nation.[footnote 59]
Eating a healthy diet
As a country, we need to eat more fruit, vegetables, fibre and oily fish. We consume too many calories, as well as too much sugar, saturated fat and salt.[footnote 60] We know it can be difficult to eat healthily when unhealthy options are all around us. That's why our focus must be on making healthier choices easier. This is not nannying, but reshaping the environment to provide people with more choice, not less.
We have demonstrated through our childhood obesity plan our commitment to take bold action. That's why our plan for reducing childhood obesity by 50% by 2030 has focused on making the food and drink available to families healthier.
Energy drinks are soft drinks that are typically distinguished by their significantly higher caffeine content. Although diet versions are available, regular energy drinks on average contain more calories and sugar than other regular soft drinks.
Research has suggested that excessive consumption of energy drinks by children may affect some children adversely. In addition, energy drink consumption has also been associated with unhealthy behaviours and deprivation.
Last year we consulted on ending the sale of energy drinks to children. The consultation showed overwhelming public support, with 93% of consultation respondents agreeing that businesses should be prohibited from selling these drinks to children. Teachers and health professionals, in particular, were strong in their support for the government to take action.
We have also consulted on making calorie labelling mandatory in the out-of-home sector, such as restaurants, takeaways and cafes. We will be setting out details of our policy in a consultation response shortly. In addition, we set out our intention to, and consulted on, banning promotions of foods and drinks high in fat, sugar and salt (HFSS) by price and by location. We have also consulted on introducing a 9pm watershed on TV advertising of HFSS products and similar protection for children viewing adverts online. We will be setting out the government's response and next steps on both policies as soon as possible.
In Chapter 2 of our childhood obesity plan, we committed to deliver a Childhood Obesity Trailblazer Programme in partnership with the Local Government Association and PHE, working with local authorities to test the boundaries of their levers through innovative local action to tackle childhood obesity. Where we live has a huge role to play in tackling childhood obesity, whether it is the way our towns and cities are designed to ensure greater active travel or safe physical activity, or how many hot food takeaways can operate near schools. While local authorities have a range of powers to support local solutions to address childhood obesity, many face challenges. We want to make sure that all local authorities are empowered and confident in finding what works for them to tackle childhood obesity.
We have now selected 5 successful Childhood Obesity Trailblazer authorities, who together will have access to £1.5 million of funding and support over the next 3 years. They are: Blackburn with Darwen, Birmingham, Bradford, Lewisham and Nottinghamshire. Across the 5 areas, Trailblazer activity will support and create opportunities for future generations, from supporting families and children in the early years through to upskilling adolescents and young adults. Between them, they will test the potential for existing local levers to:
restrict out-of-home HFSS advertising
create healthier food environments through the planning system
use community and faith assets
incentivise businesses to improve their retail offer
improve accessibility and affordability of healthier foods
improve job opportunities and growth in health, food and physical activity sectors
This will help to inform further action the government can take in the future to enable ambitious local action. We will also share the learning from the programme to encourage and empower wider local action across the country.
While we know this represents a world-leading approach, we have always been clear that we need to go further and faster in ensuring everyone has a chance to lead a healthier life.
Infant feeding
To support families, it's important to understand the choices they make when it comes to infant feeding. In England, most mums start breastfeeding. However, after 6 to 8 weeks, only 4 in 10 are still breastfeeding their babies.[footnote 61] The UK has one of the lowest breastfeeding rates in the world.[footnote 62]
Currently 18% of boys and 21% of girls aged 2 to 4 years are overweight or obese.[footnote 63] Therefore, we need to look at what we can do in the early years to help give children the healthiest start in life.
We know that 3 in 4 children aged 4 to 18 months have energy intakes that exceed their daily requirements.[footnote 64] This figure increases with age following the introduction of solids. Data shows that sugar levels in some commercial baby foods and drinks can be very high.[footnote 65] Around 9 in 10 children aged 1.5 to 3 years old exceed recommended daily sugar intake levels.[footnote 66] Consuming too much sugar, and too many foods and drinks high in sugar can lead to weight gain, which in turn increases the risk of heart disease, type 2 diabetes, stroke and some cancers in adulthood.[footnote 67] Added sugar in foods can have a negative effect on babies and young children's health by putting them on this trajectory.[footnote 68]
High levels of sugar intake also increase the risk of tooth decay.[footnote 69] Just under a quarter of 5-year-olds in England have tooth decay[footnote 70] and almost 9 out of 10 hospital tooth extractions among children aged 0 to 5 could have been avoided.[footnote 71]
Parents and carers want to know more about the nutritional value of the food and drink they buy for their families. This is particularly important in the early years, when parents and carers buying products marketed for infants and young children are making decisions about when and what to feed their baby.
Too many commercially available foods and drinks marketed for infants and young children have labels that do not align with the latest government scientific advice. They can also make a product appear healthier than it really is, or do not contain enough information about how they should be consumed.[footnote 72] All of this can be confusing to parents and carers.
Clear labelling
It's important that everyone, regardless of their age, has access to the information they need to make informed decisions. But we know that identifying what food and drinks are healthy is not always easy. To support consumers in making healthier food and drink choices through labelling, we believe that people need 2 things:
to know what's in the food they're buying
for this information to be presented clearly and concisely, helping them to make quick, informed decisions about what to buy
Since 2013, the UK has led the way in recommending a voluntary nutritional labelling scheme, sometimes called 'traffic light' labelling. This uses colours, words and numbers to help UK consumers understand the amount of fat, saturated fat, sugar, salt and calories in a product. This scheme was the result of over 15 years of research to provide a label that meets the needs of UK shoppers.
As a nation, we're proud of the success of this scheme. Front-of-pack labels feature on a significant proportion of pre-packaged food and drinks, and 9 in 10 shoppers agree it helps them make informed decisions when shopping.[footnote 73] We want to do more to ensure that our label still meets the needs of UK shoppers and that wherever people shop and whatever they buy they are presented with consistent front-of-pack nutritional labelling that they find helpful and easy to understand.
Since we introduced the UK scheme, a number of other countries around the world have introduced their own versions of front-of-pack nutrition labels. Some labels are similar to the UK approach, but many differ. For example, some countries like Sweden, Denmark and Norway choose to focus on signposting the healthier aspects of foods such as high fibre, while Chile chooses to alert shoppers to products that are high in nutrients such as fat, calories, salt and sugar that eaten in excess can be harmful to health.
We have previously committed in both Chapter 1 and Chapter 2 of the Childhood Obesity Plan to explore what additional opportunities leaving the European Union presents for front-of-pack food labelling in England.
Improving the nutritional content of food and drink
Central to our approach to improving diets is working with food and drink companies to make their products healthier. We often call this reformulation. Over time, these small changes can add up to big improvements in the nation's health.
The Soft Drinks Industry Levy (SDIL) has been hugely successful in removing the equivalent of over 45,000 tonnes of sugar from our shelves. So far, we have not included sugary milk drinks within this 'tax'. However, these drinks can also contribute to our sugar and calorie intakes, particularly given some of the larger portion sizes available.
We also need to do more to consume less salt. This is vital for reducing the risk of heart disease and stroke.[footnote 74] The government recommends that we should consume no more than 6g per day, well below the current average in England (8g per day).[footnote 75] This is mostly through salt that is already in the food we buy, rather than the salt we might add ourselves.
Developments in food technology also offer opportunities to improve the nutritional content of food and drink in order to improve people's health. For example, it is already possible to enrich eggs or milk with omega 3. Government will continue to examine the growing evidence in this area.
Support for individuals to achieve and maintain a healthier weight
We want to make it as easy as possible for people of all ages who want to lose weight to access the support they need. Access to the right services can help people achieve a healthier weight and reduce the cost to the NHS and public services further down the line.
Evidence shows that patients are receptive to brief interventions for obesity.[footnote 77] On average, they lose weight in the year following the intervention. Being able to deliver a brief intervention and provide opportunistic advice in a primary care setting presents an effective way for doctors to engage with obese patients about weight management and lifestyle.
As more services go online, we will drive the digital market for weight management apps; helping health professionals to offer patients support in new, innovative ways that fit with how they live their lives.
Every year, the National Child Measurement Programme (NCMP) measures the height and weight of over 1 million children aged 4 to 5 and 10 to 11 in state schools across England.[footnote 78]
The programme provides key opportunities for parents to be informed of their child's weight status and to access support from health professionals and local services, where appropriate. However, there is currently no standard route to share this vital information with healthcare professionals; for example, through the health and care record. As such, it's not done routinely.
Staying active
Becoming more active is good for our mental and physical health, and reduces our risk of developing a number of health conditions. For example, regular activity can reduce our risk of hip fractures by 68%, type 2 diabetes by 40%, heart disease by 35%, and depression by 30%.[footnote 79]
It can also help us keep the weight off after a (diet-led) weight-loss programme. It can also help the third of people who are already a healthy weight to stay that way.[footnote 80] This has led some experts to suggest:
If physical activity were a drug, we'd talk about it as a miracle cure.
Professor Dame Sally Davies, Chief Medical Officer for England and Chief Medical Adviser to the UK government (2017)[footnote 81]
Despite this evidence, many of us are not active enough to ensure we'll remain healthy and independent for as long as possible: a third of adults do not meet guidelines of 150 plus minutes of aerobic activity a week;[footnote 83] and evidence suggests that the UK is less active than France, the Netherlands and Australia, and has twice the level of inactivity seen in Finland.[footnote 84]
Figure 8: How active are we?[footnote 85]
1 in 4 women and 1 in 5 men are classed as physically inactive - doing less than 30 minutes of moderate physical activity per week. Only 34% of men and 24% of women undertake muscle-strengthening activities at least twice a week. Men are more likely than women to average 6 or more hours of total sedentary (sitting) time on both weekdays and at weekends.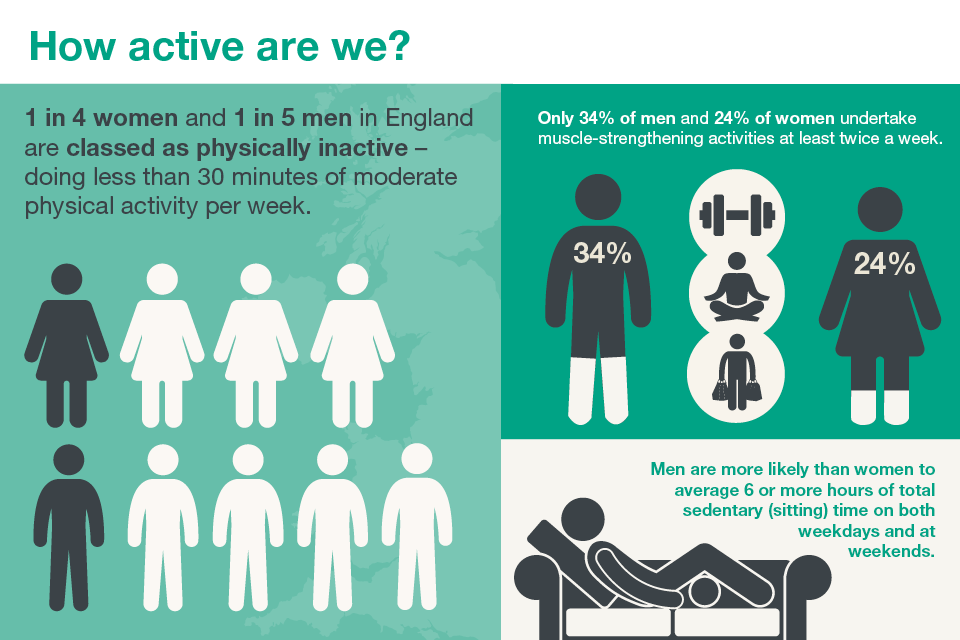 The UK Chief Medical Officers have published guidelines that clearly state the amount of activity required for good health. One of the easiest ways to get active is to build physical activity into your daily commute to work or school. Walking and cycling are 2 of the top ways that people in England keep physically active[footnote 86] and are the most accessible and cheapest forms of transport.
The guidance states that all adults should aim to be active every day. This should include muscle-strengthening activity – such as exercising with weights, yoga or carrying heavy shopping – on at least 2 days a week. These types of activity are particularly important for people in or approaching later life. This is also the case for balance exercises, which are recommended twice a week for older people at risk of falls. Yet rates of strength and balance activity are particularly low, with just 1 in 4 women (and 1 in 3 men) meeting the recommended guidelines.[footnote 87]
Physical activity can also help those living with a health condition to keep symptoms under control, and to prevent additional conditions from developing.[footnote 88] Yet we know that getting more active can be daunting, especially if you haven't done much exercise before or you're managing a health condition. In the 2020s, we want to get everybody active, including those of us who are already living with a health condition.
Taking care of our mental health
Good health is much more than the absence of illness. It's a state of wellbeing that includes our mental as well as our physical health. Parity of esteem was enshrined in law back in 2012. This requires the NHS and local authorities to consider the 'whole person', and their mental and physical health needs as equally important.
This government has provided people with greater access to mental health services.[footnote 90] And, in doing so, we began to close the 'treatment gap' between mental and physical health:
We now need to close the 'prevention gap' and achieve parity of esteem, not just for how conditions are treated, but also for how they are prevented. When it comes to preventing health problems, much of our focus is still on people's physical health. Less attention is given to the steps we can take to improve our mental health and wider sense of wellbeing. This is despite our physical and mental health being closely related – physical health problems increase the risk of poor mental health, and vice versa.[footnote 95]
Tackling risk factors and strengthening protective factors
We need to lay the foundations for good mental health across all parts of our society. This is because the circumstances we're born into – and the conditions in which we live – all have a major bearing on our mental health. We need to take urgent action to tackle the risk factors that can lead to poor mental health, such as adverse childhood events, violence, poverty, problem debt, housing insecurity, social isolation, bullying and discrimination. We also need to invest in the protective factors that can act as a strong foundation for good mental health throughout our lives, such as strong attachments in childhood, living in a safe and secure home, access to good quality green spaces, security of income, and a strong set of social connections.[footnote 96] These will be considered in the next chapter.
Mental health problems can have a broader impact on society. Poor mental health at work costs the UK economy between £74 billion and £99 billion per year.[footnote 97] Mental ill-health is also associated with lower life expectancy, with some conditions associated with reductions in life expectancy of 10 to 20 years.[footnote 98]
Taking action
There are actions we can take to improve our mental health. Many people know how to improve their physical health but are less confident taking positive action for their mental health and wellbeing. We want to create a society where people have high mental health 'literacy'. Where everyone has the skills, knowledge and confidence to improve their mental health and wellbeing throughout life. We also want to raise awareness of mental health and wellbeing, so that everyone can recognise signs of distress in themselves and others and know where to seek help if needed.
The government has already published the green paper, Transforming Children and Young People's Mental Health Provision, and made mental health a mandatory part of the school curriculum. Together, these amount to a transformation in how schools are supported to promote good mental health in their pupils and refer them for support when there are signs of illness.
We also know that in the most deprived areas of England, people tend to have the poorest health and significantly less green space than wealthier areas.[footnote 99] Evidence shows that spending time in the natural environment can improve our mental health and wellbeing,[footnote 100] so in the 25 Year Environment Plan, published in 2018, the government sets out its aim to connect people more systematically with green space to improve mental health, using the natural environment as a resource for preventative and therapeutic purposes.
Wider factors
Of course, factors other than weight, smoking and resilience matter. For example, we know that problem gambling can have a major impact on health.[footnote 101] The government has an active agenda on this, which is set out elsewhere. Other factors include alcohol, drug use and sleep.
Alcohol
Most people who drink, do so responsibly. Looking at the data, we also know that overall consumption in England is falling, particularly among younger people.[footnote 102] Despite this good news, the harm caused by problem drinking is rising.[footnote 103]
Over 10 million people are drinking at levels above the official guidelines and putting themselves at extra risk. The heaviest drinkers make up just 4% of the overall population, yet account for 30% of all units of alcohol consumed.[footnote 104] In England, drinking at increased and higher risks of harm is twice as common among men (28%) than women (14%).[footnote 105] The impact of harmful drinking and alcohol dependence for a given level of consumption is also much greater for those in the lowest income bracket.[footnote 106]
The government has been working to reduce the harm from problem drinking by:
ensuring people are aware of the health risks through the One You campaign

including an alcohol risk assessment in the NHS Health Check

a £6 million investment to support children with alcohol dependent parents
Drug use
Drug misuse or dependency is associated with a range of harms including poor physical and mental health, unemployment, homelessness, family breakdown and criminal activity. The health of children, family members and carers can also be affected. Heroin and cocaine are associated with the majority of social costs associated with drug misuse and heroin dependence continues to be the common drug problem treated in England.[footnote 107]
The USA and Canada are in the grip of an opioid epidemic, with the numbers of opioid-related deaths having increased drastically in recent years.[footnote 108] Although there are key differences between the UK and the USA, the risk of a similar epidemic happening here is a real one and the experience of the USA demonstrates the importance of being prepared. Mitigation of the threat posed by illicit synthetic opioids includes work on early prevention to build resilience among young people. Especially important is ensuring the continuation of easy to access opioid substitution treatment with a reach into communities where there is a higher risk of dependence forming, as well as increasing the availability of naloxone (the opioid overdose antidote). Investing in drug treatment reduces mortality risk, improves quality of life and saves money. Estimates suggest every £1 spent on drug treatment is associated with a benefit to society of £4, increasing to £21 over 10 years.[footnote 109]
Sleep
A topic that has received relatively little policy attention is sleep. There's growing evidence on the health impacts of lack of sleep. Insufficient or poor quality sleep is associated with physical and mental health problems, including: increased risk of obesity, strokes and heart attacks, and depression and anxiety.[footnote 110] Lack of sleep may also have a negative impact on somebody's recovery from illness or surgery.[footnote 111] Despite this, over one-third of hospital patients report being bothered by noise created by other patients. One in 5 report being bothered by noise created by staff.[footnote 112] However, it should be noted that the direction of causality is likely to run in both directions – with poor sleep leading to health problems, and health problems leading to poor sleep.[footnote 113]
Individuals, employers, schools, the NHS, local authorities and national government all have a role to play in helping support healthy sleeping. There are many examples of good practice. However, with some estimates suggesting up to three-quarters of adults in the UK regularly sleeping less than 7 hours per night, there's much more left to achieve.[footnote 114]
Prevention in the NHS
If we are to achieve our mission, we need everybody's help in preventing health problems from arising – including from those who are normally used to treating them. In its Long Term Plan, the NHS devoted a whole chapter to 'prevention'.[footnote 115] Commitments include:
obesity – the NHS will fund a doubling of the NHS Diabetes Prevention Programme over the next 5 years, and provide access to weight management services in primary care for people with diabetes or hypertension with a BMI of 30 plus
smoking – by 2023 to 2024, all people admitted to hospital who smoke will be offered NHS-funded tobacco treatment services, including a new smoke-free pregnancy pathway for expectant mothers and their partners. A new smoking cessation offer will also be available as part of specialist mental health and learning disability services for long-term users
alcohol – over the next 5 years, alcohol care teams will be fully established in those hospitals with the highest rates of alcohol dependence-related admissions
inequalities – the NHS will set out specific, measurable goals for narrowing inequalities, including those relating to poverty, through the service improvements set out in the plan
The next step is to move from a national treatment service (focused on illness) to a national 'wellness' service (focused on creating good health). This involves helping people to help themselves. We will make this vision a reality by:
allowing people to connect their own data into the whole record if they choose
giving people personalised advice based on aggregated data
giving people the tools and motivation to make informed choices
The NHS is already working to give more people control of their care. For example, their Comprehensive Model for Personalised Care will support up to 2.5 million to benefit from personalised care by 2023 to 2024 (including 900,000 people receiving a social prescription referral and 200,000 personal health budgets).[footnote 117]
This is a strong start and will contribute towards us making the 2020s a decade of prevention. Further options to achieve scale and pace include:
expanding the role of community pharmacists and other healthcare professionals to support more people in the community to manage and improve their health and wellbeing
improving support options for people living with musculoskeletal conditions, and increasing the join-up across mental and physical health services
strengthening links with councils, charities and other local players. Otherwise, the NHS will continue to be treating the symptoms of problems without influencing their causes
Chapter 3: Strong foundations
Good health is one of the country's greatest assets. Just as we save for our retirement, we should be investing in our health throughout life – from early years, through to older age.
But we know that some people find this easier than others. Not because of innate differences in their decision-making, skills or values, but due to differences in the circumstances they are born into and the conditions in which they live.
We believe that everybody has the right to a solid foundation on which to build their health. Nowhere is this clearer than the early years.
The early years
We start building our health asset as a baby in the womb. The first 1,000 days of life are a critical time for brain development,[footnote 118] and parents and carers have a fundamental role to play in supporting their child's early development. Most babies are born healthy and enjoy a safe and caring childhood that helps them develop. Some are born with a health condition or are raised in challenging circumstances, which can adversely affect their development. We know that a wide range of long-term outcomes are improved through the positive relationships established between parents and carers and their baby from pregnancy onwards.[footnote 119]
We are already working to make the NHS the safest place in the world to have a baby. In the last 5 years we've also seen improvements in school readiness, and a fall in the teenage smoking rate.[footnote 120] However, this progress has not been felt equally.[footnote 121] Children who live in more deprived areas are more likely to be exposed to avoidable risks and have poorer outcomes by the time they start school.[footnote 122]
Children are also affected by the wellbeing of their parent or primary carer. We need to recognise the impact that parental mental ill-health, parental drug and alcohol addiction and domestic abuse can have on a child's life chances.[footnote 123] Providing timely and effective support to help parents overcome these issues, and fostering healthy and collaborative family relationships can have a positive impact on the health of both adult and child, and can help to overcome a cycle where some children grow up to repeat the harmful behaviours that they were exposed to in childhood. The £39 million Reducing Parental Conflict programme is working with councils across England to help them to integrate services and approaches that address parental conflict into their local services for families. With the right support and positive relationships, vulnerable children can thrive.
Because these challenges occur from birth onwards, it's vital that families and their children who need extra support are identified early and receive tailored support. That way, we can prevent problems from arising in the first place, rather than dealing with the consequences.
We're already working to provide families with the help they need through the Healthy Child Programme, the public health approach at the centre of our universal service for children and young people aged 0 to 19. This includes a set of health visits for 0 to 5-year-olds, and school nurse appointments for older children and some young people.
Speech, language and communication skills are an important indicator of children's wellbeing. We know that a language-rich home learning environment is crucial to improving children's life chances.[footnote 124] The government has launched a public-facing campaign Hungry Little Minds to improve the quality and quantity of parent-child interactions and make it easy for parents to adopt the positive behaviours we know will help their children to develop their communication, language and literacy skills. Health professionals have a key role to play in the success of the campaign and DHSC and PHE will work with the Department for Education to support them to play a full part in the campaign.
The government will continue to prioritise improving early speech and language outcomes as a preventative measure with strategic leadership across education, health and social care to narrow inequalities. If not addressed, we know that the long-term impact of language difficulties is likely to be high for individuals and families.[footnote 125] The government will also continue to work with local areas to support them to put in place joined-up strategies and services at local level that give children and families the support they need.
Children's oral health
To give our children a good start in life, we need to do much better on oral health. Tooth decay is the most common oral disease among children in England – affecting 1 in 4 children by the time they start school, and the most common reason for hospital admission for children aged 5 to 9 years old – yet it is largely preventable.[footnote 126] Improving the oral health of children is a PHE priority, and a number of actions are already underway.
There are 2 areas where the government is interested in going further and faster. Both are aimed at addressing the unwarranted variation in children's oral health across the country. In 2016 to 2017, 1 in 6 children aged 5 had tooth decay in south-east England, compared with 1 in 3 in the North West. This variation is even greater between local authorities.[footnote 129]
Creating healthy places
The transition into work is another important moment in our health journey. We know that good work is good for health.[footnote 132] A job can provide us with money in our pocket, social connections, and a strong sense of purpose and identity. Yet, for some, health problems can be a barrier to gaining and retaining employment. This is particularly the case for those living with long-term health conditions like musculoskeletal problems, mental ill-health, and other conditions.[footnote 133]
In the years ahead, we will continue to work towards the manifesto commitment to see a million more disabled people in work by 2027, as set out in Improving Lives: the Future of Work, Health and Disability. Employers have a critical role to play. In the 2020s, we urgently need more employers to act like the best. The Thriving at Work review led by Lord Stevenson and Paul Farmer set clear standards that all employers should follow to support people's mental health at work. The government is committed to modelling these as an employer and ensuring other parts of the public sector do the same. The government will also create the right conditions for success.
Given the scale and cost of MSK conditions – to individuals and the economy – we need to take further action.[footnote 134] Much is already being done at national and local level. Our forthcoming consultation on reducing ill-health-related job losses will set out proposals for strengthening action in the workplace. Some local areas are also already taking action, but we need to do much better at translating this evidence into action, and at greater scale. Key to this is understanding the evidence and what action to prioritise. There's already robust evidence on various aspects of MSK health, including how conditions like back and neck pain and arthritis can be prevented and managed. The government already has research under way to explore this, but there is much further to go in terms of putting this into practice.
Homes, neighbourhoods and communities
The homes and communities in which we live have a big impact on our health. They influence our transport choices, how we spend our leisure time including keeping in touch with friends and family, and whether we feel safe and secure at home and in public.
Safer communities
Reducing knife crime and tackling serious violence is a government priority. In April 2018, the government published its Serious Violence Strategy, which set out a programme of action including the Early Intervention Youth Fund, the media campaign #knifefree, and the new National County Lines Co-ordination Centre. Since then, further measures have been delivered including:
£200 million investment in a Youth Endowment Fund to help prevent and support those at risk of violent crime

an Independent Review of Drugs which is now underway

a consultation on a proposed new statutory duty to underpin a public health approach to tackling serious violence

a £100 million investment to support increased police activity and establish violence reduction units
The Prime Minister chaired a cross-sector summit in April 2019 to bring over 140 stakeholders together to explore what can be done to reverse the rise in serious youth violence. The government is driving forward a public health approach to tackle serious violence with a focus on prevention and multi-agency working to tackle the issue. A wide range of agencies and organisations came together locally to identify people and communities at risk early and take action to reduce serious violence and protect people. The government will support efforts to tackle this issue. Health organisations will need to play their part in addressing the root causes of violence, including meeting the mental health needs of young people and playing a full and active role in multi-agency partnerships to tackle serious violence at a local level.
Connected communities
As set out in A Connected Society: a strategy for tackling loneliness in October 2018, feeling lonely often is linked to early deaths – with the effect of loneliness on a par with smoking or obesity. It's also linked to increased risk of coronary heart disease and stroke, depression, cognitive decline and Alzheimer's.[footnote 135] Supporting people to avoid or move out of loneliness before it becomes entrenched can help prevent the adverse health conditions associated with frequent loneliness. The loneliness strategy is an important first step but government is committed to long-lasting action to tackle the problem of loneliness. As set out in the strategy, we will publish annual reports on the loneliness agenda, with the first report planned for late 2019.
The government recently strengthened planning guidance to encourage more areas to consider cycling and walking within local development plans, and other ways of getting people more physically active. Work is also underway to make public transport more inclusive - so disabled people, including those with less visible disabilities such as autism, have the same opportunities to travel as everyone else.
Homes and neighbourhoods
For people living with a disability – or with some frailty, including those living with dementia – having a suitable home is particularly important. We know that 8 in 10 of the homes we'll occupy in 2050 have already been built.[footnote 136] As such, it's vital we look at existing homes, not just new builds. That's why home repairs and adaptations are crucial. While evidence shows that only 7% of homes have all the access features required for people with limited mobility, 72% have the potential to reach 'visitable standards', for example so they could be visited by somebody living with a physical disability.[footnote 137]
In the 2020s, home adaptations, assistive technology and supported housing will be more important than ever; helping people to stay independent for longer and supporting those with complex needs including serious mental illness, learning disabilities and autism to lead good quality lives in communities. In the years ahead, the government has an opportunity to shape this emerging market and test new ideas and innovations.
There is a clear link between cold homes and ill-health, where existing conditions such as respiratory illnesses or mental health conditions are exacerbated.[footnote 138] The government wants all fuel poor homes to be upgraded to Energy Performance Certificate (EPC) Band C by 2030 and our aspiration is for as many homes as possible to be EPC Band C by 2035 where practical, cost-effective and affordable.
To support these aims, existing policies are in place to improve the energy performance of homes, such as the £3.6 billion of investment provided by the Energy Company Obligation. The government is undertaking a review of the Fuel Poverty Strategy and intends to ensure that work to improve the quality of homes is aligned with preventative healthcare, with everyone living in a warm and safe home that supports healthy and independent living.
Green spaces and clean air
The outdoors can also help us grow our health asset. For example, evidence shows that spending time in the natural environment can improve our mental health and wellbeing. It can reduce stress, anxiety and depression, and encourage physical activity which in itself contributes to better mental health.[footnote 139]
Yet, air pollution is the top environmental risk to human health in the UK and one of the greatest threats to our health after cancer, heart disease and obesity. It affects people of all ages, but particularly at the beginning and later stages of life.[footnote 140] It is estimated that long-term exposure to man-made pollution in the UK has an annual effect equivalent to between 28,000 and 36,000 deaths.[footnote 141]
The government published an ambitious Clean Air Strategy in January 2019, which builds on the 25 Year Environment Plan commitments and complements the Industrial Strategy, Clean Growth Strategy. Analysis of the Clean Air strategy suggests that delivering on these commitments could cut the costs of air pollution to society by £1.7 billion every year from 2020, rising to £5.3 billion every year from 2030. This is because air pollution is associated with respiratory and heart diseases, and emerging evidence is increasingly pointing to a possible contribution to other wider health risks such as stillbirth, low birth weight and dementia.[footnote 142]
Active ageing
Active ageing is about creating opportunities for people to live well throughout their lives. The decisions we take at midlife (around 45 years old) will have an important bearing on our later lives. Hence, there are steps we can take – both as individuals and as a society – to set ourselves up for longer, happier lives.
The population of England is becoming older.[footnote 145] As older people make up a larger proportion of the population, they will also make an increasing contribution to society. They are our workers, volunteers, taxpayers and carers.
As a country, we're not always making the most of the opportunities afforded by an ageing population. Too many people are forced out of work by poor health or unwelcoming employers. Too few have access to the training they need to change careers. Too many families face the hard choice between working or caring for a loved one. And too few homes and neighbourhoods meet the needs of older people.[footnote 146]
If an older population means fewer workers and higher demands for public services, this raises important questions about future sustainability. In the decades ahead, the challenge will be to ensure the growing number of people in later life are healthy, empowered and able to continue making a full contribution to society, and to enjoy their lives.
We know that people age differently and there is no typical experience of later life. Many people age well and have a well-connected, purposeful older age with good health and a strong sense of belonging. But there can be a negative discourse on ageing that's unhelpful – one that describes older people as a burden, and later life as a time of ill-health and loneliness. This negative narrative has an impact on attitudes towards ageing not only among older people themselves, but also among some health and social care professionals. We need to urgently reframe this narrative to an asset-based model.
This government believes the 2020s needs to be a decade of active ageing. A decade where ageist stereotypes are forgotten, and replaced with a more positive and nuanced view of older age. A view that better reflects reality.
National action
Prevention in wider policies
Given the variety of factors that affect our health, many of the relevant policies sit outside DHSC, in other departments like: HM Treasury, the Department for Education, the Department for Work and Pensions, the Department for Transport, the Department for Environment, Food and Rural Affairs, the Ministry of Housing, Communities and Local Government, and the Department for Digital, Culture, Media and Sport.
Many wider government policies already contribute towards the prevention agenda. For example, the Cycling and Walking Investment Strategy aims to get people more active in their transport choices, for example by doubling the rates of cycling by 2025.
In the 2020s, we believe that all of government should be 'pulling in the same direction' on prevention. This requires sustained focus over the long term, but there are a number of actions we can take now to lay the foundations for good health in the years to come.
Value for money
Prevention is common sense. We also know it represents extremely good value for money. A recent systematic review found that for every £1 spent on public health interventions, there was an average £14 of benefit to wider society. This includes healthcare savings, but also the longer-term gains in health and to wider society.[footnote 147]
Prevention forms around 5% of all public funding on health. This means in the UK we are spending over £101 billion a year treating disease, and £8 billion preventing it.[footnote 148]
As a country, we need to ask ourselves some fundamental questions about how much we value prevention, and what this means for our public services. Using obesity as an example, each year we spend more on treating health problems than preventing them in the first place.
World-class research
Transformative change in prevention will only be achieved if it is underpinned by high-quality research. We aim to build on existing strengths to make the UK the world leader in public health and prevention research. This must deliver an evidence base that is much more ambitious and draws on a whole new range of disciplines.
Local action
Prevention policies are not experienced in the abstract, but in the neighbourhoods and communities in which people live. That's why the role of 'place' will be an integral part of any prevention strategy. Local authorities will have a key role to play, given that they:
have specific responsibilities around prevention, for example sexual health, children's health, adult social care and support, and drug and alcohol services
control many of the assets for good health, for example parks and green spaces, leisure facilities, and cycling and walking infrastructure
have decision-making power for areas like housing policy, planning and social care and support, which have a big impact on people's health
shape other policies relevant to health, including economic development, education, and growing the voluntary and community sector
Since they assumed their public health responsibilities in 2013, local authorities have commissioned creatively and energetically. They have secured real improvements and efficiencies by challenging historic service models and finding new ways of doing things, including through 'digital first' service offers in areas such as sexual health.
In December 2017, the government announced its aim to increase business rates retention to 75% by devolving grants of equivalent value, including the Public Health Grant. The government is continuing to engage stakeholders on the implementation of this aim. This includes consideration of what more needs to be done to build a full range of assurance arrangements for delivering public health services and outcomes. The government will take a final decision on these matters in due course.
The role of local Health and Wellbeing Boards is to bring together the local partners in local government, the NHS and more widely, to assess needs and to develop effective strategies that meet them. The potential of local authorities to influence the wider determinants of health and provide local leadership for health improvement action was one of the key factors for returning a major health role to them in 2013. There are already examples of integration working well across the country.
The shift towards Integrated Care Systems (ICSs) should help deliver more progress in this area by bringing together commissioners, providers and local authorities, to make decisions that are in the best interest of the entire health economy, not just individual organisations. Health and Wellbeing Boards should form a key part of the local infrastructure on prevention, working with ICSs. We believe that the key tools that are needed – such as flexibility to pool budgets – already exist, and that Health and Wellbeing Boards in particular should have an important role to play in the new structures.
Directors of public health provide expertise and leadership for improving and protecting the health of their local populations. They have a key role to play in raising awareness and knowledge of both core public health issues and the impact of the wider determinants of health (such as housing, planning and transport). Since 2015, PHE has been running a 'Future Directors' leadership programme and providing support for newly appointed directors of public health across the country.
Modern healthcare is complex, and there are some areas where concerns have been raised about the effects of dividing responsibility between different NHS and local government agencies. That's why the NHS Long Term Plan committed the government to reviewing the commissioning arrangements for sexual and reproductive health, health visiting and school nursing services, to ensure that they can deliver the best outcomes for the people who need them.
Throughout the review people told us the importance of local authorities and the NHS working together to plan and deliver these services. This is a complex task and while there are some inspiring examples of success, this is too often dependent on the efforts of particular individuals or favourable local circumstances. As a result, the extent and nature of collaborative commissioning arrangements varies dramatically.
The move towards ICSs creates the opportunity to co-commission an integrated sexual and reproductive health service. In fact, some areas like Hampshire are already doing this. Throughout the review, we saw different ways of doing this, for example designating a lead commissioner or pooling budgets via local arrangements. We recognise that local areas need to be able to decide what suits them best. However, we want to encourage more places to use the powers and levers they already have to develop joint approaches. This might include more consistent co-commissioning arrangements, and making the best use of Health and Wellbeing Boards.
Sexual and reproductive health
Sexual health services are core to prevention. Good progress has been made in a number of areas. Most significantly, we have seen new diagnoses of HIV reduce by 28% since 2015[footnote 150] and teenage pregnancy rates at an all-time low.[footnote 151] The UK was one of the first countries to meet the UN's global goals on HIV[footnote 152] and we are already committed to going further and achieving zero infections by 2030 as announced by the Secretary of State in January this year. We are considering how we move to mainstream commissioning of HIV Pre-Exposure Prophylaxis.
More challenging is 2018 data published by PHE, which shows that rates of some sexually transmitted infections, most notably gonorrhoea, are increasing.[footnote 153] This underlines the need to continue to promote condom use and ensure that those at risk can rapidly access services, including on-line testing.
Conclusion
For the first 70 years of the NHS, we have concentrated on helping people live longer – and we have been hugely successful. Now we must move from simply thinking about life span to health span: the number of years we can keep people living healthy, independent lives free from illness or disability.
The commitments outlined in this green paper signal a new approach to public health. One that involves a new personalised, prevention model. It will mean the government, both local and national, working with the NHS, to put prevention at the centre of our decision-making.
For prevention to succeed, and to improve the nation's health over the next decade, individuals and communities must play their part too. This involves making healthier choices for ourselves and our families – eating well, staying active, being smoke-free, and taking care of our mental health – and laying the foundations for good health throughout our lives. Health is a shared responsibility. Only by working together can we achieve our vision of healthier, happier lives for everyone.
References