Guidance
Child oral health: applying All Our Health
Updated 4 August 2017
© Crown copyright 2017
This publication is licensed under the terms of the Open Government Licence v3.0 except where otherwise stated. To view this licence, visit nationalarchives.gov.uk/doc/open-government-licence/version/3 or write to the Information Policy Team, The National Archives, Kew, London TW9 4DU, or email: psi@nationalarchives.gsi.gov.uk.
Where we have identified any third party copyright information you will need to obtain permission from the copyright holders concerned.
This publication is available at https://www.gov.uk/government/publications/child-oral-health-applying-all-our-health/child-oral-health-applying-all-our-health
Introduction
Oral health is part of general health and wellbeing and contributes to the development of a healthy child and school readiness.
Tooth decay is the most common oral disease affecting children and young people in England, yet it is largely preventable.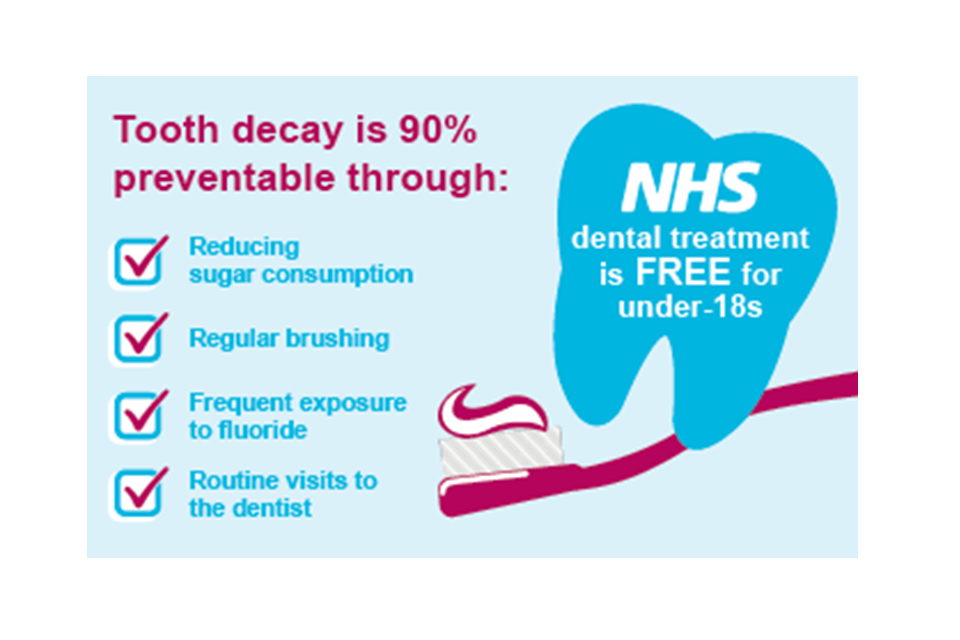 Source: Royal College of Surgeons
Although oral health is improving in England almost a quarter (24.7%) of 5 year olds have tooth decay, so 1 in 4 children will have tooth decay when they start school. Each child with tooth decay will have on average 3 to 4 teeth affected.
The first survey of 3-year-olds found that 12% had visible dental decay with on average 3 teeth affected. Tooth decay was the most common reason for hospital admission for children aged 5 to 9 years in 2012 to 2013. Over 63,000 children aged 0 to 19 years were admitted to hospital for tooth extractions in 2014 to 2015.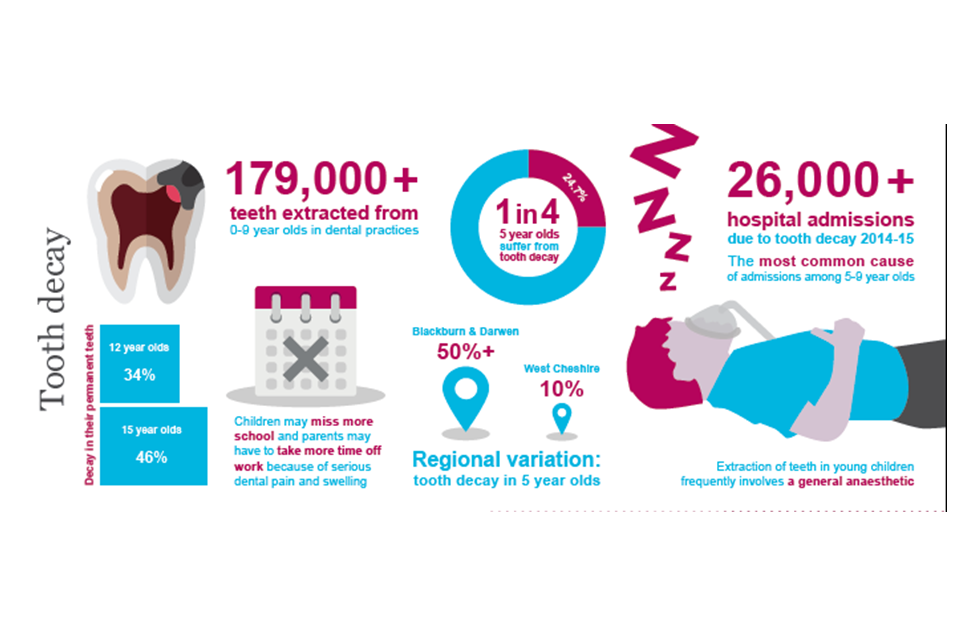 Source: Royal College of Surgeons
Poor oral health impacts on children and families wellbeing and is costly to treat. It suggests wider health and social care issues such as poor nutrition, obesity, the need for parenting support, and in some instances safeguarding and neglect. Children who have toothache or who need treatment may have to be absent from school. Parents may also have to take time off work to take their children to the dentist. Dental treatment is a significant cost, with the NHS in England spending £3.4 billion per year on all ages primary and secondary dental care (with an estimated additional £2.3 billion on private dental care).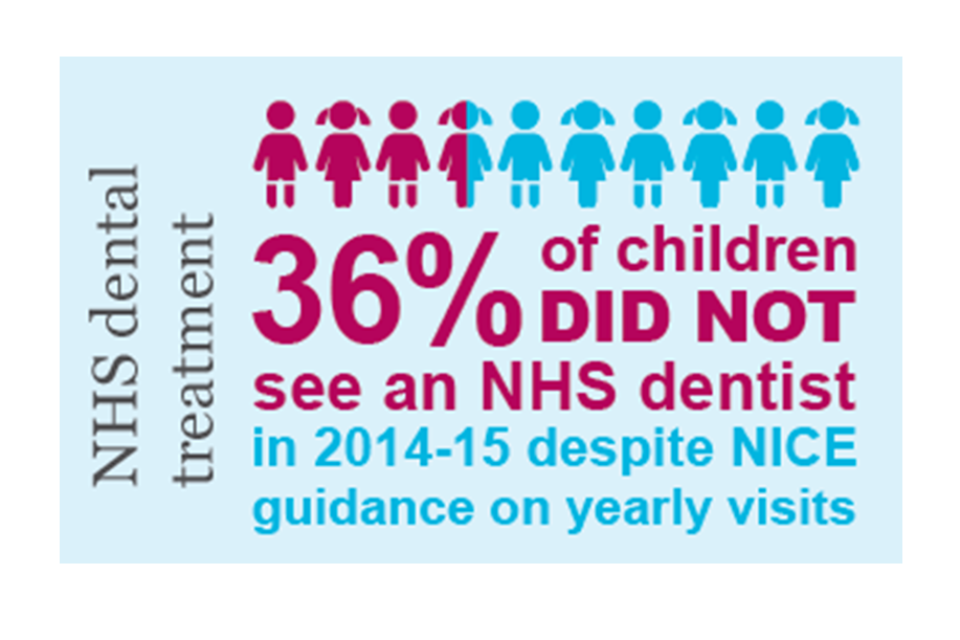 Source: Royal College of Surgeons
Children who experience high levels of disease that are treated with fillings and other restorations will require complex maintenance as they age. Those children with a poor oral health regime and unrestricted dietary habits will fare the worst and have treatment which not only maintains their historic decay and poor oral health but also require treatment of new oral problems as they age.
Risk factors
Poor oral health can be caused by many factors including:
social inequalities where the imbalance in income, education, employment and neighbourhood circumstances affect the life chances of children's development
poor nutrition and infant feeding with high and frequent consumption of free sugars
lack of access to fluoride including late commencing or infrequent tooth brushing with low or no fluoride toothpaste
Other risks are children:
who already have evidence of oral disease including previous decay experience or previous extractions under general anaesthesia
with medical conditions such as cardiac problems, cleft lip and palate and childhood cancers
Regularly consuming foods and drinks high in free sugars increases the risk of obesity and tooth decay. Ideally, no more than 5% of the energy we consume should come from free sugars. Currently, children and adults across the UK are consuming 2 to 3 times that amount. Sugary drinks have no place in a child's daily diet but account for a surprisingly large proportion of the daily free sugar intake of both children and adults. Almost a third of the free sugars consumed by 11 to 18 year olds comes from soft drinks.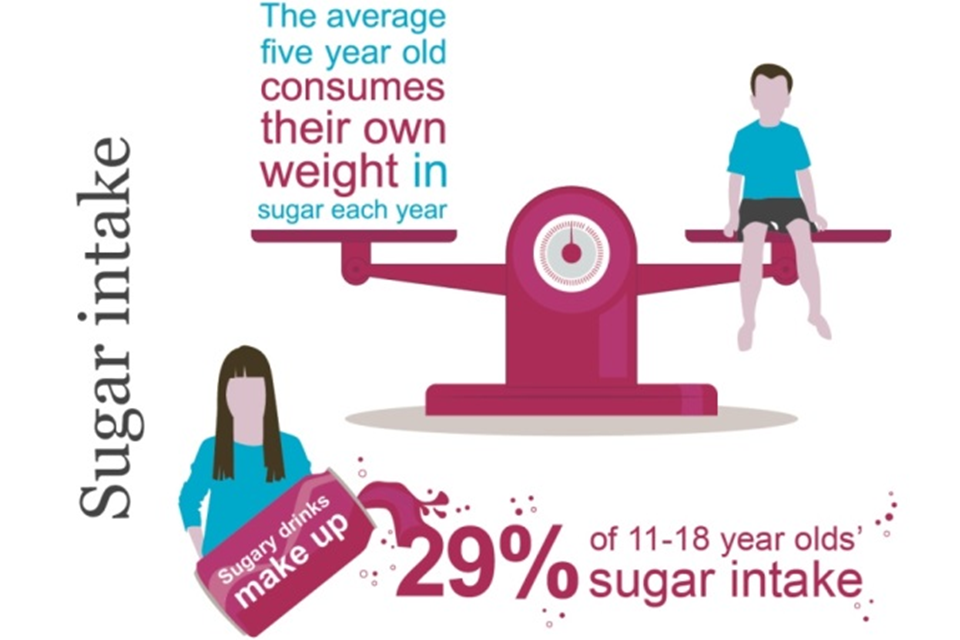 Source: Royal College of Surgeons
Facts about oral health
Although largely preventable, tooth decay remains the most common oral disease affecting children and young people.
In 2015, 20% of 5-year-olds had tooth decay in South East England compared to 34% in North West England with even greater inequalities within local authorities. Areas with higher levels of deprivation tend to have higher levels of tooth decay.
5.6% of 5 year old children in England had tooth decay in their incisor (front) teeth in 2015. This measure is useful as it indicates where children have been affected by a particular type of tooth decay. This is an aggressive form of decay that affects upper incisors and can be rapid and extensive in attack. It is associated with long term bottle use with sugar-sweetened drinks, especially when these are given overnight or for long periods of the day.
A recent survey of 3-year-olds in England found that 12% had tooth decay ranging from 34% to 2% across local authority areas.
During 2014 to 2015, there were 33,871 cases of children aged 10 and under needing the removal of one or more teeth: a rise of 3% on the previous year.
Tooth decay was the most common reason for hospital admissions in children aged 5 to 9 years old in 2013 to 14.
In 2014 to 2015, hospital trusts spent £35 million on extraction of multiple teeth for under 18s.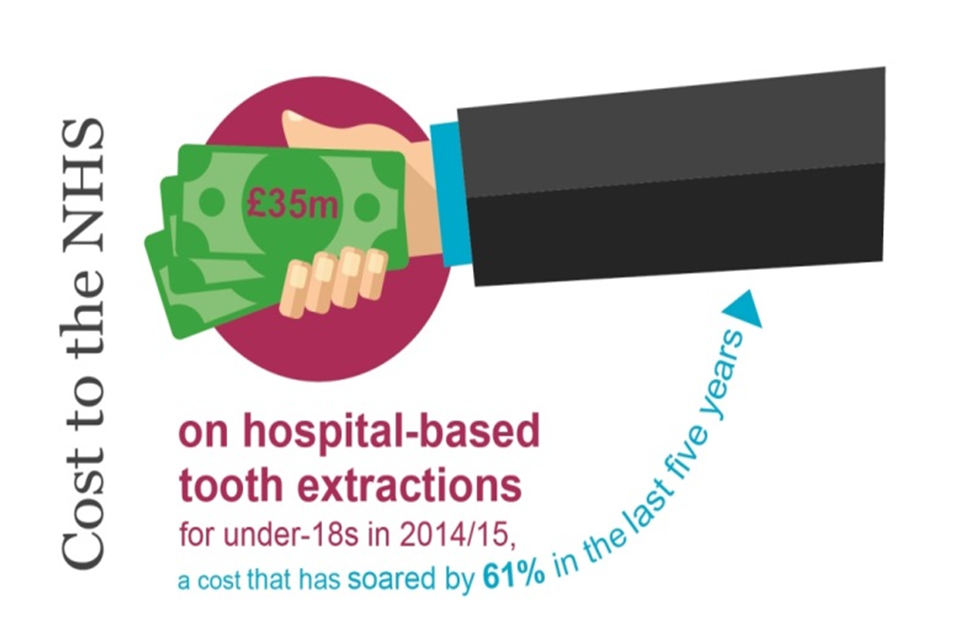 Source: Royal College of Surgeons
The Scientific Advisory Committee on Nutrition (SCAN) carbohydrates and health report found that high levels of sugar consumption are associated with a greater risk of tooth decay.
Core principles for health professionals
Healthcare professionals should:
know the needs of individuals, communities and population and the services available
think about the resources available in health and wellbeing systems
understand the specific activities which can prevent, protect and promote
Interventions
Population level
Healthcare professionals should be aware of the interventions that are recommended at a population level, which include:
those stated in Oral health: local authorities and partners (PH55) and commissioning better oral health
knowing about local population level programmes to improve child oral health and engage with commissioners to support them
supporting local commissioners, identifying where such programmes are working well and if there areas for improvement
advocating for oral health, finding out how an area is performing and seeking action through Health and Wellbeing Boards to address poor oral health
Community level
Community level interventions may be based around a specific area or community/setting of interest such as schools or children's centres.
Healthcare professionals can support these interventions by:
getting to know about local programmes
promoting the programmes and encouraging people to get involved
considering and agreeing signposting or referral arrangements
building capacity by enabling local families to promote healthy eating through children's centre group work or peer to peer programmes
ensuring their clinical space supports good oral health, is breastfeeding friendly and promotes the Healthy Start scheme which provides free vouchers to families on low income that can be exchanged for fresh or frozen fruit or vegetables, milk, infant formula and vitamins
Family and individual level
Healthcare professionals can have an impact on an individual level by:
ensuring that all staff promote good oral health and access relevant training that is regularly updated
knowing the evidence-based advice and treatment that should be given to deliver better oral health
understanding how to help people change behaviour
making every contact count (MECC) which focuses on staff working with the public giving appropriate and timely advice on health and wellbeing
Measuring outcomes
There is one indicator with regard to child oral health in the public health outcomes framework (PHOF).
Tooth decay in children aged 5 years (4.02).
The NHS Outcomes Framework also contains indicators in relation to oral health:
decaying teeth (3.7i)
tooth extractions due to decay in children admitted as inpatients to hospital, aged 10 years and under (3.7.ii)
The Everyday Interactions Measuring Impact Toolkit provides a quick, straightforward and easy way for health care professionals (HCPs) to record and measure their public health impact in a uniform and comparable way.
The child oral health impact pathway is recommended for healthcare professionals to record and measure actions undertaken as part of routine care which impact on adult obesity.
Examples of good practice
Delivering better oral health provides evidence-based interventions and new advice on how dental health professionals can improve and maintain the oral and general health of their patients.
Commissioning better oral health is a toolkit to support local authorities commissioning population level interventions that are effective in improving the oral health of children. These include targeted fluoride toothpaste and toothbrush distribution, supervised tooth brushing schemes, targeted community fluoride varnish schemes and water fluoridation.
Local authorities improving oral health: commissioning better oral health for children and young people is an evidence-informed toolkit for local authorities.
Improving oral health: community water fluoridation toolkit aims to help local authorities make informed decisions on whether to implement, vary or terminate a water fluoridation scheme.
Scottish Dental Clinical Effectiveness Programme (SDCEP) is an initiative of the National Dental Advisory Committee (NDAC) and part of NHS Education for Scotland (NES).
Dental interventions to prevent dental caries in children provides recommendations, based on current evidence, to prevent caries in children and young people aged 0 to 18 years.
In July 2015, the Scientific Advisory Committee on Nutrition (SACN) published their carbohydrates and health report. It recommended that for all age groups from 2 years upwards, the average intake of free sugars should not exceed 5% of total dietary energy intake. Younger children should have even less than this.
The recommended intake of free sugars is no more than:
19g (5 sugar cubes) per day for 4 to 6 year olds
24g (6 sugar cubes) per day for 6 to 10 year olds
30g (7 sugar cubes) per day for 11 years and older
Sugar reduction: evidence into action reported the findings of an earlier review of the evidence for sugar reduction and an assessment of the evidence-based actions to reduce sugar consumption.
The Eatwell Guide is an important policy tool that defines the government's recommendations on a healthy diet. It makes healthy eating easier to understand by giving a visual representation of the proportions in which different types of foods are needed to have a well-balanced and healthy diet. The proportions shown are representative of food consumption over the period of a day or even a week, not necessarily each mealtime.
Guidance
NICE guidelines
Oral health: local authorities and partners (PH55) makes recommendations on undertaking oral health needs assessments, developing a local strategy on oral health and delivering community-based interventions and activities.
Oral health promotion: general dental practice (NG30) covers how general dental practice teams can convey advice about oral hygiene and the use of fluoride. It also covers diet, smoking, smokeless tobacco and alcohol intake.
PHE, NHS and other government supporting materials
National Dental Epidemiology Programme for England: oral health survey of 5 year old children 2015 is a report on the prevalence and severity of dental decay.
The National Child Dental Health Survey has been carried out every 10 years since 1973. It includes children aged 5, 8, 12 and 15 years and reports on a dental examination and questionnaires for parents and 12 and 15 year olds.
The Eatwell Guide shows the proportions of different types of foods which are needed to have a well-balanced and healthy diet.
Change4Life is a campaign to tackle the causes of obesity. It aims to help families and middle-aged adults make improvements to their diet, activity levels and alcohol consumption. The Sugar Smart app gives information about how much sugar is in food and drink
Rapid review to update evidence for the healthy child programme 0 to 5 reviewed the evidence base supporting the healthy child programme (HCP) for 0 to 5 year olds. The HCP is the main universal health service for improving the health and wellbeing of children.
The relationship between dental caries and obesity in children: an evidence summary is a review of current evidence which explores whether they are found in the same individuals and populations.
Food labels gives information on identifying products and checking on foods that are high in fat, salt and added sugars.
How does sugar in our diet affect our health gives advice on the effects sugar can have on health.