Adult obesity: applying All Our Health
Updated 17 June 2019
© Crown copyright 2019
This publication is licensed under the terms of the Open Government Licence v3.0 except where otherwise stated. To view this licence, visit nationalarchives.gov.uk/doc/open-government-licence/version/3 or write to the Information Policy Team, The National Archives, Kew, London TW9 4DU, or email: psi@nationalarchives.gov.uk.
Where we have identified any third party copyright information you will need to obtain permission from the copyright holders concerned.
This publication is available at https://www.gov.uk/government/publications/adult-obesity-applying-all-our-health/adult-obesity-applying-all-our-health
Introduction
This guide is part of 'All Our Health', a resource which helps health professionals prevent ill health and promote health and wellbeing as part of their everyday practice. The information below will help front-line health and care staff use their trusted relationships with patients, families and communities to promote the benefits of achieving and maintaining a healthy weight.
We also recommend important actions that managers and staff holding strategic roles can take. View the full range of 'All Our Health' topics.
Access the adult obesity e-learning session
An interactive e-learning version of this topic is now available to use.
PHE and Health Education England's 'e-Learning for Healthcare' have developed this content to increase the confidence and skills of health and care professionals, to embed prevention in their day-to-day practice.
Why focus on adult obesity in your professional practice
Overweight and obesity are significant health issues for adults across the life course and into old age. Carrying excess weight can have significant implications for an individual's physical and mental health. There isn't a single intervention that can tackle obesity on its own, at population or at an individual level. Causes of obesity are multi-factorial, including biological; physiological; psycho-social; behavioural; and environmental factors.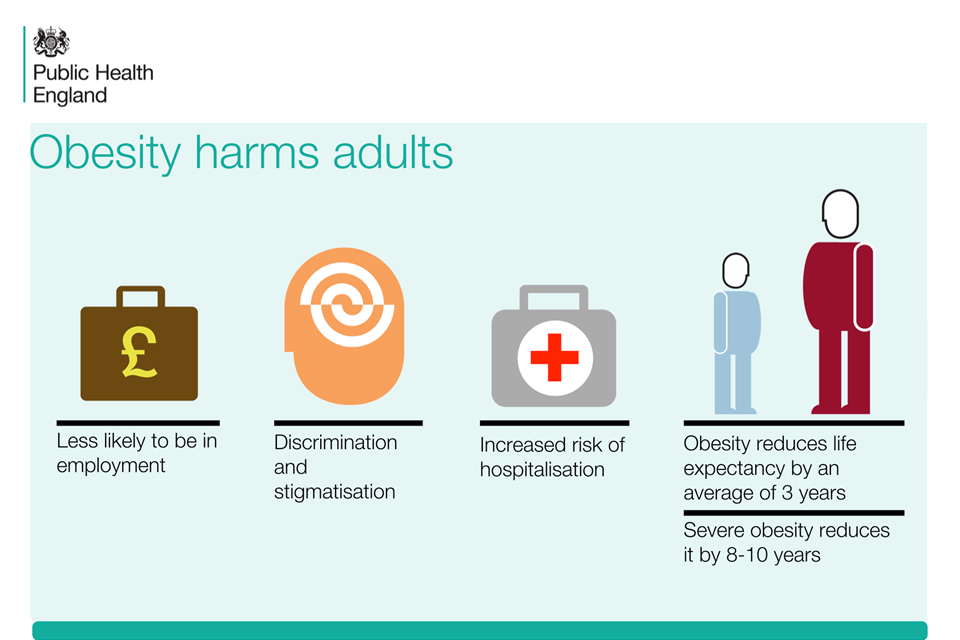 Our environment tends to encourage unhealthy lifestyle choices relating to food and physical activity. Unhealthy food and drink choices (including alcohol) are easy to access and often high energy. We also tend to be less active and lead more sedentary lifestyles than previous generations.
Overweight and obesity are terms that refer to excess body fat which is calculated by body mass index (BMI) and waist circumference (WC).
Being overweight or obese is linked to a wide range of diseases, most commonly:
type 2 diabetes
hypertension
some cancers
heart disease
stroke
liver disease
Obesity can also be associated with poor psychological and emotional health, and poor sleep. Obese adults may also be more likely to suffer from stigma which may impact on their self-esteem.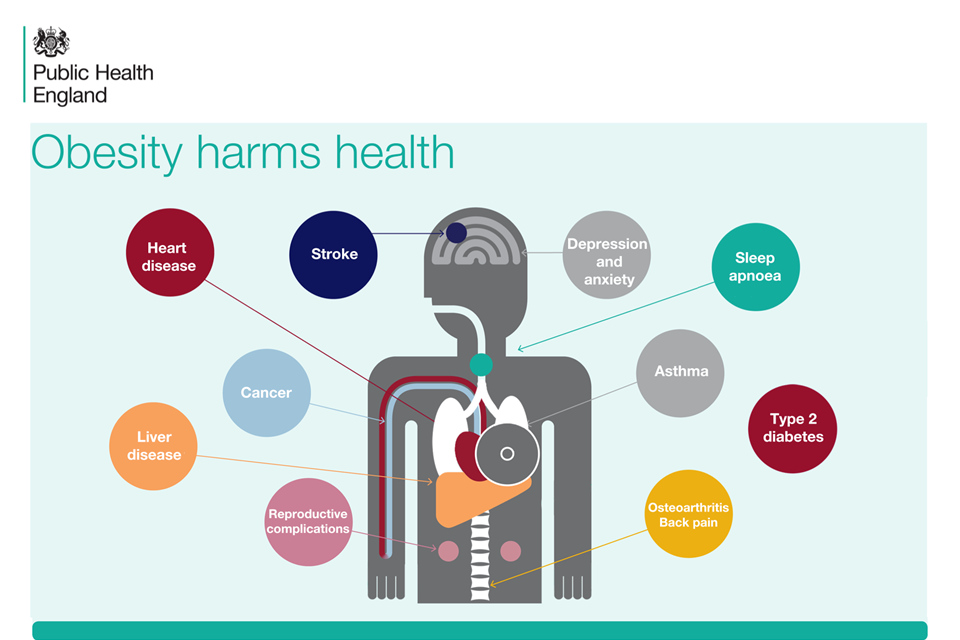 Core principles for healthcare professionals
Healthcare professionals should provide information, advice and support around healthy lifestyles and, where appropriate, refer to weight management services as part of routine daily contact with individuals.
This 'All Our Health' adult obesity information has been created to help you:
understand specific activities and interventions that can address obesity in your patients
think about the resources and services available in your area that can help people lose weight
Taking action
If you're a front-line health professional:
take time to find out about the resources and services in your area that can help people lose weight. Every area of England is different and services vary, so we've blogged about the type of services that may be available and how to find them
speak to your patients about achieving and maintaining a healthy weight, referring them to information or services if necessary (including commercial services if local provision is unavailable) – to help you do this sensitively, we've blogged about useful resources
if a patient discusses their weight themselves, acknowledge their concerns and commend them for raising the issue and wanting to take action
recognise that individuals may take time to find the right solution for them; like quitting smoking, achieving and maintaining a healthier weight sometimes takes multiple attempts to find the way that works best for the individual and there isn't a single solution that works for everyone
understand that a healthier weight is primarily achieved and maintained through improving dietary intake, portion control and being more physically active
communicate the risks of being overweight and obese, and benefits of maintaining a healthier weight, whilst supporting the principles of behaviour change by encouraging individuals to set goals - health benefits can be achieved from modest amounts of weight loss
familiarise yourself with healthy eating messages and understand where to access trusted advice for your patients -we recommend the Eatwell Guide, healthy eating information on NHS Choices or campaigns like One You which offers online activities or health apps such as ACTIVE10 encouraging 10 minutes of brisk walking every day or 'Couch to 5k' which helps people take up running
discuss weight, diet and activity with people at times when weight gain is more likely, such as during and after pregnancy, the menopause and while stopping smoking
If you're a health leader or manager:
ensure the teams you manage are aware of weight management services and interventions in your local area as well as opportunities/services to help people get active
promote a team culture where staff understand the importance of talking to their patients about their weight
support local commissioners and providers to involve adults with overweight or obesity in commissioning and designing services
provide feedback to local commissioners and providers where services are working well and where there are problems accessing support for adults with overweight or obesity
support evidence based behaviour change training for all community practitioners through the Making Every Contact Count initiative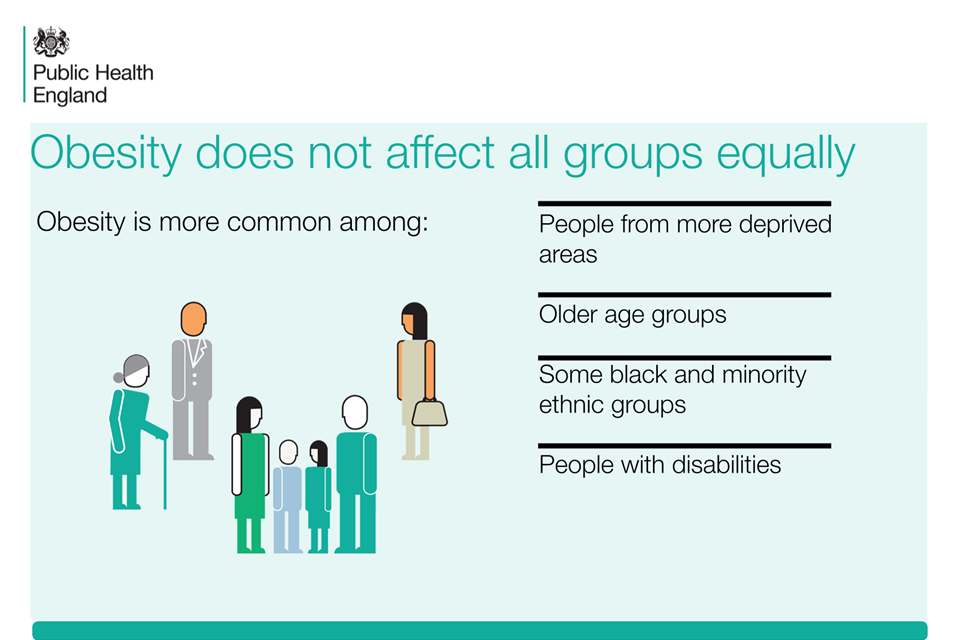 Understanding your local needs
There are 16 indicators in the Public Health Outcomes Framework which relate to obesity including:
proportion of the population meeting recommended '5-a-day' (2.11i)
average portion of vegetables eaten daily (2.11ii)
excess weight in adults (2.12)
percentage of physically active and inactive adults – active adults (2.13i)
percentage of physically active and inactive adults – inactive adults (2.13ii)
Measuring impact
As a health professional there are a range of reasons why it makes sense to measure your impact and demonstrate the value of your contribution. This could be about sharing what has worked well in order to benefit your colleagues and local people, or help you with your professional development.
The Everyday Interactions Measuring Impact Toolkit
This toolkit provides a quick, straightforward and easy way for health care professionals to record and measure their public health impact in a uniform and comparable way.
The adult obesity impact pathway
This pathway is recommended for healthcare professionals to record and measure actions undertaken as part of routine care which impact on adult obesity.
Further reading, resources and good practice
Advice for patients and the public
The NHS weight loss plan is a free 12-week diet and exercise plan.
NHS Choices provides tips for healthy eating and a Healthy weight calculator.
The Eatwell Guide shows the proportions in which different types of foods are needed to have a well-balanced and healthy diet.
OneYou provides tools, support and encouragement across the breadth of lifestyle factors to help adults aged 40 to 60 years to help improve their health, every step of the way.
5 A Day gives advice and recommendations about the benefits of eating 5 portions of fruits and vegetables a day.
Professional resources and tools
The Obesity Intelligence Knowledgehub website provides wide-ranging authoritative information on data, evaluation and evidence related to weight status and its determinants.
Public Health England has a range of data and analysis tools related to obesity.
Obesity case studies demonstrating various local initiatives to tackle obesity from around the UK are available from the Obesity Learning Centre.
A good practice appraisal tool for obesity prevention programmes and projects is available from the WHO and European Commission.
Guidance is available on healthier and more sustainable catering.
The Guide to Delivering and Commissioning Tier 2 Adult Weight Management Services is an evidence-based guide to support local authorities, clinical commissioning groups and providers to develop and deliver weight management services that can help individuals achieve a healthier weight.
The Let's Talk About Weight resource supports health and care professionals to have conversations about weight and refer patients into weight management services. The resource provides a step-by-step guide to brief interventions on weight management, offering practical tips and guidance on raising the issue of weight, referral considerations, making the offer of referral and following up with patients.
NICE guidelines
Obesity prevention (CG43) is the first national guidance on the prevention of overweight and obesity in adults and children in England and Wales.
Obesity - identification, assessment and management (CG189) is evidence-based advice on the care and treatment of obesity.
Weight management: lifestyle services for overweight or obese adults (PH53) makes recommendations on the provision of effective multi-component lifestyle weight management services for adults who are overweight or obese (aged 18 and over).
Weight management before, during and after pregnancy (PH27) includes 6 recommendations based on approaches proven to be effective for the whole population.
Preventing excess weight gain (NG7) includes recommendations for children (post weaning) and adults to support approaches suggested in other NICE guidelines about effective interventions and activities to prevent people becoming overweight or obese.
BMI: preventing ill health and premature death in black, Asian and other minority ethnic groups (PH46) aims to determine whether lower cut-off points should be used for black, Asian and other minority ethnic groups in the UK as a trigger for lifestyle interventions to prevent conditions such as diabetes, myocardial infarction or stroke.
Obesity: working with local communities (PH42) aims to support effective, sustainable and community-wide action to prevent obesity. It sets out how local communities can achieve this, with support from local organisations and networks.
Online training resources
Resources are available to help healthcare professionals stay up-to-date on the latest evidence base.
The British Nutrition Foundation provides online training modules which are based around food, health, nutrition and active lifestyles.
Health Education England e-learning programme for practitioners in the NHS and local authorities working in weight management.