Case study
Working with parents: encouraging good behaviour
How schools in the White Horse Federation engage parents to discuss and improve pupil behaviour.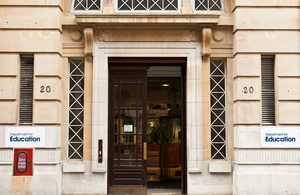 The White Horse Federation (Swindon) includes 7 primary schools ranging from a small 36-place emotional and behavioural difficulties school to a large 3-form entry school. The schools welcome pupils from a range of backgrounds and 43 different languages are spoken across the federation.
Talking with parents
At the schools, teachers and teaching assistants are out in the playground to welcome the children and their parents as they arrive each morning. When the bell rings at 8.45am the teaching assistants lead the children indoors and take the register. This leaves the teachers available in the playground to talk to parents informally and helps to involve parents in the experiences of their child, as well as the life of the school. Over time, the teacher builds a relationship with the parents and the parent does not want to 'let the teacher down,' which helps the school to tackle behavioural problems before they escalate.
Parents can also get in touch with their child's school via an email address that is open to both pupils and parents to report any issues, particularly in relation to bullying. Both pupils and parents can be confident that their concerns will be acknowledged and investigated.
Developing language skills and online safety
The schools have families from a range of ethnic backgrounds and many speak English as a second language. The schools have provided workshops on internet safety in a range of languages to engage parents about the issue of cyberbullying.
Mobile phones
The schools ban mobile phones during the school day from 9am until 3.30pm. However, some parents wanted their children to have access to a mobile phone on the journey to and from school, or for other family reasons. To reassure parents, pupils can leave their mobile phone in the school office and collect it at the end of the day.
Published 25 March 2014