Case study
Working with external groups: managing poor behaviour
How to manage behaviour through supporting pupils through work with nearby schools, creative arts projects and disciplinary sanctions.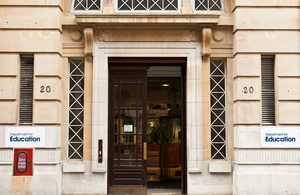 Sir Jonathan North Community College (Leicester) is a girls secondary school for 11- to 16-year-olds. Around two-thirds of pupils come from other ethnic origins, two-fifths speak English as an additional language and there are 46 different languages spoken at the college. The proportion of pupils eligible for the pupil premium is above average. In October 2013, the school was rated by Ofsted as 'outstanding' in behaviour.
Managed moves
The college is part of a behaviour and attendance group of schools which meet monthly. This provides the potential for schools to move challenging pupils with poor behaviour to start afresh at another school.
This is used as a last resort to improve individual pupil behaviour and achievement, after the college has tried everything possible and the parents have given consent and are supportive of the move. For example, through this group the college accepted a girl at the end of year 8 who was facing permanent exclusion. At the end of year 10 she no longer required behaviour support and was expected to go to university.
Inclusion arts project
The college has measures in place to target and support pupils with poor behaviour. The college has used art projects to focus on specific issues and work with particular pupils. The project is run once a term, per year group, and includes a mix of pupils from the high achievers to more disadvantaged pupils. The pupils are taken off timetable for one week and together they work on a project that will be shared with the college via an assembly. The projects have focused on issues such as bullying, teenage pregnancy and looked-after children.
Five years ago the project was used to target a group of Somali students with poor behaviour who were alienated from the student population. The project focused on Somalian history and, using information from their parents, they created a 20-foot banner to share this history with the college. As a result, the students integrated much better into the college community.
Published 25 March 2014